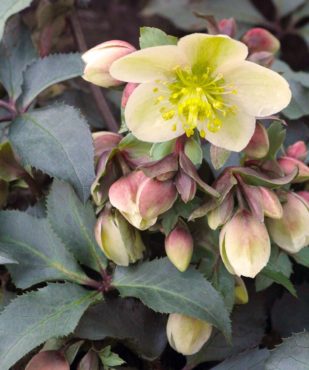 Today the wind is blowing the rain sideways. West Sound has not seen the temperature rise much above the low 40s for over a month. After the winter solstice, many people turn their thoughts to their garden. Every day there are more minutes of light added to the day. The garden season is almost here even though winter will hang on for another month and a half.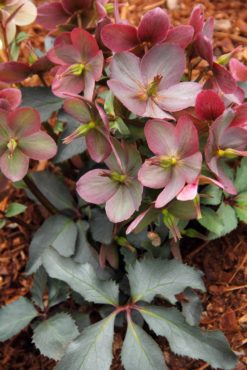 Nothing beats the winter blues better than planning this year's garden and participating in a few garden activities during the short, dark days of the year. The next two months of winter and winter-spring is a time for dreaming up new garden plans. Excitement builds as the projects loom ahead.
Now that the spring catalogs are trickling into the mailbox, the top of the kitchen table will not be seen for a while. The table is laden with seed and plant catalogs strewn across its top. Somewhere in that pile is a list of needs and self-indulgent wants.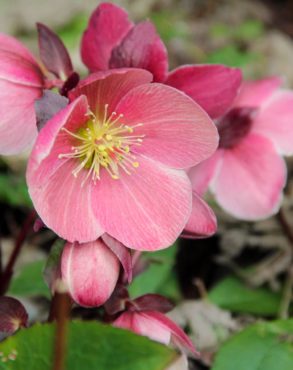 First priority though is to create a garden budget for the year. Once the budget is set, refer back to the plant list and cross off 90 percent of the plants and seeds.
Make a second stay-within-the budget list. However, the second priority is figuring out how much time is available for planting and maintaining new plants and seeds. Once done, refer back to the second plant list and cross off even more.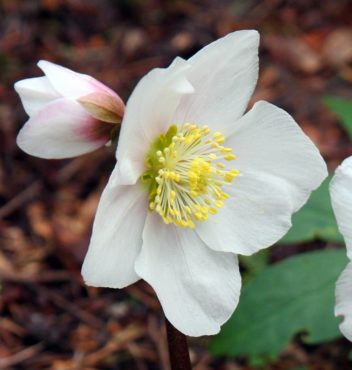 Make list number three of the remaining seeds and plants that are within monetary and time budgets. Keep scribbled out lists for next year's self-indulgent fantasies — a prescription to help ease the winter doldrums. Dream big and add more plants to the wish list as many times as necessary.
Visit local nurseries. If they are taking a winter break, stand at the gate and look forlorn. Now imagine all the blooming plants that will eventually be set out on racks and tables throughout.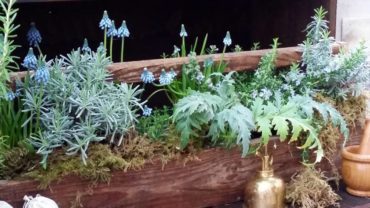 If they are open, smile and ask when spring flowering plants will be in. They may reply, "Come back soon." In the meantime, look at all their flats of rainbow hues of primroses and pansies.
Some favorite perennials for dead of winter blossoms are the deer-proof hellebores known as the winter rose. Not really a rose, hellebores are a perennial that defies anything winter throws at them. Any nursery worth its salt will have a great collection of Helleborus to choose from. These perennials are tough and long lasting in the garden. They even make great cut flowers. There is great satisfaction having blossoms in a vase from your winter garden. Start the winter season with Helleborus niger cultivars and end with the many cultivars of Helleborus x hybridus.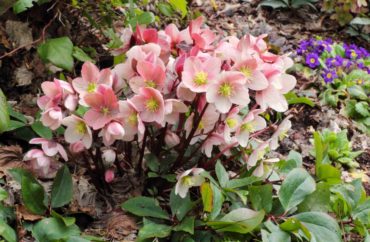 Prolific crosses of these winter staples have brought out beautiful evergreen foliage and delicate-looking blossoms. These are not dainty flowers, however; they take a hardy stand against winter. Plan your budget to include these terrific plants. They will keep your garden in bloom throughout the winter into spring and help you get through the coldest part of the year.
Grow Helleborus x ericsmithii 'COSEH860' (tradename Monte Cristo) because it is a star in the winter garden. Plant it at the front of the border so you can enjoy the steel-blue foliage year round. In the Pacific Northwest, this hellebore opens its first white flowers in early January, and keeps the flowers going as they fade into a warm burgundy hue with a sheen of green. They hold up well into late March and early April, as the flowers age to perfection.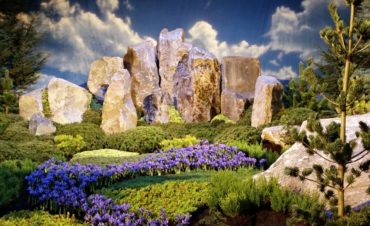 The outfacing flowers of Helleborus 'Pink Frost' boost the winter garden out of the rainy doldrums, while the opulent, green leaves look fabulous all year round. The flowers begin with delicate shades of pink and like H. 'COSEH860,' the petals age to burgundy. Helleborus 'Pink Frost' came out of an H. niger and H. lividus cross.
Keep an eye out for small pots of early daffodils lurking in the corners at the nurseries. Snatch some up, pay for them, and then run quickly to your car before they are gone. At home, set them next to the front door and enjoy the bright, cheery flowers that bring a smile to any observer.
Remember the taste of fresh greens from the garden — grow microgreens in winter for the same spring taste. Growing microgreens from many edible plants indoors is an easy and fast way to go from seed to table inside your home and doesn't require any special equipment.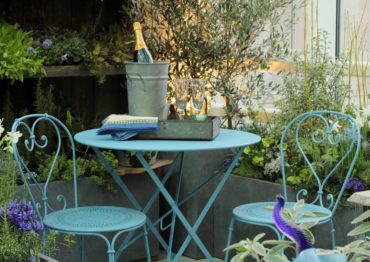 Defy winter with a mesclun seed mix. Small pots, potting soil, seeds and a willingness to wait a few weeks to eat homegrown greens are all that is necessary. Set pots in a south-facing windowsill and when the little greens put out their first true leaves, they are ready to use in salads, sandwiches, soup or stir fry.
Between President's Day in February and St. Patrick's Day in March is the time to sow a few seeds in the garden. Sweet peas and garden peas are two crops that can be direct sown at a time when gardeners are in need to get outside and plant something. Leave row covers on the seedlings until they are up high enough that a murder of crows cannot murder the crop by pulling them all out of the ground.
February always brings the Northwest Flower and Garden Show. What better way to beat the winter doldrums than to go to the Washington State Convention Center in Seattle where the taste of spring is a five-day winter event set for Feb. 7-11.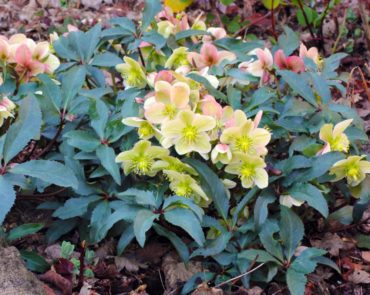 Every winter, display gardens spring up from a cement floor. For participants, it is like a spring tonic for the soul. They go to forget about the weather outside. Inside the convention center are sounds of birds chirping and the smell of flowers rising from the displays. The garden abundance is a true feast for the eyes.
The display gardens may be theatrical but homeowners take home many ideas for the look they want to see in their own garden spaces. This is the place to listen to the experts, find the latest trends and just talk garden.
Everyone at the show speaks garden. For entertainment, there are Garden Wars and Container Wars. Watch live while teams compete in creating a garden or a container full of plants. Then vote for your favorites.
Of course, there's always shopping for a special item for your garden. Budget? What budget?