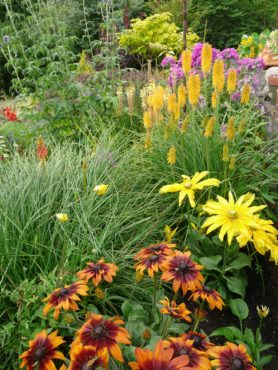 A walk through Lisa and Glenn Eastep's garden makes it clear that creative minds are at work here — from the clipped gables and rolled-edge roof of the cottage-style home they designed to the inviting, arched entry gate and the foliage colors that grace the curving walkways; from the tiny village nestled under the shelter of a stunning paperbark maple to the floriferous cutting garden, succulent-filled patio and the ultimate dream workshop.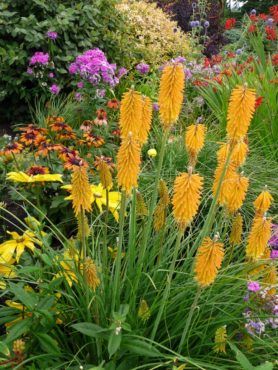 The Easteps, now retired, were running a commercial photography business in Silverdale called Copper Coast Studio when they bought their one-acre lot north of Kingston in 1990. The property was within earshot of Puget Sound, but tall evergreens on the lot east of them blocked the view.
Still, their new property got plenty of afternoon sun and they were excited to design their own house and plant a new garden. They brought their photographers' artistic vision, energy and enthusiasm to the house and garden projects.
"I've always loved to do floor plans," Lisa Eastep said. "I drew everything to scale."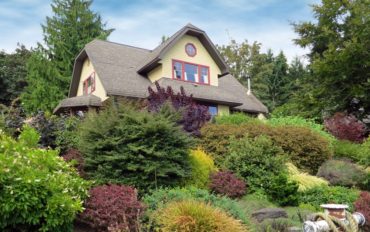 Then they worked with a professional to create technical plans for permits. The resulting house is a romantic vision of an English cottage, with all the practical features they wanted. On the shady, front side of the house, window baskets and pots spill over with bright, trailing begonias; colorful coleus; dark-leaved sweet potato vine; heuchera and bacopa.
The garden has been an evolving work in progress, changing as the couple's interests and needs have altered over time.
In the Beginning…
Lisa Eastep planted the first tree in the future garden while the house was still under construction. It was a paperbark maple (Acer griseum), noted for its shimmering curls of copper-orange, exfoliating bark and brilliant fall color.
"I knew I wanted it somewhere close enough to the house that I was going to get to enjoy it," Eastep said. The maple has grown from a "little whip of a thing" to be a mature tree and a major focal point.
Before she even set pencil to graph paper, Eastep knew she didn't want any straight lines for the paved walkways.
"I also wanted the walks to be wide enough that two people could walk side by side and meander around. And those are sort of the bones — when you get the walkways and the patio in," she said, adding, "And that tree designated how those pathways went, because I wasn't going to move it."
…There Were Veggies…
Early on, they planted a huge vegetable garden.
"Glenn and I both wanted to grow veggies," Eastep said.
After they installed their 12-foot by 20-foot greenhouse, almost 20 years ago, they replaced the original vegetable garden with raised beds.
"We had tons of raised beds," she said.
And they gave bushels to friends and the food bank every year. Nowadays, they have just one large raised bed, which is plenty for the two of them.
…And Flowers
"Then I started getting wacky with flowers," she said. "At first, I didn't plant anything that didn't flower, and I was super into perennials. Especially around the patio area, it was solid flowers."
But keeping up perennials is a lot of work. "I decided I would slowly start taking out some of those perennials and start putting in shrubs," Eastep said. She began to plant mostly evergreen shrubs, and a few deciduous ones "to get the pop of color in the fall."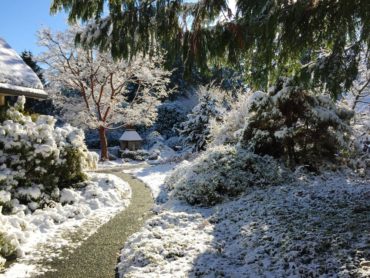 But near the patio, where people sit, she still maintains a perennial border. In this sunny spot, pink and tangerine echinacea mingle with mango- and papaya-colored hybrids of kniphofia, yellow and orange crocosmia, purple alliums and amethyst phlox. Held aloft on stakes among the flowers, small, aquamarine glass globes reflect the sky.
Eastep loves to create floral bouquets. "I hated picking flowers from around the patio, because I wanted to be out there to enjoy them and to see them through the windows," she said. "So that was when I decided that I had to get a cutting garden going."
A strip of lawn off to one side, about 4 feet wide by 50 feet long, would serve the cause. Some of the flowers she grows there include rudbeckia, sunflowers, dahlias, snapdragons, zinnias, bachelor buttons, delphiniums, calendula and sweet peas.
Then Came Shrubs…
As she slowly shifted from perennials to shrubs, Eastep learned to focus on contrasting foliage. "Contrast in color, contrast in texture is so important," she said.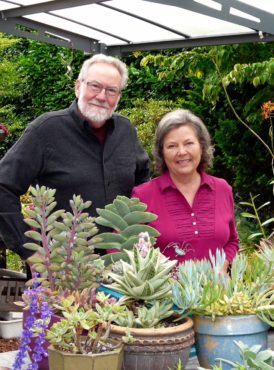 She credits nurseries and garden tours as key sources of ideas. Garden tours especially, because she could see plants in their mature form — and not just the individual plant, but also "what was planted around it, to make it shine."
"Everybody shines if they're in the right place," she said.
Studying her own shrub beds, she would say to herself, "This area sure has a lot of green. It needs a pop to it; I need some red, I need some maroon, I need some yellow."
Eastep said, "I kind of went crazy for yellow foliage for a while because on cloudy days, it still shines."
She has moved a lot of plants around over time, resulting in photogenic compositions. Throughout the garden, there are examples:
A purple smoke bush and gold-leaf catalpa play off each other against a backdrop of tall, dark-green conifers, with a sweep of low, violet heather in the foreground.
A walkway curves between purple ninebark and smoke bush, low mounds of gold and green conifers, dark-burgundy barberry and cascades of gold Japanese forest grass that soften the pavement edge. In the distance, a tall, blue conifer coolly beckons.
With tufts of pink flowers, gold-leafed spiraea cuddles up to burgundy ninebark, mottled pink 'Roseglow' barberry and gray-green, tropical-looking honey bush (melianthus).
…And Succulents
The removal of the raised veggie beds allowed space for another passion to take root and thrive. Some years ago, a friend of the Easteps returned from a trip to San Diego with some choice succulents packed in the back of his truck for them.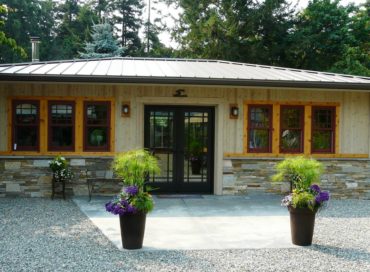 "That's actually what got me started," Eastep said.
They reminded her of the Southwest desert, which the Easteps have always loved. "Once I got into succulents, then I had the pots to deal with, and that sort of took over," she said.
A plethora of pots now populate the patio. And Eastep needed a potting workspace.
An open-air potting station now occupies a sizable piece of the former raised-bed real estate. A lucky Costco find of a simple, open-sided carport with a translucent roof provides light, shelter from the rain and plenty of room.
A workbench occupies one end, with assorted galvanized metal containers, potting soil, plant food and tools. A wide, galvanized feed trough, which holds a large herb garden, defines the other end. In between, there's enough space for a couple of chairs on a small outdoor rug. The rug adds a Southwest feel with a design in turquoise, terracotta and dusky rose. A thick layer of coarse bark on the ground keeps it from getting muddy.
Just beyond the potting station is Glenn Eastep's new workshop.
The Dream Workshop
People sometimes are asked: If you knew your remaining time was limited, what would you do now instead of putting off until some undefined future? Glenn Eastep's reply was to build his dream workshop.
Even the exterior is beautifully designed. Faced with dry-stack quartzite stone on the lower half, the upper part of the facade is cedar, stained a light stone color. Double-hung windows with dark cordovan frames are trimmed in honey-colored pine.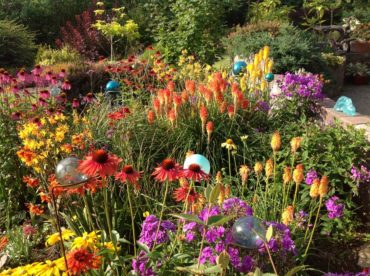 Instead of a garage door, commonly used in workshops to enable movement of large objects in and out, the Easteps selected an elegant French door. The windows and door admit lots of natural light, as well as views of the patio and gardens. The inside would make any handy guy (or gal) drool.
A Whimsical Wee Village
Lisa Eastep has her own ongoing construction project — Itsyville. That's the name she gave to the village of tiny hobbit houses (hobbitations?) that she's been cultivating under the paperbark maple.
There are about a half dozen of these little abodes scattered between the flagstones and roots, each one no more than 6 to 8 inches high and wide. They all have round doors, because — as a young neighbor boy named Sam informed Eastep quite some years ago — all hobbit houses have round doors. And one need not be a child to be enchanted by Itsyville.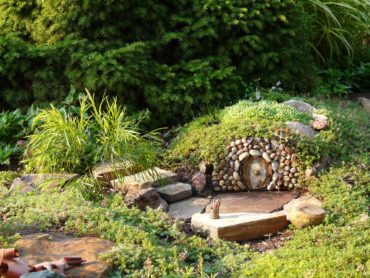 Most of the dwellings have some kind of small ground cover, like Scotch moss or a tiny-leafed sedum or woolly thyme, growing over the roof, which gives them the look of being built into a hillside, or like the entry to a burrow.
Each one is different. One looks like a log cabin, faced in reddish branches. A tiny, blue birdhouse hangs on one side of the door. To the other side is a teensy bench where a wee being might sit to pull off her boots or listen to bird song. On a flagstone patio sits a miniature stack of firewood, and a bucket hardly bigger than a thimble holds much thinner sticks of "kindling."
Two houses are faced with "field stone" — pebbles set in concentric rings around the doors. Another is faced with bits of sea glass and little snail shells, the scene accented with small pieces of driftwood. A tiny, dollhouse-size bistro table and two chairs sit on its patio.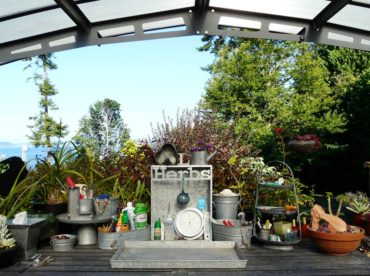 And Finally — the View
The one piece of their ever-evolving home and garden project that no amount of creative work could bring about was gaining a view. But finally, about eight years ago, when the Easteps had been living in their home almost 19 years, new neighbors to the east removed some trees. It was a red-letter day.
Lisa Eastep said, "I wrote it on my calendar: 'We got the view!'" The Cascade Mountains, ships passing by on Puget Sound and morning sunlight — enchanting.