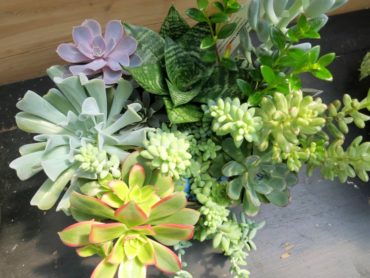 The fat, fleshy leaves of succulents evoke dry summer heat. Sometimes blushed with rosy hues that hint of a California sunset, their closely held forms murmur memories of desert light.
During the sodden, short days of Pacific Northwest winters, a tabletop planter of these sculptural, compact gems brought in from the cold can be a balm to a gardener's soul.
Most exotic succulents will be happy with a bright, south-facing windowsill; sunroom; enclosed, heated, sunny porch; or in a greenhouse with a heater to keep them above freezing. With occasional water and whispered words of love (for a dose of carbon dioxide), they will cheer you through the dark days.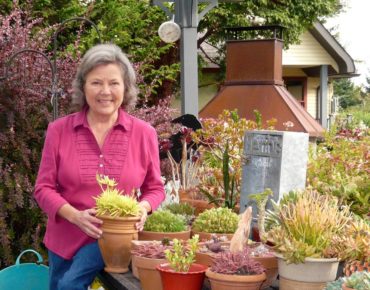 Succulents lack the size, flashy flowers or intoxicating perfumes that captivate gardeners. Their beauty has a sere subtlety. Colors are frequently soft — pale greens, blues or grays — often tinged with pink, mauve, coral or lemon. Some have fuzzy or chalky leaves. Others have wavy-edged leaves reminiscent of undulating sea life. The plump, pointed leaves of many form tight rosettes. Others poke upright like pointed fingers or trail like strings of pearls. Perhaps the strangest, the Lithops and Dinteranthus, look like small lumps of rock.
Hansville gardener Glee Palmer-Davis said of succulents, "At first, I thought they were sort of ugly." But, she added, after observing her friend Lisa Eastep's collection over several years, she "began to see the variety, then began to see the beauty." In addition, Palmer-Davis pointed out, succulents take up little space and little time, and "they're easy on your back" because you can work with them on a table.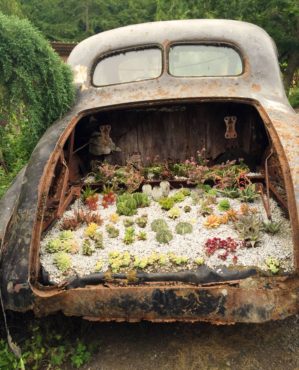 How to Plant and Grow Succulents
Unlike the succulent sedums and sempervivums (hens and chicks), which can take freezing temperature and winter rain and thrive in full sun, the types described below sometimes need protection from hot sun. Some can even sunburn.
These include Aeonium, Cotyledon, Dudleya, Echeveria, Graptoveria, Haworthia, Kalanchoe luciae, Peperomia and certain Senecios, among others.
Andrea "Andy" Thomas, a certified professional horticulturist at Bainbridge Gardens, teaches an occasional class there on growing succulents. She offered these tips:
Select a shallow pot with good drainage.
Use a cactus/succulent soil mix.
Allow soil to dry before watering again.
Do water occasionally. Succulents are not cacti.
Fertilize at the beginning of spring with an all-purpose fertilizer.
Place in a bright spot with as much natural light as possible.
In a greenhouse, set heater for 40 degrees; use fan to circulate air.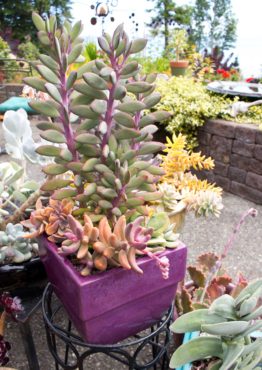 To plant, place a piece of plastic window screen or coffee filter over the hole in the pot to keep the loose cactus mix from running out. Add soil, position plants and fill in soil around them. Then top-dress with something fun and attractive, such as beach pebbles, small shells or sea glass.
Because succulent potting soils have a lot of perlite, top-dressing prevents the perlite from floating to the surface. You can also purchase polished pebbles, black or white gravel, marbles or colored glass, but Thomas has fun using things she finds in nature.
Although succulent leaves look sturdy, they can break easily. To spread soil or top-dressing into small spaces between plants, use a narrow tool or even a chopstick. Brush excess soil off leaves and the edge of the pot with a soft brush like a small paintbrush or a blusher makeup brush.
If you need assistance on potting up succulents, check out the Terrarium Bar at Bainbridge Gardens. Everything you need is right there — potting bench, plants, pots, soil, top-dressing — as well as nursery staff to answer questions.
Designing Containers with Succulents
Succulents look great alone in a small pot or in combinations. Use conventional pots or get creative.
There appear to be two predominant strategies for how to arrange groups of succulents:
Choose varieties fairly similar in height, and mix colors and textures to create a tapestry or patchwork effect.
Apply the "thriller, filler, spiller" strategy, placing the taller, more upright plant in the center, surround with mounding rosettes, and edge with creeping types that spill over, like ghost plant or string of bananas.
Because succulents rarely flower and the color variations are often subtle, Maria Taylor, who designs the beautiful succulent containers sold at Valley Nursery in Poulsbo, recommends mixing a variety of leaf textures. She likes to combine small and large leaves, pointed and rounded leaves, upright forms and trailing types.
"Texture gives the eye interest," she said. Valley sells preplanted succulent pots through the fall for outdoor use, and year-round in the houseplant greenhouse for indoor use.
Container options are nearly infinite. Lisa Eastep uses glazed or terra cotta pots whose colors often pick up the accent colors in the plants: for example, a purple-stemmed plant in an amethyst pot. In addition to a variety of pots, Glee Palmer-Davis delights in using found objects. A choice find was a foursome of large hubcaps that she spray-painted gold and planted with tapestries of succulents.
Heidi Kaster, who formerly ran Dragonfly Farms nursery in Hansville, planted a "succulent-scape" in the trunk of a derelict 1939 Buick coupe. Certainly a most unusual container.
Success
It's easy to be successful with succulents. They require so little care. Palmer-Davis waters hers only every two to four weeks, depending on season and heat. And many of them propagate readily from a single leaf. Eastep just drops stray leaves on a tray of sandy soil. She said, "In a couple of weeks, I start seeing tiny roots."
She added that she and Palmer-Davis are "always starting babies for each other." In addition to trading with friends, Palmer-Davis said it's an easy way to donate to plant sales.
In spring, when danger of frost has passed and the Northwest gardener feels life returning with lengthening days, the pots can be moved outside to add interest to the deck or patio. Eastep, who often speaks of her plants as if they are human, said that when she moves her succulents back outdoors, "they almost squeal with delight."