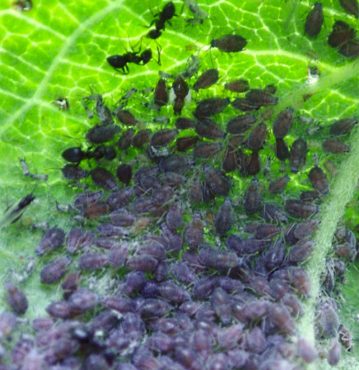 The first land plant evolved a little over 400 million years ago. A few million years after that, the earliest known insects appeared. Then came land-dwelling slugs, amphibians, reptiles, dinosaurs, birds and mammals — all of them hungry and looking for a meal. Ever since, plants have waged an arms race with those that would eat them.
Plato wrote, "Necessity is the mother of invention." Through the engines of evolution, the necessity of survival continues to forge a multitude of strategies to deal with pesky herbivores. Unfortunately for plants and their respective gardeners, the plant-eaters also adapt to survive and continue feeding.
For farmers and gardeners and all who would see their plants survive and thrive, this means doing some homework. The offending herbivore must be identified to determine the best defense. One gardening article cannot cover the entirety of plant protection but hopefully it will be a good starting point for plant detectives.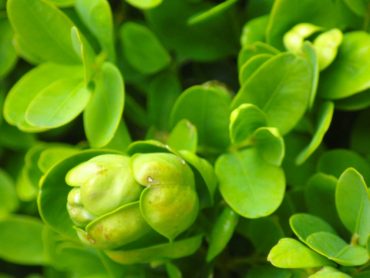 Patterns of feeding damage on plants are an excellent clue to the kind of animal feeding on your plant. Different kinds of feeding damage are described below to suggest possible suspects. From there, you can consult other books, websites and knowledgeable people to narrow down the cause further.
Bark Removed from Trunks or Branches
Several things remove bark from trees and shrubs, and not all of them involve feeding. One clue that a hungry critter has gnawed off the bark can be found on the now-bare wood. Bark feeders tend to have larger incisors (the "buck teeth") and when feeding on bark, leave paired gouges on the underlying wood.
Common bark feeders are voles, mice, squirrels and porcupines, to name a few. Ground-dwelling rodents tend to feed at the bases. Squirrels are often the culprits when bark is removed from branches up higher. Porcupines often tend to eat bark on trunks but not the branches, especially near the top.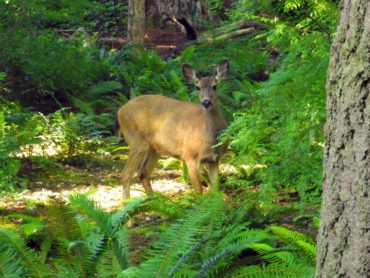 Though not bark feeders, male deer may scrape away tree bark when rubbing the velvet off their antlers. This is usually indicated by scratched, exposed wood and frayed edges on the remaining bark. One way to prevent this is to put one or two posts in the ground at an angle near the trunk to interfere with trunk scraping.
Holes in Trunk or Branches
Some creatures find wood to be delicious, a good place to live or both. Features of the holes can be clues to the culprit.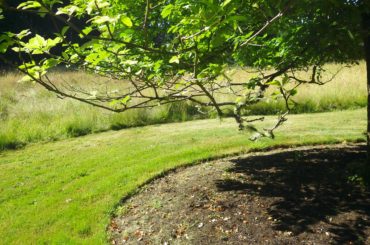 Woodpeckers abound in our area and create two distinct types of holes in trees. The first involves more or less horizontal rows of evenly spaced holes approximately one quarter to one half inch in diameter. Woodpeckers create these wounds to encourage the sugary sap to bleed from the trees and then lap it up. Hence their other name: "sapsuckers."
Woodpeckers will also make larger holes, ranging from just large enough to stick their heads inside to practically tearing apart a trunk. This kind of hole is not good news; they only do this when the underlying wood is dead.
Dead wood attracts wood-boring insects that make a tasty beetle and termite buffet behind the bark. This is an indicator of a larger problem and suggests the need for a professional arborist.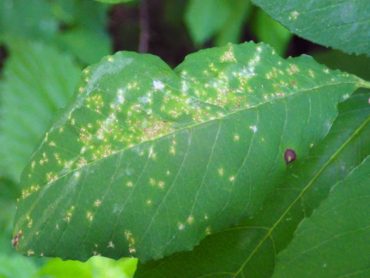 Tiny, Yellow Dots or Bronzing on Foliage
Normally when thinking about plants being "eaten," chewed leaves come to mind. But not all forms of plant-eating involve creatures with teeth.
Some insects have mouths like little straws. They pierce plant tissues and then suck out the juices. Little, yellow or white dots appear where these insects have pierced the leaves. Under a heavy infestation, entire leaves may turn yellow or bronze. With aphids in particular, their sugary excrement may give leaves a glossy appearance.
There are many plant-feeding insects that do this. The most common are aphids, mites, adelgids, mealy bugs, scale, lace bugs, leaf hoppers, psylids and spit bugs. Often the culprits are still on the plant when symptoms are noticed. A small, hand lens and garden-insect book may be necessary to identify which kind of insect is present. If unsure, securely bag a few symptomatic branches with live insects and bring it to a Master Gardeners' clinic.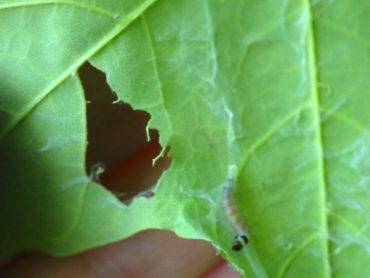 Curling or Distortion of Foliage
Some piercing-sucking insects also cause leaves to distort and appear curled as they grow. When feeding, some aphids, psylids and spit bugs commonly inject growth-regulating chemicals that cause foliage to distort. In some cases, the distorted foliage appears to afford some protection to the insects while they feed.
Skeletonizing
Some leaf feeders consume all the soft, juicy parts of a leaf while avoiding the tougher veins. This makes portions or entire blades of leaves appear "skeletonized." This is common among some species of caterpillars and sawfly larvae.
Sawflty larvae look very much like caterpillars but can be distinguished by the number of pairs of rear legs. Caterpillars have three to five pairs while sawflies have six to eight pairs.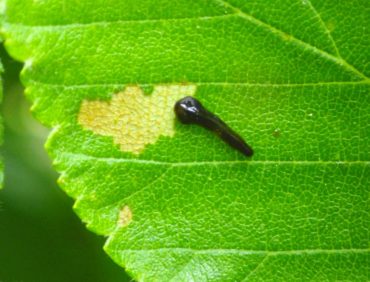 One of the most common skeletonizing sawflies in our area is the pear slug sawfly. As the name suggests, it resembles a slug. While common on pears, it is found on many plant species but is especially common on rose family members like apple, mountain ash and rose.
Leaf Mining
Some insect species provide protection for their young by laying eggs inside plant parts. One method involves laying an egg inside a leaf. The young larvae feed by "mining" the inside of the leaf, leaving the upper and lower layers of leaf skin as protection from the outside world.
Leaf mining manifests as hollow, brownish or light-colored patches or trails in the leaf. Tearing through a suspected leaf mine reveals separated skin layers, often containing insect frass, or excrement, within. Sometimes, the larval insect will be discovered still inside. Leaf miners are frequently a species of fly and their damage is more just ugly than harming.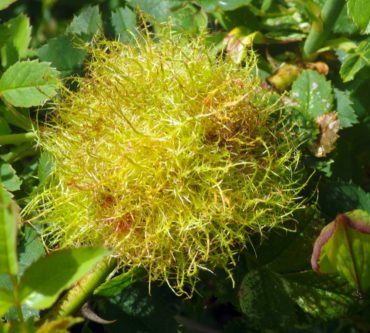 Leaf Rolling
While not actual feeding, leaf rolling is evidence that leaf feeders may be present. Leaf rollers are caterpillars that have rolled up a leaf and secured it with webbing as a form of protection from predators. They live inside, where they will feed until they turn into moth.
Galls
Galls are swollen plant tissue and can occur on virtually any part of a plant, even roots. They vary widely in appearance, depending on cause, and result from many different causes besides feeding. Fungi, bacteria and other problems can also cause galls to form.
Plant-eating insects may cause galls to form, usually as a way of protection for young insects. Insect galls come in many different shapes and sizes. The mossyrose gall is soft, hairy and about the size of a golf ball. Cooley spruce bud adelgids cause a spikey gall on white spruce's shoot tips. Oak California gallfly creates a smooth, spotted, spherical leaf gall that can be larger than a golf ball. While unsightly or odd, most insect-caused galls do little damage to their host plants.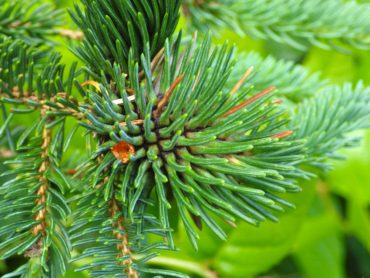 Webbing
Some insects produce webbing reminiscent of spiders. However, rather than catching prey, this webbing is for protection. As mentioned above, leaf-roller caterpillars secure rolled leaf blades for protection. Tent caterpillars and webworms produce "tents" of webbing for protection.
Holes in the Foliage
Culprits of holes in foliage can be the hardest to identify. Many different species eat plant leaves. Fortunately, there are often clues to point you in the right direction. Here are some things to look for when you suspect something has been eating leaves.
Slugs and snails: Look for shiny, clear slime trails on the leaf. Their absence does not mean slugs were not present, but if found, they are a major clue. Often, slugs will also leave behind short "strings" of excrement. Slug damage is often similar to caterpillar and sawfly damage.
Root weevil: Once identified, root weevil feeding is fairly distinctive. Damage is almost always on evergreen leaves and these snout-nosed beetles eat trail-like holes as they feed. Digging around the roots may reveal the root-feeding, centimeter-long larvae of this beetle. They are very common on evergreen rhododendrons and salal.

A "tent" of webbing created by western tent caterpillars, pests well known in the West Sound.

Caterpillars and sawflies: This group can cause widely varying damage depending on what species is present. They tend to feed from the leaf edges inward. Usually, they do not start in the middle of a leaf but skeletonizer species are an exception. This is one way to distinguish slug damage; slugs are not usually picky where they start feeding.

Leafcutter bees: Damage by this group is equally distinctive and inconsequential. These solitary bees build nests in small holes that they line with piece of leaves they have cut. Typically returning to the same leaf, they will remove several uniform U-shaped chunks from the edge of a leaf. Do not fret over this kind of damage; it is minimal and these bees are important pollinators.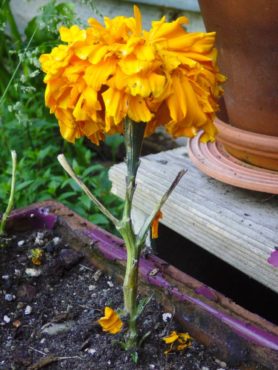 Chunks of Foliage or Stems Missing
If large portions of leaves or even shoot tips are missing, the damage is likely either extensive feeding by foliage-chewing insects or slugs or by the West Sound gardener's bane: deer. The four-legged eating machines may cause damage that ranges from a few leaves nipped to entire shrubs defoliated. Partially eaten leaves by deer tend to have tattered edges where deer have ripped chunks of leaves away, while other leaf-feeders tend to leave smoother edges while feeding.
On the other hand, heavy infestations of slugs or caterpillars may decimate a plant. Single-defoliation events are usually not lethal but repeated defoliation may weaken a plant to the point of death.
The Next Step
The above descriptions should help identify the general kind of pest afflicting your plants. The next step is to move toward a more precise determination of the pest. After that, the appropriate treatment, if any, can be applied. There are a few options for further identification:
The internet, especially bugwood.org
Reference books (see "Useful Books" below)
Nursery staff and landscape professionals
Master Gardener clinics, often at farmers markets.