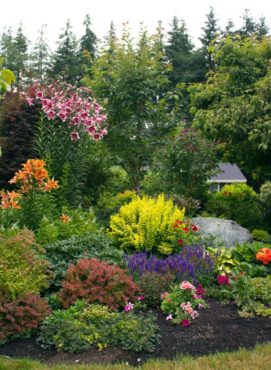 Prior to 2011, Sally Eastman, an experienced gardener, had never grown a rose. She said recently, "I think I may have planted Rose One Hundred and One this year." How and why did she become so bowled over by roses?
The story really begins in late 2009, when Eastman and her husband, Roger, both looking at retirement in the near future, decided to purchase his mother's 100-year-old farmhouse on waterfront overlooking Liberty Bay. Roger Eastman had grown up there, on the rural outskirts of Poulsbo.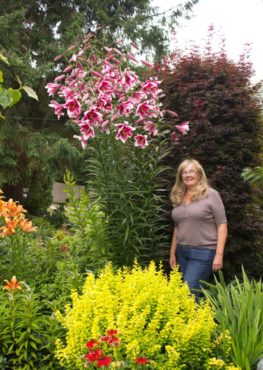 The house was surrounded by lawn, photinia and laurel hedges, and three or four mature trees along the street — almost a blank slate for a gardener. The home itself was long overdue for a major update and expansion. And so was the septic system.
"Of course, when on the water, there are significant requirements to what you have to do," Eastman said. A massive amount of the mostly level, three-quarter-acre lot was torn up to put in the new septic system. After the job was completed, the Eastmans brought in 15 dump-truck loads of topsoil. Next, they added some very large rocks for architectural structure.
The new drainfield imposed planting limitations on a sizable piece of the yard. Roses are among the plants on the approved list for drainfields.
"My husband had said he thought he would like to have a rose garden and I think he meant six roses," she said. The location is open, airy and bright, and since she knew roses like those conditions, she decided to try a few.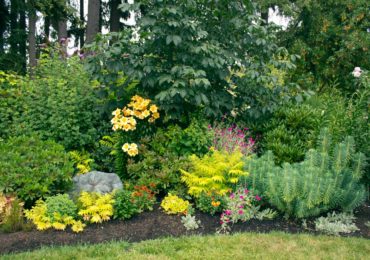 She planted the first six in 2011. Among those were 'Portlandia' (apricot and pink), 'Walking on Sunshine' (sunny yellow) and 'Nicole' (white-edged with pink). It was the beginning of an unexpected love affair.
Rose Love
"The reason I love roses so much is they bloom continually," Eastman said. "You can buy a $15 perennial that gives you a four-week bloom, or you can buy a $25 rose that blooms from April to November or to hard frost."
In addition, "this is the first time I've ever lived in a home where you get great sunshine all day and great air circulation," she said.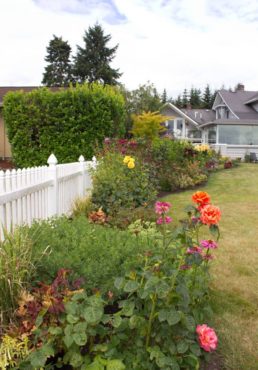 Although Eastman had acquired a wealth of plant and design knowledge while creating gardens at her previous homes, roses had been a bit of a mystery. She turned to the Kitsap County Rose Society, where she found expert information and an invaluable mentor in Elena Williams, now president of the rose society.
The Kitsap County Rose Society focuses on educating people how to successfully grow roses in the local climate, including which varieties do best. The group maintains a demonstration rose garden at the Silverdale branch of the Kitsap Regional Library. And of course, there is the camaraderie of fellow rose lovers, with visits to each others' gardens and to rose shows.
Williams taught Eastman when and how to prune roses to maximize health and bloom. Eastman learned that roses need to be fertilized once a month, May through August, and that they need "more water than you think." She also picked up valuable tips on how to control common rose diseases and ways to keep weeds down. To minimize blackspot, she learned, "you really need to take the foliage off the bottom of the roses to help air circulation."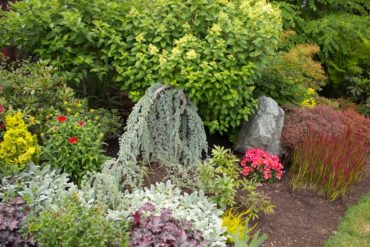 Eastman's rose garden is now "a kaleidoscope of color all summer," she said. To name just a few: Yellows include 'South Africa,' 'Shockwave' and 'Radiant Perfume.' Among the pinks are 'Sexy Rexy,' 'Lovely Fairy' and 'Neil Diamond.' Some reds are 'Ingrid Bergman,' 'Chrysler Imperial' and 'Lavaglut.' 'Ebb Tide' is an unusual, dark-purple rose; and 'Fragrant Plum' is lavender. A few in the orange-peachy range are 'Anna's Promise' (one of the "Downton Abbey" TV series), 'Octoberfest' and 'Playboy.'
One of Eastman's favorites is 'Rock & Roll.' Each petal is different, striped and splashed with red, burgundy and white, with a strong fragrance of rose and fruit. "It looks like a party; it just makes me smile," she said.
Another favorite, 'Colorific,' a floribunda in shades of coral, peach and salmon, earned Eastman a first prize in the novice spray category at the Pacific Northwest District Rose Show in June this year.
Focus on Fragrance
In the beginning, color and form were the top attractions for Eastman. But, she said, "I've kind of evolved." Fragrance and disease resistance are now high priorities as well. And she's started placing roses in the landscape among other shrubs and perennials.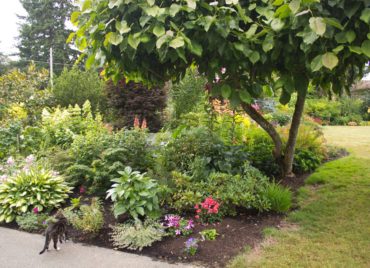 "There are lots of floribundas now that work beautifully tucked in among the gardens," she said. Eastman has two of those floribundas, 'Easy Does It' and 'Easy Going,' in a sunny fragrance garden at the back of the house. Their colors range from peachy-golden yellow to mango and papaya. Both are low maintenance. "Other than when the big sprays are done blooming and you cut them back, you don't do much to them," she said.
Other fragrant plants in this bed include lilac, peonies, daphne and tall Oriental lilies. And more roses: 'Julia Child' in tree form, 'Dick Clark,' 'Francis Meilland' and 'Wedding Bells.' The latter's fragrance has hints of patchouli, myrrh and incense.
Color, Form and Texture
As stunning as the roses are, Eastman said, "I actually don't think roses are the focus of my gardens."
And indeed, six years after planting the first rose, the Eastmans enjoy colorful, richly textured borders of trees, shrubs and perennials with year-round interest.
In the garden bed where 'Easy Going' and 'Easy Does It' thrive, Eastman also grows spiraea, hardy fuchsia, hybrid butterfly bush and tall lilies in a variety of colors. A burgundy lily, so dark that it is almost black, contrasts color and leaf texture beside a hosta with very large, blue leaves.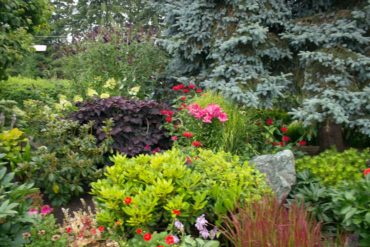 Two panicle hydrangeas grown as trees, 'Limelight' and 'Pinky Winky,' make a big visual impact. Eastman said, "I've developed quite a love for these hydrangea trees. When they bloom, they're just so showy."
To keep the color coming, Eastman planned for a succession of blooms. "I had daffodils, then iris, then the lupines come along. As I take them down, there's another layer. And the heuchera provide a great base," she said.
In front of the house, where mature conifers near the driveway provide partial shade, purple-leaf ninebark contrasts with cream-and-green variegated fatsia and pink-toned leaves of 'Roseglow' barberry. Purple spikes of veronica stand out against a backdrop of gold-leaf barberry.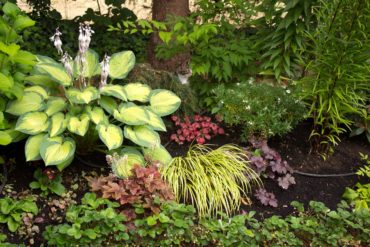 Hydrangeas, rhododendrons, Japanese maples of various sizes and colors, hostas with strikingly variegated leaves, Japanese forest grass, heucheras and hellebores provide a wealth of foliage color and texture. Majestically tall lilies, delphinium, peonies and smoky-pink phygelius are just of few of the floral flashes.
Elsewhere in the front border, against a backdrop of a mature, blue spruce and big, old rhododendrons, a tall, gold-leaf smoke tree practically vibrates beside a purple smoke tree and the dusky blue flowers and small, shiny green leaves of ceanothus.
The fine textures of red laceleaf maple and Japanese blood grass play off against the solidity of a massive rock. Reflecting the asymmetric angles of that rock, a weeping blue Atlas cedar hunches over nearby.
Although spring and summer are tops for color, there is much to enjoy in the quiet seasons as well. When leaves fall and perennials subside, conifers of various sizes, broadleaf evergreens, bark and berry and big rocks take center stage.
Keeping Up with It All
Keeping on top of these beautiful gardens and a hundred-plus roses as they progress throughout the growing season sounds like a full-time job. Yet Eastman, who estimates she does 90 to 95 percent of the work herself, says she spends just eight to 10 hours each week on maintenance. Her husband, a retired engineer, is "a fix-it guy." He focuses on the home repair and remodeling projects, but he also helps dig holes for new plants and does a lot of the big tree pruning. Their nephew, Thomas Hurley, occasionally helps with projects like moving bark and pruning the big laurels. And, now and then, 13-year-old Emma Sloan, who is learning about gardening, comes to help out.
Once a week, Eastman devotes a couple of hours just to the rose garden, with its sweeping view of Liberty Bay: tidying, cutting flowers and deadheading. "But I can't say it's all work, because I'll hear the birds, I'll stop and look up to see what the birds are doing, or talk with a neighbor out walking," she said.
Who would have dreamed that a drainfield could smell so sweet! Sally Eastman did; and she does take time to smell the roses.