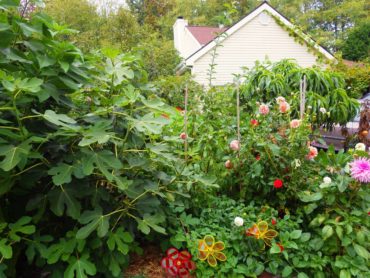 On a quiet street in the middle of Bainbridge Island, Darren and Kari Murphy have sprouted a garden filled with fruit trees, grapes and vegetables of all sorts. While not a rare sight, theirs exudes an underlying passion for heirloom and unusual varieties and community service.
Many of the plant varieties they grow are rare in local nurseries and all but absent from the big-box stores. To help promote these and other varieties, Darren Murphy started the Bainbridge Island Fruit Club to benefit his local community.
Gardening was an influential part of his upbringing. Combine that with a severe case of "collectoritis" and the result is a diversely and heavily populated garden on one-third of an acre. Originally focusing on fruit trees, they have begun growing more and more vegetables.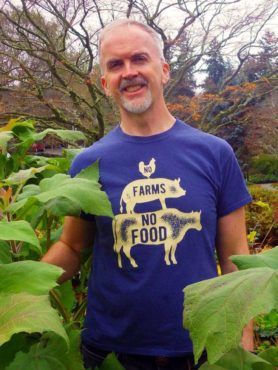 "Vegetables tend to be more nutrient dense than fruit," Murphy says. "We decided to grow more vegetables for the health benefits." Toward that end, the couple filled garden beds and containers with veggies.
Among the well-known beans, carrots, artichokes, tomatoes and more is the lesser-known yacon. Also known as Bolivian or Peruvian ground apple, the yacon produces a low-glycemic, high-fiber, nutrient-rich tuber. A shorter relative of the sunflower, it produces flowers resembling little sunflowers about the size of a quarter. Although it's a perennial, the Murphys dig it up in the fall. The yacon produces two kinds of tubers: dahlia-like for eating, and Jerusalem artichoke-style tubers used to propagate next year's crop.
Growing conspicuously next to some fruit trees is a pole bean called 'Mrs. Gillispie.' It won't be found for sale in any catalog currently. A prime example of an "heirloom" crop, this bean had its start in Murphy's childhood.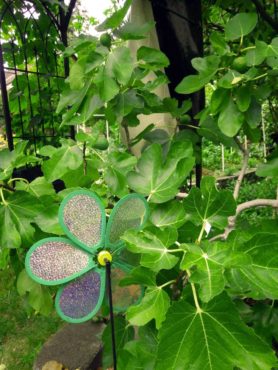 His family grew pole beans obtained from a local minister's wife named Mrs. Gillispie. Good for soups and drying, it was eventually lost. Then while away at college in Washington, D.C., Murphy discovered six old seeds of Mrs. Gillispie's beans in a small box of his. Even though 15 years old, some of the seeds miraculously grew and he has maintained the line to this day.
Not commercially available, the 'Mrs. Gillispie' pole bean may be obtainable someday. One of Murphy's ferry-riding friends serendipitously was an in-law of the Seed Savers co-founder Diane Ott Whealy. After the two were introduced, Seed Savers now has 'Mrs. Gillispie' in its collection and gardeners have Murphy to thank for saving a variety that almost disappeared.
One of the couple's many apple trees is the 'Olympia' apple. Years ago, Murphy wrote an article about 'Olympia' for the Western Cascade Fruit Society, detailing a personal connection between himself and the nearly 130-year-old apple variety.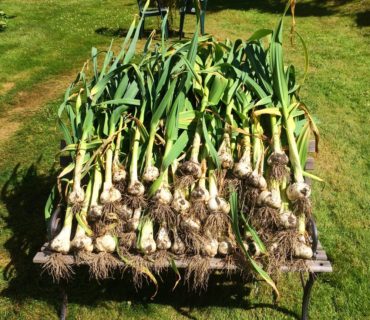 He first learned about it at an annual grafting show put on by the Peninsula Fruit Club. Baring the name of the state capitol and his birthplace, it caught his eye and further investigation garnered a pleasant surprise. In addition to being a great apple for fresh eating, cider and "especially pies," the 'Olympia' apple was introduced prior to 1890 by a William Schinke, Sr., who coincidentally was Murphy's great-great-grandfather.
The Murphys' experience with the 'Olympia' apple and 'Mrs. Gillispie' bean demonstrates that gardening is truly a generational affair. Whether learned from family members or not, gardening was likely practiced by almost all of our ancestors. Generational and new gardeners and their communities are key to preserving these unusual or different food plant varieties.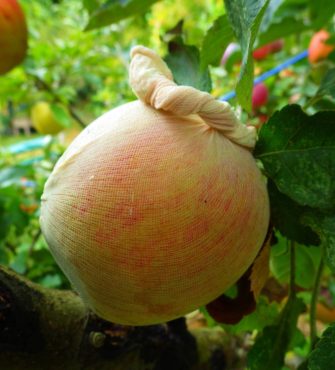 With that in mind, Murphy started the Bainbridge Island Fruit Club in early 2014. A local member of the Western Cascade Fruit Society, the Bainbridge club strives to educate members and the community about fruit growing and preserving. The public is encouraged to attend the meetings every third Thursday of the month, usually at the Bainbridge Island Grange Hall.
In addition to education, the fruit club supports community gardening with a grafting show and involvement with the Johnson Farm. The grafting show allows the public to obtain uncommon fruit varieties for a nominal fee. Visitors can bring their own rootstock or buy cheap rootstock at the show and club members will graft a club-provided fruit tree wood for a nominal fee.
The club has a memorandum of understanding with the Friends of the Farms to do preservation work with the fruit trees at the Johnson Farm on Bainbridge Island. At the wish of the farm's late owner, Harvey Johnson, the property was set aside for agriculture and public use.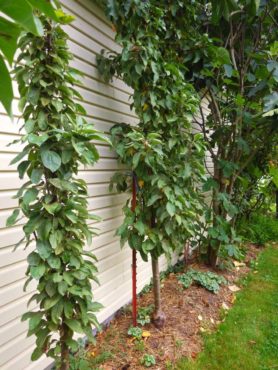 While the city of Bainbridge Island owns the land, the Friends of Farms manages it. The Bainbridge Island Fruit Club's role is to inventory existing fruit tree varieties, do restoration pruning and preserve multiple fruit varieties by grafting onto the farm's existing restored fruit trees. The club also plans to use the farm to educate the public on its activities and the growing of both heirloom and modern fruit varieties.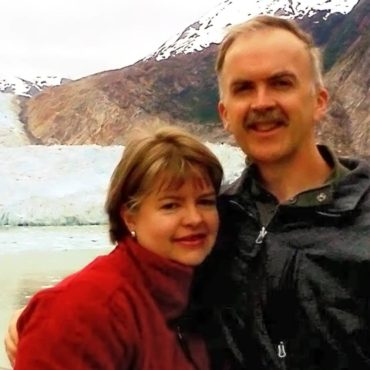 The Murphys' own garden, a food museum in its own right, produces large quantities of fruits and vegetables thanks to its owners' efforts. While the duties of growing and preserving are performed by both, Murphy does more of the gardening and both work their magic with the produce. Kari tends to focus on the vegetables, preparing them fresh, canned or turned into winter soup-starter. Darren converts the various fruits into juices, sauces, pies and anything else possible.
His apple butter is particularly prized by friends and family. He cores the apples and chops them, leaving the skins on for added nutritional value. After stewing in a crockpot until half the moisture has left, Murphy adds lemon juice for acidity and cinnamon for flavor. To mix things up, he will combine other fruits in the butter. In particular, pears and figs provide a wonderful addition to his apple butters.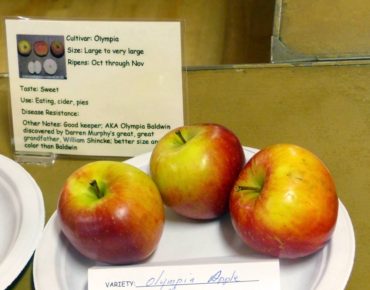 The bounty that the Murphys convert into more delicious meals than they can use is produced on their one-third acre plot surrounding their house. They employ various techniques to optimize their crops. Containers filled with warm-season vegetables like tomatoes, peppers and green beans populate the upper driveway by their south-facing garage for extra summer heat. Old-school crop rotation throughout the growing season makes full use of their veggie beds.
Murphy is particularly proud of his grape arbors that utilize vertical space and permit the planting of crops around the base of the grape vines. Not just utilitarian, vine-covered arbors are an artful and aesthetic way to grow food. In pursuit of vertical space, they allow some grapes to grow up into their fruit trees as well.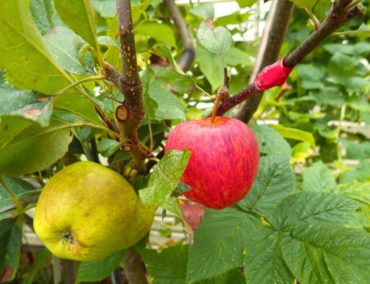 Part of achieving high crop yields is reducing losses to pests and diseases. One of the most ubiquitous pests is the cute but pesky, fruit-hungry raccoon. The Murphys employ bamboo barrier to effectively deter the problematic rascals.
Normally used underground to contain bamboo, the barrier is slippery and keeps raccoons away from fruit when attached to the base of trunks or arbors. For the Murphys, a bungee cord works nicely to keep the bamboo barrier in place.
Spotted wing drosophila (SWD), a nasty fruit fly, is a newly introduced insect pest in this area and poses problems for commercial and home fruit growers alike. While most fruit fly species are only of concern in the kitchen, the SWD can lay eggs in unripe fruit before it's even harvested. And unfortunately, they're not too picky either, attacking all kinds of fruits including cherries, strawberries, raspberries, grapes and plums, to name a few.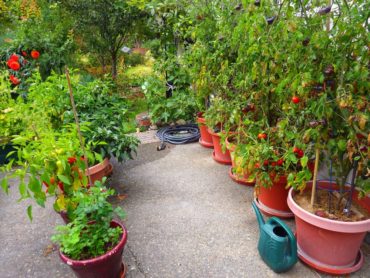 According to Murphy, the SWD can be hard to control. He employs multiple techniques. Traps containing apple vinegar plus dish soap catch some and army-surplus mosquito netting can be helpful, particularly with shrubby, fruit-bearing species like currants. Perhaps the biggest help in deterring SWD is removing infested fruit and weedy fruit producers like Himalayan blackberry. Remove any fallen or infested fruit, preferably by bagging into the trash rather than composting.
When Kari and Darren Murphy first purchased their house 17 years ago, it was an open yard with more than its fair share of Himalayan blackberry vines. Though their street is still quiet, the Murphys have transformed their plot into a productive mini-farm of healthy fruits and vegetables.
Their enthusiasm extends beyond their garden to preserve and promote heirloom varieties via the Bainbridge Island Fruit Club that welcomes the public to come and learn. In that way, hopefully more yards will transform into urban mini-farms.