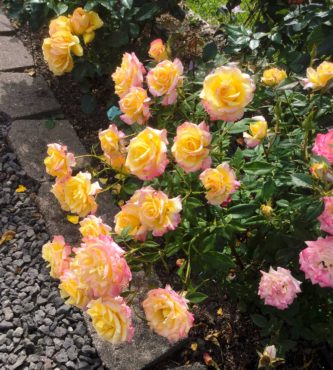 Sustainable growing means different things to different people. In organic gardening and farming, a sustainable growing system minimizes what enters and leaves the system, using only what is sustainable to the environment.
Beyond that, sustainability is a local concept. For example, collecting water in rain barrels is considered sustainable in Western Washington but not in Southern California. Even more locally, consider what is sustainable to your lifestyle and how that changes along the path of life.
What is sustainable for your garden now depends on your preference for a formal or informal garden. Knowing that all roses require some maintenance, it is the resistance to disease that makes roses sustainable as garden plants.
Many people do not want to grow things that require preventative spraying with inorganic chemicals; however, some treatments are approved for organic gardening. The key to sustainable rose growing is selecting rose varieties that have known resistance to disease. Many older, hybrid teas do not fall into that category.
The factor to be taken into consideration is fungal disease. Our wet climate provides the perfect conditions for many fungal diseases to flourish. Even the dew in August is enough moisture to germinate botrytis fungal spores on some roses.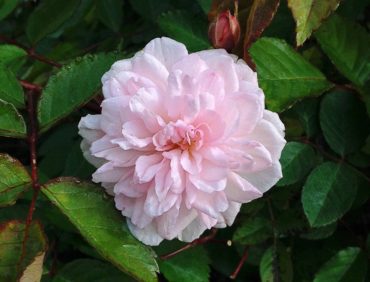 If you have ever seen polka dots on rose petals or gray mold on blooms — usually in early fall — you are seeing botrytis. Cut this off as soon as possible or it will spread to other blooms. Black spot and powdery mildew spores multiply rapidly and leaves showing severe infection should be trimmed off the plant.
A severely infected plant is a good candidate for removal and replacement with another rose that's known to be disease-resistant.
The following roses have been reported by American Rose Society consulting rosarians on the west side of the Cascades as being disease resistant:
New Zealand, hybrid tea, light pink
Dick Clark, grandiflora, red-blend stripe (a favorite in Kitsap County)
Julia Child, floribunda, medium yellow
Living Easy, floribunda, orange blend
Sunsprite, floribunda, deep yellow
Hot Cocoa, floribunda, pink, purple, brown
Easy Going, floribunda, yellow blend
Distant Drums, shrub, mauve, unique color, can be fussy getting roots established
Bees Knees, miniature rose, pink blend
The Fairy, polyantha, light pink, many blooms
Marie Pavie, polyantha, light pink, fragrant blooms on a compact plant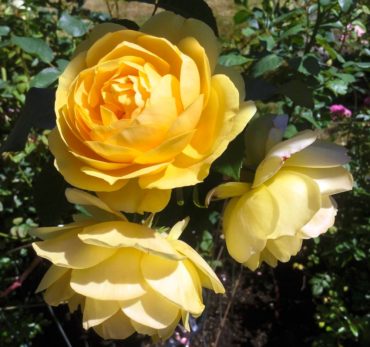 Beyond this list are the many roses hybridized by Will Radler of Knock Out. So far, Radler's roses do not have the classic hybrid-tea form and most are classified as shrub roses, but there is a place for them in the garden. They are extremely disease resistant and available locally.
Look for the following disease-resistant roses by Will Radler:
Milwaukee's Calatrava, shrub, white, fragrant (a favorite in Kitsap County)
Sunny Knock Out, shrub, light yellow
Phloxy Baby, polyantha, pink blend, a recent AGRS winner
Another hybridizer to pay attention to is the Kordes family out of Germany. They have been producing roses in Germany for over 125 years. Kordes roses have been developed for disease resistance because many of the European countries do not allow gardeners to purchase and use fungicides.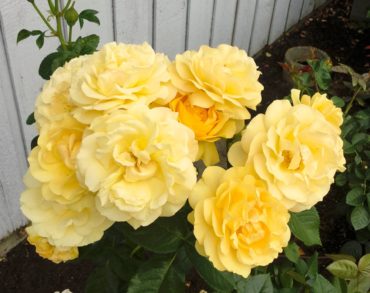 As a group, the Kordes style of roses tends to be less formal than the hybrid-tea roses and more like the loose shape associated with floribunda roses in the United States.
Disease-resistant roses from Kordes:
South Africa, grandiflora, dark yellow (a favorite in Kitsap County)
Beverly, hybrid tea, pink blend, fragrant
Dark Desire, hybrid tea, mauve
Some English shrub roses by David Austin are also proving to be disease resistant in our climate. Some, but not all, of the Austin roses are great performers in our climate:
Abraham Darby, apricot blend, fragrant (a favorite in Kitsap County)
Graham Thomas, deep yellow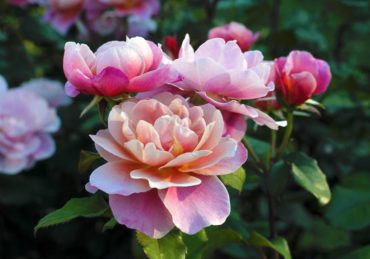 Old-garden roses have survived the test of time because they are disease resistant, and people want to grow them and have kept them in commerce for a long time.
Selection of a rose variety is the key to your success with the variable of disease resistance. If a rose in your garden is showing more spots or powdery mildew than you can tolerate, dig it out and replace it. Fortunately for gardeners, resistance to disease has been recognized as very desirable and the future of roses seems to include that trait.
You'll most likely find old-garden roses at specialty nurseries. Some good choices:
Rose de Rescht, deep pink, 1880
Tuscany, mauve, 1598
Madame Hardy, white, 1832
Reine de Violettes, mauve, 1860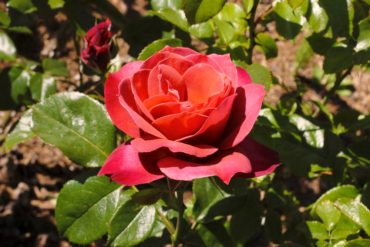 Many gardeners were familiar with the All American Rose Selection (AARS), a national testing organization for roses, but it went out of business four years ago. Some of the older roses may still be marketed with this designation but testing new varieties has stopped.
A new group has formed, American Garden Rose Selections (AGRS), with its first winners announced in 2015. This new organization has regional trial gardens including the Master Gardeners Rose Garden in Kennewick and the Portland International Test Garden in Oregon. Awards are given regionally for fragrance and performance (vigor, plant habit, hardiness).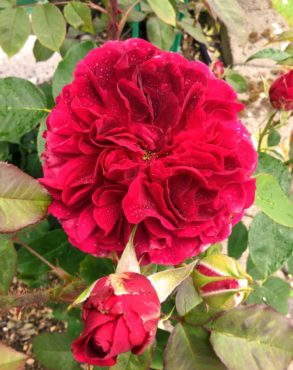 Sustainable rose-growing attributes
Require low maintenance. All roses require some maintenance; the gardener decides how much time to devote to the garden.
Are disease resistant. What is your level of tolerance to less-than-perfect foliage/roses? Trim off any leaf or bloom problem.
Require no excessive amounts of fertilizer or pesticides. Blooms need some fertilizer once leaves are growing in spring.
Are drought- and heat-tolerant during July and August. The first year is critical with watering to get feeder roots established.
Minimally require good compost and mulch to retain water.
General rose culture
Planting site: Six hours of sun; east or south for maximum flower production.
Bed preparation or single hole: Native soil amended with compost only.
Watering: Pay close attention to this during the first year after planting, especially during the dry season; water weekly.
Fertilization: Only organics when first planted. When you see leaves begin around May 1, roses will respond to additional nutrients added to the soil. Any fertilizer formula with "rose" on the label should provide the N-P-K and micronutrients for best blooms. Repeat monthly, if desired.
Maintenance: Deadheading, if desired to keep a tidy garden and encourage new growth of blooms.
Mulching: June 1 when the soil warms, apply an organic mulch to avoid water evaporation.