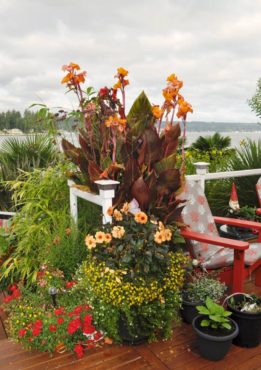 Western Washington excels as a gardener's playground. Abundant rains, mild winters and not-too-hot summers let gardeners grow a wide selection of plant species and varieties. But even with the botanical diversity at the gardeners' disposal, the "tropical" garden does its best to stay out of their reach. The winter temperatures are not quite mild enough to make it easy.
Or so it would seem. On Liberty Bay outside of Poulsbo, Jerry and Barb Cooper have cooked up their own private tropical resort. Local boaters may know it as the place with red umbrellas and palm trees. Stir in thriving cannas, robust banana trees, happy hibiscus and all sorts of annuals and perennials, and their garden assumes a southerly flavor.
Their uncontested flagship plants are the pillar-like palm trees lining the waterfront deck. Two species do well for them: windmill palm (Trachycarpus fortunei) and fan palm (Washingtonia spp.). Both perform reasonably well in the West Sound climate and the Coopers' palms are no exception. The ever-growing palms have been there for 15 years and counting.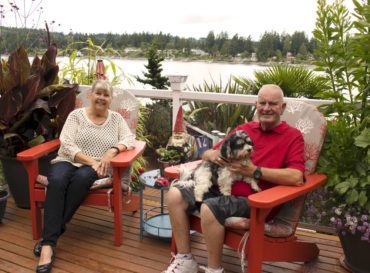 While the palms are just teenagers, the couple's history with the property goes back to 1958, when Barb's parents purchased the one-acre property with the circa 1929 house. Jerry, a Poulsbo firefighter, and Barb, a Navy contractor, bought the property from her parents 35 years ago. Her mother and father moved into town but visited often. Now Jerry and Barb Cooper are both retired and spend much of their time on their home and landscape.
When they purchased the property, the landscape surrounding the house was largely undeveloped. The garden as it exists now is the result of years of evolution. Early on, Jerry built the north deck for Barb's father, who "didn't like the sun." He then continued to build western upper and lower decks facing Liberty Bay. Over time, they continued to mold the landscape to their liking.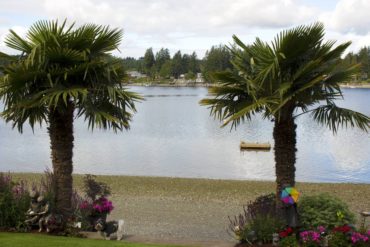 Up away from the shore sits a nice, well-tended vegetable garden. Jerry loves kohlrabi and grows plenty of it, along with zucchini. They've also developed a taste for "Jelly Bean" tomatoes and cultivate a generous supply. Unfortunately, live plants of this tomato variety cannot be shipped to Washington state so the Coopers grow them from seed in a greenhouse they built on the north side of their property. They are rewarded with more juicy tomatoes than they can use.
Useful for seed starting, the greenhouse is also integral to their success with tropical plants. While their hibiscus generally do OK outside in the winter, others need more protection. The cannas and bananas may survive milder winters by being covered but some years, they are brought in until next spring.
The Vegetable Garden:
That attention to care has resulted in hearty cannas growing above head level and sporting vigorous blooms. Aged chicken manure and hours of tending do not hurt either.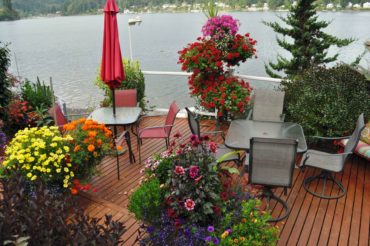 Similar success graces the couple's large-leaved banana trees. So much so that they want to get their bananas to actually produce fruit soon. That would likely be a first for West Sound but if anyone can do it, the Coopers can. Jerry has a bit of a reputation: "Cooper touches it and it grows."
To top off the tropical style, their decks are adorned with over a hundred pots planted with annuals and perennials. Petunias, fuchsias, geraniums, annual and perennial lobelia, gunnera, bamboo, angel's trumpet, hibiscus and more fill the pots of all sizes and grace the decks with color. There is even an iron "tree" built to hold pots of pelargoniums, creating a sort of red-and- green, summertime Christmas tree.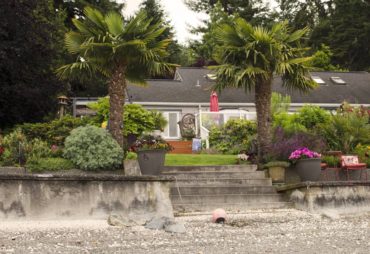 A tropical-themed garden on one acre is a labor of love and there is a lot of labor, indeed. The Coopers are very specific about the garden's look so they do all the work themselves. Jerry estimates he puts in eight hours a day tending the garden. Cubic yards of bark chips are brought in to cover the beds. One record year, that quantity was 45 yards — that is a lot of wheelbarrowing and shoveling for just two people.
Staving off the thirst of a one-acre garden is also a huge undertaking. Drip and sprinkler systems are set up all over the property, saving on some labor. The pots, however, have to be watered by hand and with over a hundred pots, that is quite a job. In the heat of the summer, keeping all the pots watered is a three-hour chore.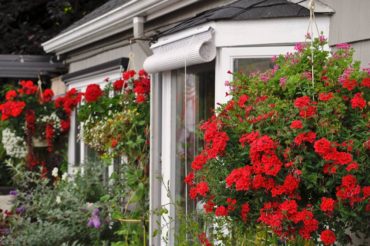 To complicate things, Jerry and Barb Cooper like to travel. Fortunately, friends are willing to stay at their house and keep up the garden. In exchange for watering, they get to stay in the house with an interior as beautiful as the garden outside.
Each room has been remodeled over the years a little bit at a time. Jerry jokes that once he's finished remodeling, it will be time to start over with the first room he renovated. With a nice waterfront house, deck, thousands of blooms and a spectacular view of the Olympic Mountains, getting someone to stay and water is perhaps the easiest part of gardening for the Coopers.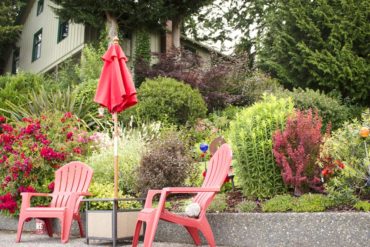 When not travelling or gardening, the pair occasionally entertains family and friends. The well-designed house interior and lovingly tended garden and deck space permit both indoor and outdoor activities. They've put on various dinners and parties including anniversary celebrations. With Liberty Bay and the Olympics as a backdrop, the garden creates a tropical, fairytale destination for family.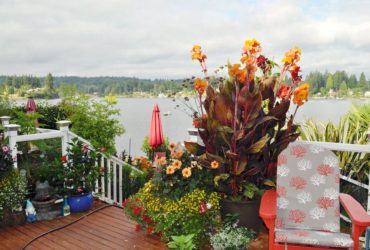 The Coopers' garden teaches that the perceived bounds of the gardener's limits in the local climate can be stretched with imagination, planning and work. All the "tropical" plants in their garden are either hardy enough or can survive here with some protection. The real miracle is their devotion to their family and surroundings.
One more gem will be added this year to their garden: Jerry and Barb Cooper will celebrate their 55th anniversary with friends and family at a home they created themselves and has been in the family for almost 60 years. That, perhaps, is the most wonderful, touching part of their story.