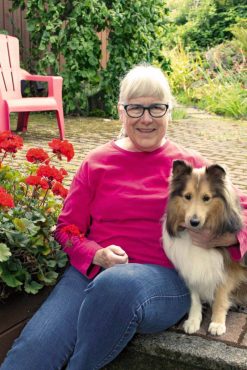 This coming January, I will turn 70 years old. What a glorious age to be. I retired from WSU Kitsap Extension at the age of 67 and continued writing this column and other pieces for WestSound Magazine magazine.
This past summer, my husband, Pat, and I hooked up our 30-foot travel trailer to our Ford diesel pickup and traveled through British Columbia, the Yukon and throughout Alaska. For us, it was truly the trip of a lifetime.
We loved every minute of our 12 weeks away. Luckily, we have good friends who made sure none of the plants in our garden died while we were away.
We pretty much totally disconnected from technology — had practically no internet at all, very little television reception and once in a while no cell phone coverage. It was a retreat away from technology.
I realized I could disconnect and still survive. I learned that it's such joy to spend even more time alone with my husband and our sheltie dog than I'd been able to spend before. I also realized that we want to do more traveling. Possibly not 12 weeks at a time, but definitely more traveling and exploring throughout Canada and the United States.
I also realized I have missed spending more time in my own garden over the last 15 years (first as an Extension employee and second as a writer, garden editor and columnist for WestSound Magazine).
Most importantly, I've learned that I'm very ready to embrace retirement. Not completely from all writing because I'll still write my column in the Kitsap Sun and I'll be available to my wonderful publisher, Dee Coppola, and co-editor Rodika Tollefson, when they need a friendly opinion or critical eye now and then.
Mostly, though, as a kindred spirited gardener, I will be an avid fan of WestSound Magazine and will enjoy cavorting with other plant geeks in activities and opportunities throughout West Sound. I'll still be volunteering as a WSU Kitsap Extension Master Gardener.
I want to sincerely thank each of you for reading my column and the stories I've written, and for sending us such great tips and ideas for the magazine. The 11 years of writing for the magazine have been pure joy and a total gift to me. I am extremely grateful and blessed.
I'm proud to say I was instrumental in recruiting our five current garden writers: Debbie Teashon, Elena Williams, Darren Strenge, Luba Fetterman and Maia Eisen. They are all wonderful writers and great gardeners with a wide array of talents and interests. It has been pure joy working with them and I know you'll appreciate reading their pieces in the future.
I'll see you at gardening events throughout West Sound and will be happily enjoying my own garden in the years ahead. Feel free to send me emails (gardenmentor@yahoo.com) and questions now and then. I love communicating with other gardeners.
Happily retired and gardeningly yours,