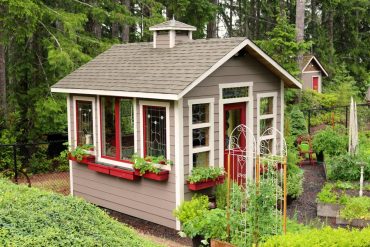 A few years after Ruth and Brian* built their home on Haven Lake, Ruth decided she really needed a potting shed to house her books, seeds and vintage family garden tools.
She drew up a concept picture and turned to her every-handy husband. Brian isn't in the construction business, but he grew up and spent time with a grandfather who was an amazing carpenter. They even build a boat together.
Ruth busied herself collecting materials. She wanted to use reclaimed materials, including windows. She hit the Habitat home-building store, thrift stores, swap meets and yard sales.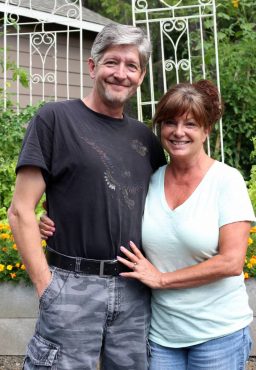 The flooring was part of a car deck from Wishkaw Mall in Aberdeen, and the yellow hutch came from a craigslist.com listing.
"I taught her to use a chop saw, jig saw and a nail gun and turned her loose on the inside," Brian said.
Raised vegetable beds are on two sides of the potting shed. Marigolds surround the beds, keeping the slugs away; Ruth just loves the bright colors. The couple went to Ireland last year and fell in love with stone walls; they intend to install them instead of the cinder blocks.
From the windows boxes, to the bright trim on the cupola — this cute potting shed is a labor of love.
* Last name withheld for privacy reasons.