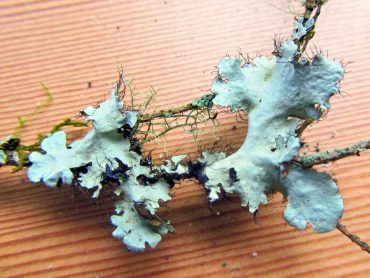 Verdant moss carpeting the ground and draping the trees enchants us and adds a depth of beauty to woods and gardens. A world with moss pleases the eye, but for those who take the time, there is a second world to enjoy. The Lilliputian world of mosses and lichens is as vibrant and alluring as the showiest garden.
One frequent visitor to that world is Phoebe Goit, a retired teacher and school librarian. A longtime gardener, she has long had a love for plants.
"One day, I was looking at a flowering branch and noticed the moss and lichen growing there," she says.
She looked even closer and from then on was hooked on that intricate world.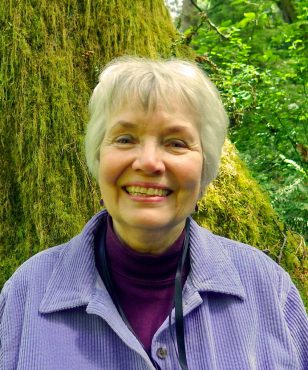 To Goit and other aficionados, the miniature world of moss and lichen is very alive. Moss researcher Robin Wall Kimmerer describes it well in her book, "Gathering Moss":
"One gram of moss from the forest floor, a piece about the size of a muffin, would harbor 150,000 protozoa, 132,000 tardigrades, 3,000 springtails, 800 rotifers, 500 nematodes, 400 mites and 200 fly larvae. These numbers tell us something about the astounding quantity of life in a handful of moss."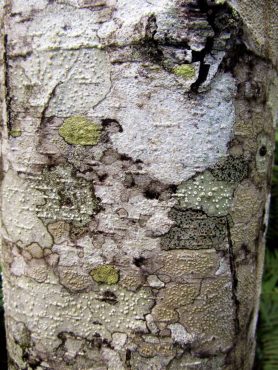 "In this area, it is difficult to find a moss expert or a class," Goit says. Aside from a moss class she took at the Bloedel Reserve's Moss Garden on Bainbridge Island, she is largely self-taught on the subject. With lots of patience, tenacity and a good hand lens, she has become a local expert on native moss and lichen species. So much so that she has taught classes for the Master Gardeners and local garden clubs. Earlier this year, Goit did moss identification for the Bainbridge Island and Vashon Island Bioblitzes.
While they are all fascinating to her, Goit has a few favorites. Snake moss (Plagiothecium undulatum) is a flat, silvery moss commonly found on rotting logs.
"It's a good moss for kids to learn because it is easy to identify," she says. As the name suggests, it resembles a mass of silvery-green snakes.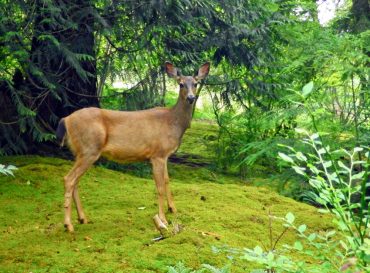 Stair step moss (Hylocomium splendens), another favorite, is distinctive. Its fern-like stems grow perennially to resemble stair steps, with the current year's growth sprouting out near the middle of last year's stem. While intermittent in some areas, in the Olympic Mountains, it carpets large swaths of forest floor. The epithet "splendens" aptly describes the light-green feathery appearance.
Typically growing en-masse on organic-rich soils and rotting logs, Menzies' tree moss (Leucolepis acanthoneuron) forms dense, miniature forests mimicking life-size trees. Plucking one "tree" from the tiny forest allows examination of its tree-like habit.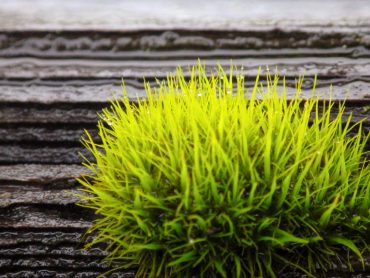 Only around a couple inches tall, the moss grows as a central stem with numerous horizontal branches and a bare, lower "trunk." Soft swaths of tree moss in dappled afternoon shade tempt the woodland wanderer with promises of a satisfying nap.
On drooping tree branches lives forking tube lichen (Hypogymnia imshaugii), a fun, easier to identify lichen. Whitish-gray to pale-greenish-grey branches bear light-colored "trumpets" with brown-filled, spore-producing "bells." Like many lichens, it has an unusual habit that elicits thoughts of alien life.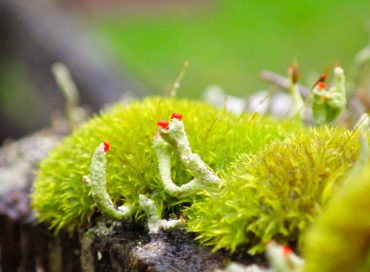 While sharing the miniature world with mosses, lichens are a vastly different organism. Mosses are true plants but lichens epitomize cooperation, being the result of symbiosis between a fungus and an algae or cyanobacteria (blue-green "algae") species. The photosynthetic partner provides food to the fungus, which reciprocates with protection from the harsh elements that algae normally abhor.
The result is 17,000 species of lichen growing in environments shunned by most plant species. Thanks to lichens, trees and rocks frequently sport one of nature's most beautiful wallpapers.
As one who largely taught herself about mosses and lichens, Goit has some tips for those ambitious enough to follow in her footsteps.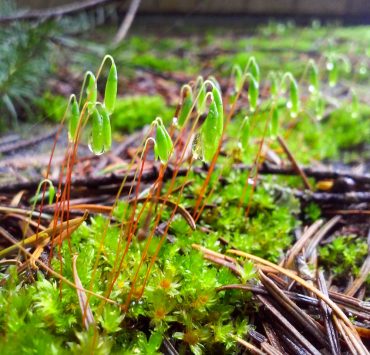 "Watch out for scale!" she says. It is easy to forget mosses and lichens are tiny when looking at magnified field-guide photographs. She uses her fingernail as a size comparison between book descriptions and what she finds in nature.
Goit points to Physcia tenella as an example of a smaller-than-expected lichen. This species grows only up to 2 centimeters wide, hiding on tree branches. Field-guide pictures are magnified to show useful identification features. As an unintended consequence, the lichen and moss explorer is prone to missing the really tiny species.
"I was examining a tiny lichen when I suddenly realized it was a species I had read about but it was smaller than I expected," Goit says.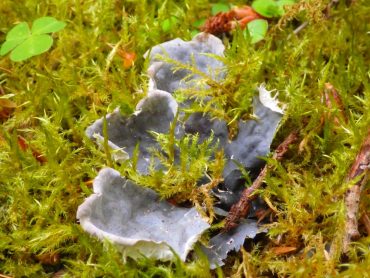 Logically, investigating miniature plants and lichens is hard on the eyes. Goit recommends some sort of magnifier, and she personally carries a little jeweler's loupe. Many inexpensive options are available on the internet. Some magnifiers even come equipped with LED lights, a handy feature in shady moss habitats. A 10x lens usually suffices although higher powers are useful in some situations.
Naturally, some sort of field guide will be necessary for examining mosses in their native locations. While a plethora of guides exist for wildflowers, trees and mushrooms, the underdog lichens and mosses suffer from a dearth of information for the lay public. Not to worry though, there are choices and some are readily available from local bookstores. (Check the sidebar for a list.)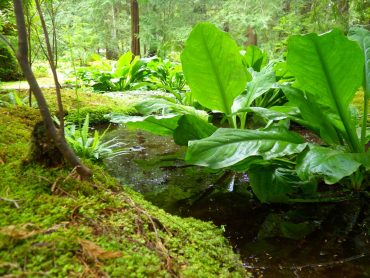 With field guide and magnifier in hand, exploration is the next step. Fortunately, mosses and lichens are to be found everywhere. So common are they that products and books exist on controlling them.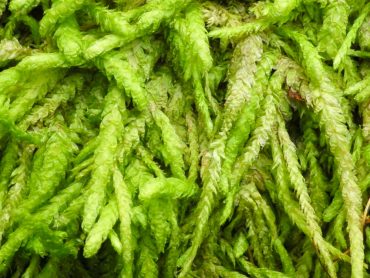 Contrary to common opinion, mosses and lichens are not parasitic but mosses can make a shady walkway slippery. Even lawns are not free from invasion by moss but for the moss and lichen lover, this is a good thing, as finding subjects for study is as easy as going out the door.
Moss and lichen are likely in your own yard but to discover a wider variety of species, visit different types of habitats. The moss garden at the Bloedel Reserve is an obvious destination for the emergent and experienced moss hunter and lichens abound there as well. Goit has several favorite places for her explorations: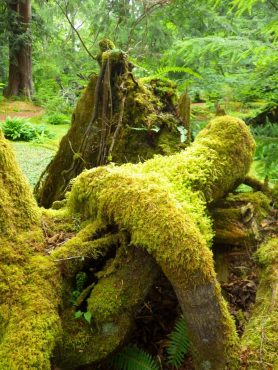 Grand Forest, Bainbridge Island
Anderson's Landing Park, Silverdale
North Kitsap Heritage Park, Poulsbo
Newberry Heritage Park, Silverdale
Guillemont Cove, Seabeck
Foulweather Bluff Nature Preserve, Hansville
Her enthusiasm for moss and lichen is contagious. After initially noticing them on a branch, she started studying all about them.
"The more you know, the more you try to learn," she says.
She is continually learning more and more. A humble person, Goit might deny being an expert, but to a botanist with a master's degree, she is certainly impressive in her knowledge. Mosses and lichens have become a pursuit for her — and they can be for anyone interested in learning. All it takes is patience and persistence.
Happy moss and lichen hunting.