Jan Bahr, who is a pond-plants expert at Roadhouse Nursery, says that outdoor pond maintenance is somewhat similar to keeping an aquarium. In maintaining an aquarium that houses fish and plants, the key element is the pump and filtering system. Fish and plants are also key elements in outdoor ponds. It's a complete ecosystem, and filters and pumps assist in maintaining the balance.
There are two main aspects to a water feature with running water. One is a pump and the second is a biofilter. Sometimes a pump will also require a prefilter. It's good to consult with a reputable manufacturer and to get information from someone who specializes in water gardening before making the purchase. In other words, do your homework. In West Sound, Bahr is one of those resources and visitors to the nursery can see the elements to water gardening first-hand.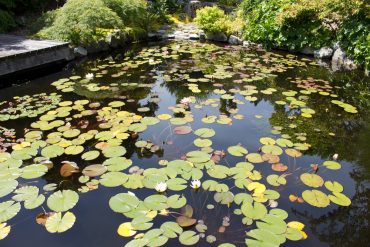 Reputable water feature installers and landscapers can also be consulted for information and recommendations.
Pumps
A pump is necessary in any water feature that includes moving water such as waterfalls and recirculating streams. The pump keeps the water moving. It can be submersible, either in the pond itself or in a separate location filled with water nearby. Nonsubmersed pumps are also available and can be located away from the pond.
The choice of pump will depend on what is being powered, not necessarily on the size of the water feature. The pump size needs to be calculated with the manufacturer's recommendation for water flow on the biofilter.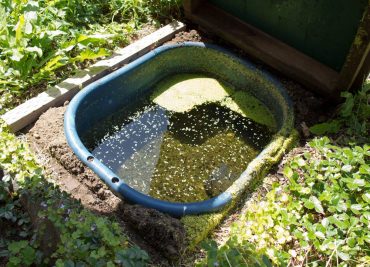 Pumps also need a prefilter system. The function is to capture debris that could clog or damage the pump or the biofilter. It is important to clean the prefilter regularly by following manufacturer's directions and recommendations.
In the system shown in this piece, the fiber mat between the water in the box and the pump under the mat is removed and replaced with another mat. Cleaning of the mat is done with a garden hose, much like cleaning a furnace filter. The mat is washed free of debris and then dried, ready to be switched with the current mat — and the process continues.
Debris-capturing mats eventually wear out and periodically need to be replaced. Some filter systems utilize a mesh basket instead of a mat. Prefilter systems are a good investment to extend the life of pumps.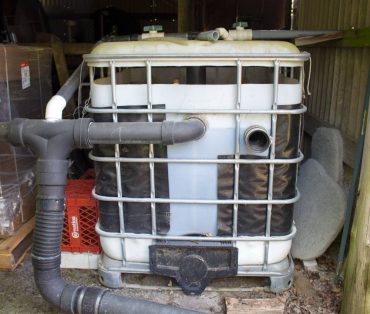 Biofilters
In most backyard ponds, a biofilter won't be necessary. In a pond with fish and plants, there is a whole relationship consisting of debris, waste from the fish, algae and bacteria. Most of the time, all these elements work happily together. This healthy balance is important.
Some systems, especially koi ponds, do need a biofilter, which adds a home for more of the necessary bacteria. It's best to consult a pond professional to learn what to do properly — and all of it will hinge on the manufacturer's specifications.
A properly installed and maintained pond and water system does not need cleaning and emptying. Algae is a normal part of the unique ecosystem of a pond and water feature.
Winter Care and Other Maintenance
In West Sound's growing climate, pumps usually can be kept going during all seasons. Some water gardeners turn off and clean the lines in the winter, but some choose to operate them continuously.
Watch for ice dams on streams and waterfalls. These can impede the pump's ability to circulate. During fall and winter, netting can be placed over the ponds to limit excess debris buildup in the bottom of the pond. Also monitor regularly for debris to clean up and remove.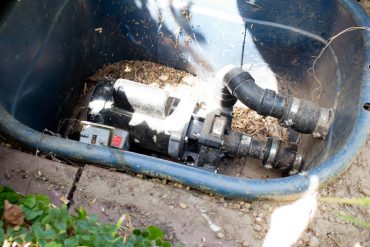 "The goal is to never completely empty the pond," Bahr says.
Underwater plants absorb nutrients out of the water and help control algae. Depending on the type of liners used in the pond, the liner lifespan can be several decades. The pond liner at Roadhouse Nursery was rated for 10 years and lasted nearly 30. It was replaced last year by removing the plants, fish, water and liner; and the pond has nearly returned to normal.
Plants
Most hardy aquatic plants purchased in Washington state can tolerate winters well. Tropical aquatics such as tarots, papyrus, cannas and some of the water lilies can go inside for the winter. Some make good indoor plants. Or consider them annuals.
Do not purchase Marsilea mutica (water clover) because it will soon be on the "do not purchase" list. It has become very invasive and should no longer be introduced into ponds or water features.
This three-part series may have whet a gardener's appetite for more plants. Remember to start small to see if it's something to pursue. Visit with other water gardeners. Consult with local experts in water gardening.
Water gardening is much like any other form of gardening, just with a different set of plants, growing conditions and maintenance. As Bahr says, "The broad strokes are the same, but the devil's in the details."
This is the final piece in a three-part series on water gardening. Many thanks to Jan Bahr at Roadhouse Nursery for answering questions and providing information for this series.