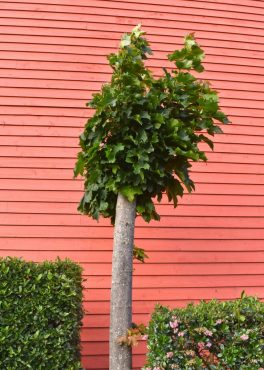 Sustainability is not a word generally used to describe pruning practices. Wikipedia has a more accepted use of the word: "Sustainable development is the organizing principle for sustaining finite resources necessary to provide for the needs of future generations of life on the planet. It is a process that envisions a desirable future state for human societies in which living conditions and resource-use continue to meet human needs without undermining the 'integrity, stability and beauty' of natural biotic systems."
When considering shrubs and trees, sustainability stands for pruning with the plant's long-term health and appeal in mind, in essence protecting the plant's "integrity, stability and beauty."
Sustainable pruning also takes into consideration the gardener and his or her ability to continue caring for the multitude of woody plants in the landscape as they get larger and the gardener gets older.
Take a walk around your town and neighborhood. Take a close look at the trees and shrubs around you. Do the trees enhance their surroundings? Do they fit in naturally, or is someone working hard at making them fit into their allotted space?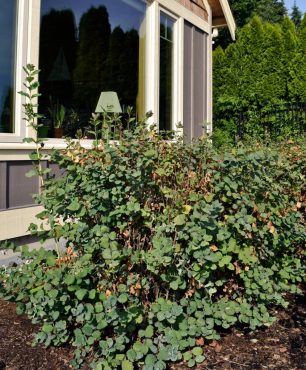 Do the shrubs play well with the other elements around them, can you tell what plant you are looking at, or do they all fit general geometric shapes without much consideration for their natural form?
Take a walk around a university campus, a well-established garden or an arboretum. These landscapes have some of our most magnificent trees. Let them be your guide as you consider what you would like to grow in your own garden.
The Design of a Landscape
Every so often, gardeners have the opportunity to start with a blank slate or to redesign an overgrown, neglected property.
In either instance, you can be swept up by the endless possibilities of plant material available. Restraint is not always easily practiced by a passionate gardener. There are so many colors, textures and shapes available n the nurseries these days! It's easy to succumb to overplanting, forgetting how large some of the new additions will become.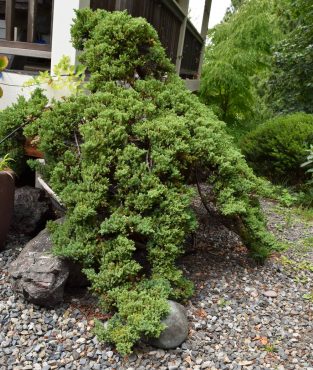 "Right plant, right place" is one of the most important tenets of sustainable gardening.
Take time to learn about the newcomers to your garden. Honor each plant's natural form and growth habit as well as its cultural needs. Give it the space it will need to develop.
In the contest between shrubs planted under windows vs. a view, especially a water view, the view will always win. Not only will the plant suffer as it is constantly cut back, but so will the homeowner, faced with the ongoing chore of preserving the open view.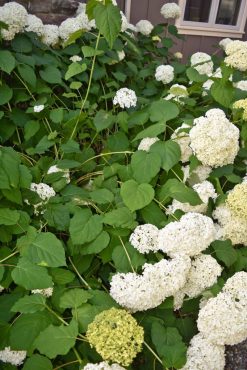 Sometimes the best decision you can make is to remove a plant that no longer works in its space. If the area is getting too crowded and the plants are no longer able to look their best, it is not a crime to make changes. Edit the space. It will feel great to open up the area and allow every plant left behind to spread out and thrive.
Pruning for Great Plant Form
Woody plants can be the supporting cast or the main event of the show. Trees can bring drama and be the focal point of any garden. Careful pruning as the tree grows can help shape the developing form into a natural sculpture.
Shrubs like junipers can be shaped to resemble a wind-tortured alpine tree, a technique that showcases a gardener's creativity. This kind of pruning does not take very much time, yet it can produce striking results.
Each plant responds differently to being pruned. Understanding a plant's habit and reactions will go a long way to avoid many disappointments and frustrations.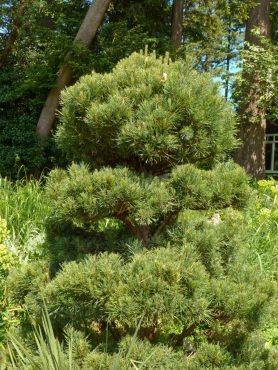 A few important things to consider when pruning:
The tip of a branch produces the hormone auxin that gives that growth-tip dominance over side branches. Once the tip is cut off and the growth-suppressing hormone is removed, the side branches and dormant buds will wake up and jump into the race for leadership. This is the reason why shrubs that are sheared get bushier with each trim, and why a tree that was topped may end up with several competing leaders.
On a branch with paired leaves, a cut will result in both of the buds at the base of each leaf stem (leaf axil) to produce new growth, at least doubling the number of new branches. Use this knowledge to encourage bushier growth.
On a branch with alternate leaves, pruning to a bud at a leaf axil will stimulate growth at that bud, so use this knowledge to guide the direction of new growth.
Pruning usually encourages growth, and radically pruned shrubs and trees will quickly grow to their original size. Such fast growth will be weak (think of the density of old growth forest lumber vs. second growth lumber), creating branches that can break in windy conditions, and shrubs that can't support the weight of their flowers, like hydrangeas.
Many shrubs that have been sheared hard will quickly produce long shoots, mostly on top, where growth is strongest. This creates extra work for the gardener who wants to keep the shrub in the tightly sheared form.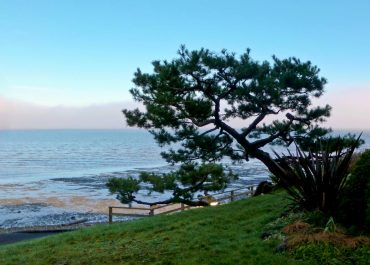 Other methods, like the candling of pines to restrain their growth and encourage high branch density, are very time consuming and should be reserved for high-maintenance gardens.
The same is true for tightly clipped hedges and many fruit trees and vines that require heavy yearly pruning. However, if the rest of the landscape has been designed well and does not require too much attention, the sustainable gardener can indulge in a few whimsical boxwood creatures and fruit trees without too much trouble. As long as it's fun, it is sustainable.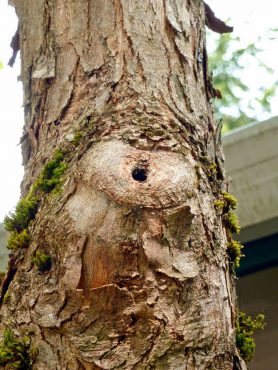 Pruning for Plant Health
In the interest of providing the best care to your woody plants, you can follow these general guidelines:
Remove dead or diseased branches any time to limit the spread of disease.
Every pruning cut is a wound to the plant. Depending on the location of the cut, the plant will have varying capacity to repair that wound. The most difficult cuts to heal are the topping cuts. Not only does this type of cut open the tree to potential infection, it encourages the type of fast, weak, multitrunked growth mentioned above, creating a hazard to anything below it. In the interest of long-term plant health, topping cuts should be avoided, and more selective thinning cuts should be made to a side branch at least 1/3 the diameter of the one being removed. The growth can then continue along this side branch, rather than the formation of several new, weak branches from below the cut.
Limit how much of a plant is removed to restrain the degree of the plant's response.
Learn how a plant will respond to being pruned to help guide your approach. Some plants can't tolerate anything beyond a 10 percent pruning (magnolias, dogwoods), while many can handle the removal of up to 25 percent of the canopy.

An ornamental purple plum, pruned too heavily, responded by growing a large number of fast-growing water sprouts.

Most shrubs will look their best if you remove some of the oldest wood completely to the ground while dormant. The plant will respond by sending new, healthy growth to replace the old. The shrub will be healthier, stay smaller and keep its more natural, open form.

Plants need light to thrive. Shearing creates very dense shrubs that have a high percentage of dead wood inside. Use selective pruning by following some branches deep into the shrub and removing the whole branch rather than just the tips.
Removing too much foliage can have the opposite effect as well, exposing previously shaded foliage to excessive light. It will also prevent the plant from being able to manufacture enough food.
Proper timing is important. For major shrub renovation, prune during the dormant season and the shrub will respond by generous growth in the spring. Heavy pruning later in the season, after the plant has already spent considerable energy growing, can weaken it.
Prune after a plant has finished blooming to allow it enough time to set flower buds for next year.
Use sharp tools to minimize damage. Sterilize your tools with alcohol if working in diseased plants and use bypass pruners rather than anvil pruners for clean cuts.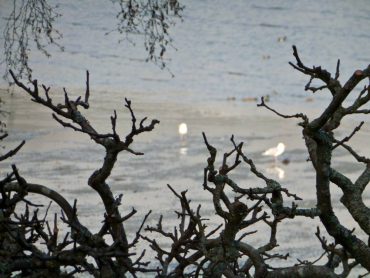 The Gardener's Health
We cannot forget about the gardener when talking about sustainability. The gardener is the main engine of the garden, its caretaker and sponsor. For a garden to be sustained in its best condition, her caretaker needs to be enthusiastic and healthy.
A hammock hung between two mature, stately shade trees — or a nice garden bench — is a great recipe for a healthy, relaxed gardener. An accepting attitude about the deer helping with pruning chores around the yard is also a wonderful approach. Often, the deer do a better job of pruning than humans do.
Pruning can cause injury, and excessive pruning can result in repetitive damage to the hands. Use loppers for branches over 1/4 inch to protect your hands and give yourself better leverage, and use a good hand saw for anything over about an inch or so.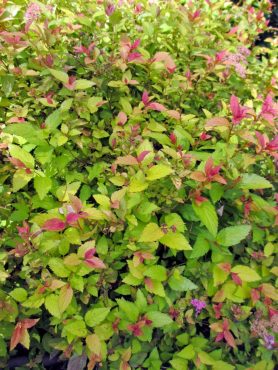 You can protect yourself by wearing safety glasses (available for a few dollars in a building supply store), leather gauntlet gloves for the thorny plants, and sharp tools that will cut easily and cleanly. Do not underestimate how easily you can damage your eyes with an errant branch or the sap of a Euphorbia.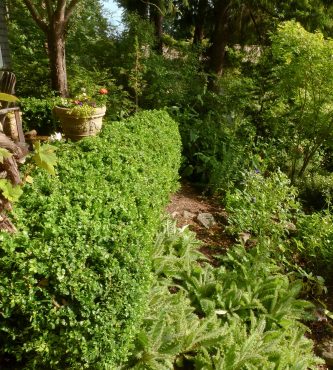 If you must climb a ladder, choose an orchard ladder that can be used on uneven ground, and make sure you anchor it well in the ground. Always close and stow your pruning tools before climbing the ladder.
Finally, before starting any gardening project, please take a moment to closely look over the area where you will be working to notice any hornet or wasp nesting activity. While beneficial members of a garden, they can be very dangerous when defending their nest.
The plants in your garden are like anything else you respect. Honor their natural form, guide them as needed and give them the best conditions for growth you can provide so they can be as healthy as possible and fend off the attacks of insects and disease on their own.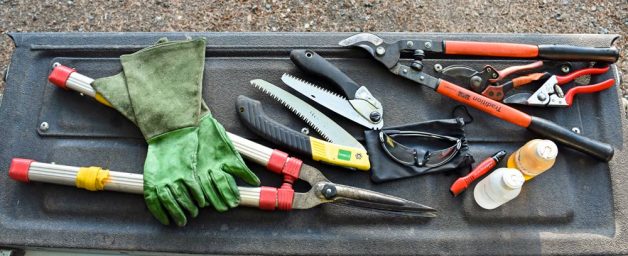 Many great resources are available to the do-it-yourself gardener interested in pruning trees and shrubs correctly (see the list below). You can also consult with a qualified, trained professional, and either be coached on proper techniques or have the work done for you.