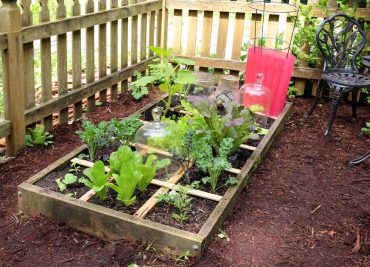 On Jan. 20, 1993, a memorably violent storm ripped through the Puget Sound region. As Mike Lasnier, then a young Tukwila police officer, headed for work along Southcenter Boulevard, the storm hurled a massive tree from a high cliff down onto the road just ahead of him. As it fell, the tree pulled down power lines, "which exploded into sparks and fire."
"Quite a show through the windshield," Lasnier recalls.
Shaken but safe, he turned back toward home, to his wife and two small sons. For three days, they had no power and no heat. Fortunately, his parents' home in north Seattle had power. But the immediate lesson he took from that storm was that "when you have kids, you've lost the right to choose to not be prepared." And the seeds of an idea were planted.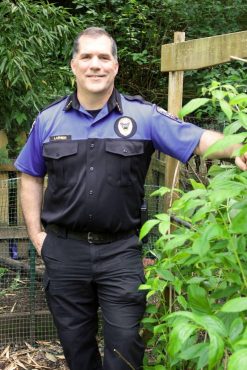 If his grandparents had still been alive, they would have had food "put by." Lasnier has happy early-childhood memories of their Beacon Hill home. He said they were "huge vegetable gardeners," cultivating nearly their entire yard until they were in their 80s.
"But they didn't teach their kids to do it," he says with obvious regret. Even if they had, how would he have time in his busy life to garden the way they did?
'Ah-Ha' Moment
Fast forward to the present, and Lasnier is a very busy man. He has been chief of police for the Suquamish Tribe since 2004, and before that was police chief for the Lower Elwha Klallam Tribe. His professional responsibilities include emergency management. With the ever-present potential for earthquake and tidal waves in the region, the question of how to cope with food scarcity in an extended emergency has long been on his mind.
That question led him to the gardening section of a bookstore a few years ago. Lasnier happened upon a bestseller called "Square Foot Gardening" by Mel Bartholomew. It was a major "ah-ha" moment.
The "square-foot method" uses a 1-foot-by-1-foot grid overlaying a raised bed. The grid is "what attracted me to the system because it looks nice, and it organizes the space for me," Lasnier says.
That, in a nutshell (or a seed packet), is the appeal of square-foot gardening (SFG) — really simple to learn and to use, especially for novice gardeners.
The advantages include:
Saving time and effort: It takes just minutes to plant, weed or harvest one square. And, points out Lasnier, "when a couple of squares look really nice, you get a sense of accomplishment."
Saving space: You can set up a garden anywhere that gets six to eight hours of sun — on the ground, patio, deck, rooftop. The method even works in containers. Lasnier says, "My first vegetable patch was mostly containers because we were renting."
Suitability for all ages and abilities: It's a great teaching tool for kids. "If they grow a vegetable, they will eat it," Lasnier says. The box can also be set up on a raised platform for easier accessibility.
Growing more per square foot: It eliminates wasted space of rows and uses organic best practices of minimal soil disturbance, crop rotation, succession planting, intercropping and intensive planting. Intercropping reduces pest problems by avoiding large concentrations of any one type of plant. Intensive planting also blocks out weeds.
Passing on the Knowledge
Lasnier has only been vegetable gardening for five or six years but he's passionate about it — and about teaching others how to do it. He became a certified WSU Master Gardener in 2014. He helps teach the four-seasons gardening and the organic gardening classes. Last year, he became the only certified square-foot-gardening instructor in Kitsap County.
In his SFG classes, he teaches the essential components of the method:
The box: Build simple, square frames to hold the new soil. No bigger than 4-by-4 feet if you can access all sides without stepping on the soil. For kids, 3-by-3 feet; against a wall, 2 feet wide.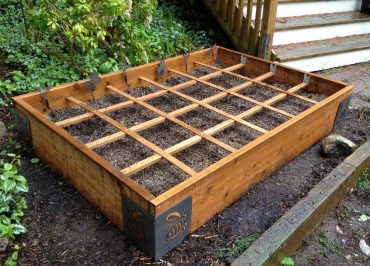 Use clean, untreated wood or food-grade plastic, brick, some concrete blocks or stone. The SFG-recommended soil depth is 6 inches (deeper for root crops). Tend the beds from 3-foot-wide aisles between boxes.
The grid: More than anything else, this is the defining element. Make a grid of 1-by-1-foot squares. Some material options: 1-inch-by-2-inch lumber, lath wood, bamboo or pruned tree branches. The grid stays attached to the top of the box.
Soil: Referred to in the SFG books as "Mel's mix," it's one-third each compost, peat moss and coarse vermiculite. Basically, it's potting soil, designed for good drainage, water retention and noncompaction.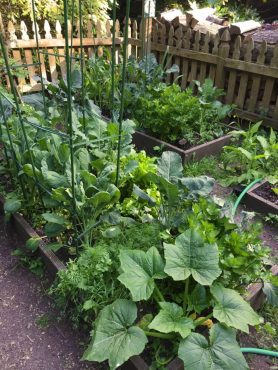 Square foot planting guide: After the grid, the planting guide is the heart of this system. An easy-to-follow chart (see Resources) shows how many of each kind of plant will fit per square foot — one, four, nine or 16. For example, for crops that need more space — like broccoli or tomatoes — plant one per square; for leaf lettuce, grow four; garlic, nine; radishes, 16.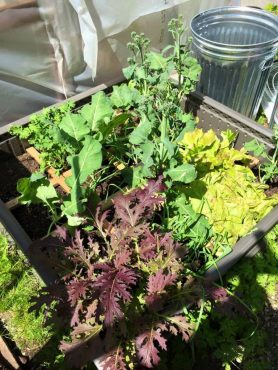 After harvesting a square, add a trowel of compost and plant a crop that calls for a different number of plants per square foot. Presto — crop rotation and succession planting.
No need to plant all 16 squares at once. Stagger planting times for a longer harvest. Give a couple of squares to flowers that attract pollinators. And grow what you like to eat.
The Lasniers love salads. One of his beds was lush and colorful with red mustard greens, green onions, several varieties of leaf lettuce and a few squares of broccoli scattered around.
Pros and Cons
Not all gardening experts have embraced the concept. The system defies longtime traditions of rows and tilling. The initial setup costs can be a drawback, especially for the soil mix. Also, some experts note that there are sustainability issues around peat moss. Coconut coir is an alternative. In addition, many square-foot gardeners echo the difficulty of finding the recommended coarse vermiculite.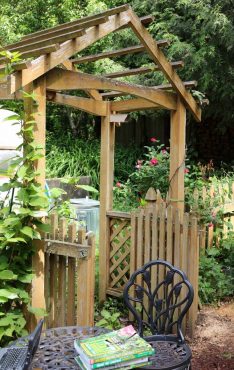 Lasnier points out that the square-foot system has evolved but there are a few points where it isn't fully in alignment with WSU Master Garden program's best practices. The biggest one is the recommended soil mix.
"As a Master Gardener, I try to practice what we preach," he says.
In his home SFG beds, he uses topsoil amended with compost. "And I love coffee, so I've added coffee grounds. The worms love coffee grounds," he says.
But the raves far outnumber the downsides. The North Kitsap Fishline Food Bank in Poulsbo has several raised beds for growing organic produce for its pantry shelves. Last year, the trial square-foot bed did so well, that this season all the beds will be converted to the square-foot method. Fishline's Volunteer Garden Coordinator Allie Barbosa says that the experimental bed "was varied and productive," and "much more manageable for clients than the other beds."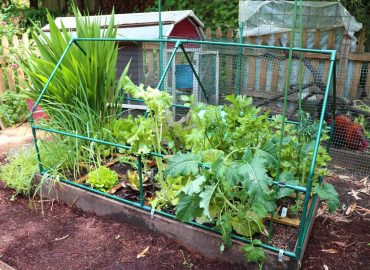 Even growing in basic topsoil (generously donated by A&L Topsoil) instead of the special soil mix, the trial bed still had a far superior harvest. Fishline's garden program is now in its third year (with thanks to local gardeners and Valley Nursery for donating plant starts.)
Fishline offers free gardening classes to its clients. Barbosa says that the twice-per-month SFG classes taught by Lasnier are so popular, "they are filled to the brim, with waitlists."
Past and Future, Full Circle
Lasnier is now seriously prepared for future crises. In addition to his veggie garden, his North Kitsap home has a wood stove, backup generators, a greenhouse and chickens. And he continues to draw inspiration from his childhood memories.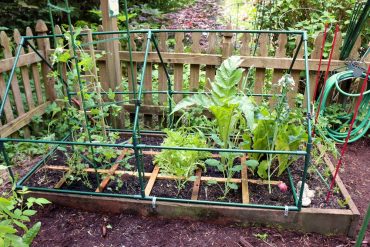 "When I'm out gardening, I do think of my grandparents. It is a way to connect with my family history," he says.
One of his most treasured heirlooms is a small book that belonged to his great-great-grandfather, who lived in Galina, Illinois. Originally published in 1819, it's titled "The American Gardener," written by William Cobbett. Lasnier says that many of the techniques now used in organic gardening were in use back then.
Displayed on a table at one of Lasnier's SFG classes is another source of inspiration: a collection of victory-garden memorabilia from the 1940s, including a Life magazine cover story.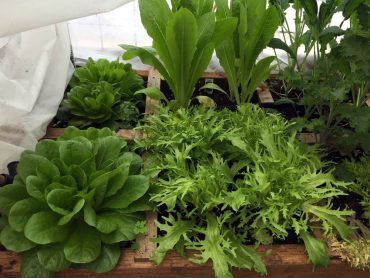 Lasnier also draws on wisdom from the past from heirloom seed experts. One of his favorites, Seed Renaissance run by Caleb Warnock in Utah, has gathered and propagated rare seeds from the descendants of Mormon pioneers.
Listening to Lasnier talk, one gets a comforting sense of reconnecting a circle — linking the wisdom of the past with present knowledge for future security.
Lasnier's own next step in preparedness? "I just got one of those really nice pressure canners. This summer, we plan to get into canning," he says.