Water-Smart Gardening
July and August bring some of the best weather in West Sound. Some local folks like to say that summer begins on July 5 each year. But that hasn't been the case this year, as we've had many summery days.
Local gardeners will want to pay close attention to their ornamental plants, lawns and trees during the usually drought-like months of July through September, especially this year. Irrigation may, indeed, be in order. Water thoroughly at least once a month (evening or morning is best) to maintain plant health.
"Water-Smart Gardening" by Diana Maranhao is subtitled "Save Water, Save Money and Grow the Garden You Want." It's a very user-friendly, well-researched and nicely illustrated handbook.
Maranhao has compiled an eight-chapter book, complete with a resources section, glossary and index. She brings more than 35 years as an educator, horticulturist, landscape professional and writer of many horticulture articles, and has lived and gardened in California, Nevada and Utah. She has also developed curricula for students and conducted trainings on horticulture-related topics.
"Water-Smart Gardening" is an excellent resource for new and well-seasoned gardeners. Whether your garden is well established or you're putting in new landscaping, you'll find abundant ideas inside the pages of this book. Photos and drawings show how to install various water-catchment, water-saving and water-providing systems. Composting, soils and mulches are shown and explained.
Some of the ideas pertain to the more arid regions of California, Nevada and Utah, but can be easily adapted to Pacific Northwest and West Sound gardening. One chapter even shows several types of gardening styles that can be adapted and replicated.
Another chapter is devoted entirely to "Water Thrifty Plants," many of which can grow quite happily in this region. When choosing plants from "Water-Smart Gardening," first check the local noxious weeds list in order to avoid planting a new nuisance plant. This advice is applicable when utilizing all plant books for ideas of what to plant.
What's Up for Kids
This is also the perfect time of year for activities with kids and families. Don't miss out on activities at several local parks, gardens, trails and beaches. The perfect place to start for ideas is Macaroni Kids and the WSU Extension websites for both Pierce and Kitsap counties. (Also see links in the sidebar section.)
The Raab Park Youth Garden in Poulsbo has gardening activities for kids on Mondays from 10 a.m. to noon on July 11, 18 and 25 and Aug. 1, 8 and 15. Children must be accompanied by an adult. A $1 donation is requested to cover the cost of materials for the activities.
For groups of five or more, please contact Poulsbo Parks and Recreation at 360-779-9898 in advance so the volunteers conducting the activities can have enough materials ready.
Blueberry Park at 737 Sylvan Way in Bremerton has a program called "Kids Cultivate" from 12:30 to 2 p.m. on Wednesdays, July 13 through Aug. 10. Activities are free, but groups of five or more need to contact Colleen Miko, cmiko [at] co [dot] kitsap [dot] wa [dot] us or call 360-337-7157, ext. 0 to alert the volunteers about larger groups. Children must be accompanied by an adult.
Saltwater shorelines around West Sound will have beach walks conducted by groups of volunteers from WSU Kitsap Extension, Bainbridge Beach Naturalists and Harbor WildWatch. Dates and times vary.
See the sidebar for links to pages with lists of the many family-friendly opportunities this summer. For beach walks at some of the local parks, contact Renee Johnson, rkjohnso [at] co [dot] kitsap [dot] wa [dot] us or call 360-337-7224.
Especially don't miss the Kitsap County Fair, which offers five days and nights of activities and opportunities to learn, explore and just plain have fun. Remember to check the Kitsap County Fairgrounds website for listings of special days and prices for entrance. If you or a family member (including kids) have things to enter in the fair, it's a great opportunity to pay just one very reasonable entry fee for what you'll exhibit and then you can attend the fair every day for that one low price. It's a steal of a deal.
Preserving the Harvests
WSU Extension, as part of the Land Grant Extension systems throughout the United States, is offering eight online lessons for the in-home consumer who wants to learn about food preservation and food safety. The ongoing course can be viewed and studied according to each individual's schedule and available times. The cost is $25.
The course through University of Iowa is designed for beginning and also veteran canners and preservers who want to update their knowledge and skills. The information is applicable nationwide. You will need a computer made in the past five years and have a stable internet connection to participate.
Questions can be directed to Laura Ryser, laura [dot] ryser [at] wsu [dot] edu or 360-337-7281. Register at preservesummer.cahnrs.wsu.edu. See more information at ext100.wsu.edu/kitsap/2014/08/04/preserve-the-taste-of-summer.
Also visit the WSU Kitsap Extension homepage at ext100.wsu.edu/kitsap to learn more about the agriculture programs Ryser coordinates. Scrolling down the agriculture programs homepage, you'll find free individual publications in PDF form on topics covering canning, drying, freezing, meat and fish, food safety and food storage.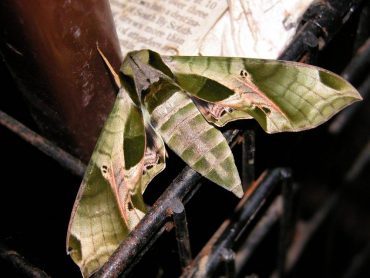 Critters
I have been writing this column for almost 11 years now. In that time, I've written about 40-plus critters. I'd love it if readers would send me some ideas or requests on what critters they're curious about. Please email me at gardenmentor [at] yahoo [dot] com with your ideas and comments on those furry, slimy, crawly, hoppy or winged creatures that abound in our area.
In the meantime, I highly recommend picking up one or both of Russell Link's books, "Landscaping for Wildlife in the Pacific Northwest" and the follow-up, "Living with Wildlife in the Pacific Northwest." The first book tells you how to attract the wildlife and the second is about what to do when you get too many or they become a nuisance.
Many of Link's informative pieces and tips can also be found on the Washington State Department of Wildlife website at wdfw.wa.gov/living.
Butterflies and moths are abundant this time of year. They're one of nature's many much needed pollinators. See the sidebar for a list of websites on this topic.