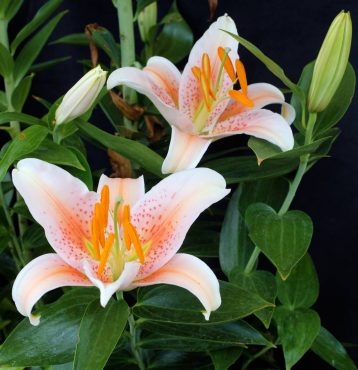 Sometimes overlooked when planning the West Sound garden, lilies make great perennial accent points during their season of bloom.
This area has a few commercial growing fields and sources for bulbs, but no plant clubs in the immediate area. Lilies are very popular in the Midwest due to their winter hardiness. In West Sound, the major concern is planting in a spot with good drainage to avoid rotting of the bulb.
Lilies are available in many heights, colors and period of bloom. They grow from bulbs that here can stay in the ground year-round. After the third year in the ground, they may be lifted, divided and replanted during September or October.
Dwarf lilies can also be grown in large containers and will provide amazing color. Some have fragrance. They were popular about 20 years ago but are not as readily available now.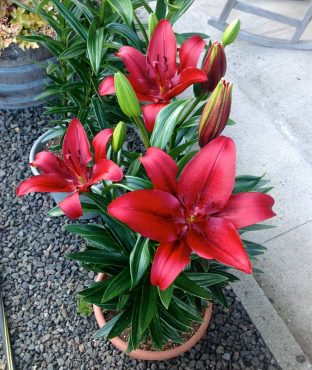 Season of Blooms
To have continuous bloom, plant a few lilies of each variety.
Asiatic lilies, which are unscented, bloom in June and are very easy to grow. They have a short season but provide a splash of color when other perennials are not yet in bloom. Welcome the summer season to your garden with a few Asiatics.
Next on the bloom succession are the Longiflorums (LAs), a cross between Asiatic and Oriental lilies. They are hardy and acquired a light fragrance form the Oriental lily background.
July brings the trumpet lily variety blooms. Most famously, the Easter-lily-shaped flowers.
Tiger lilies bloom with flower colors in the warm range, often freckled.
Rubrum lilies resemble Tigers with recurved petals but were hybridized to represent cool colors — white to deep pink.
Oriental lilies are the queens of the July garden and the grand finale of the lily-growing season. These upward-facing lilies seem most popular with the cultivar Stargazer, introduced in 1974. They are fragrant and are grown in gardens as well as commercially for the florist trade.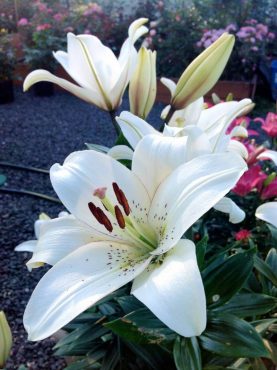 Planting
Lilies can be grown in the ground or in large containers. When choosing a potting mix, care should be taken to avoid those containing fertilizer. Those mixes generally have more nitrogen than lilies need to successfully flower.
Lily bulbs need at least six hours of full sun or dappled shade to grow and produce the expected flowers. Choose a planting spot that is well drained to avoid bulb rotting. Avoid spaces too close to trees, shrubs and aggressive perennials, giving preference to shallower-rooted perennials such as coral bells or campanula.
Spacing in the garden should be a minimum of 8 to 12 inches apart since the bulbs will grow and spread over three years' time.
Container-grown dwarf lilies, such as the variety 'Arbatax,' particularly need dividing after three years of growth. The original, fist-size bulb will produce daughter bulbs that should be separated and can be replanted in other containers or in the ground.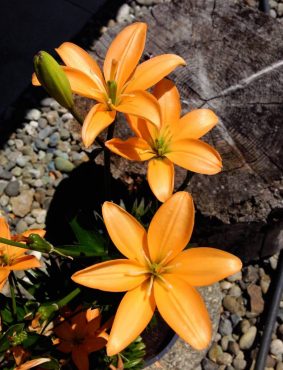 When you slide the plants out of your container or dig them out of the ground, you will see massive roots. Use your hands to untangle the roots and separate the bulbs. This is a gentle action but do not be afraid to break roots or accidentally separate new spring growth from the bulb. Sometimes this happens and the bulbs are still usable but will not flower this year if separated during spring.
Extra lily bulbs and plants look great in a mass planting in front of rhododendrons and azaleas, and also work as a landscape accent or specimen plant.
Fertilizing lilies is easy with a granular 5-10-10 mix that will encourage roots and blooms without excessive nitrogen. When the blooms fade, you may deadhead but it is best to allow the stem and foliage to grow and provide energy for the bulb growth and next year's flowers.
It is recommended that lilies be divided in September or October. It can be done the following spring but flowering may be delayed. If dividing is not needed, late fall or when the stem and foliage turn yellow is the time to cut the stalk down to ground level.
Separating Arbatax Lilies