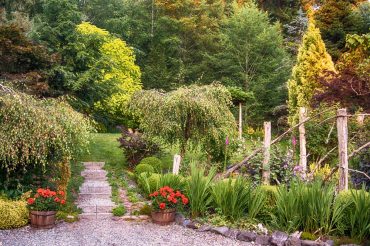 The five-star wedding venue Llama Rose Farm and Gardens woke to the New Year with a new name. Like a monarch butterfly emerging transformed to spread its wings, the rustic-elegant venue unfolds a new identity — Empress Hill.
The new name resonates with promise. And aren't promises what weddings are all about?
History
On the pastoral outskirts of Poulsbo, the venue holds fond memories for area residents. Some folks saw their kids married in the beautiful gardens, originally designed by former owner Winifred Whitfield.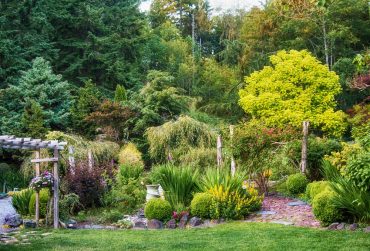 A woman of great energy and vision, Whitfield purchased the 1908 farmstead in 1990. In addition to hosting weddings, she bred a herd of 30 or so llamas and sold them nationwide. People brought their kids to feed the llamas and see the two camels, Gobi and Butterscotch.
Local weavers and fiber artists recall learning to spin yarn from llama wool. Eventually, Whitfield decided to turn her energy to her true passion, art photography, and sold the 6-acre property in 2010.
Passing the Torch
Energetic and web-savvy, current owners Charles and Emily Hirsch, 37 and 36 respectively, threw themselves into renovating the gardens and creating an irresistible wedding venue. By last year, rave reviews had earned them a place in the Top Ten Best Wedding Venues on King5.com's Best of Western Washington. A typical comment reads, "beautiful beyond words and run by fantastic people."
With so many glowing reviews, why the name change? The Hirsches knew they were missing a big market segment — brides who were not looking for llamas. While the full name was Llama Rose Farm and Gardens, "people usually dropped the word 'gardens' when they talked about it," Emily said.
"The name didn't portray us as an elegant, vintage garden venue," she said.
Charles added, "People would walk up the drive and say, 'Oh my, you even have a nice garden.' They booked when they saw the gardens."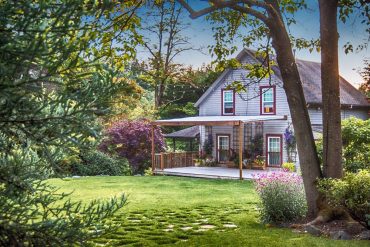 The new name, Empress Hill, takes inspiration from a 50-foot-tall empress tree (Paulownia tomentosa) that stands witness over the lawn where wedding vows are spoken. The "Hill," covered in native conifers and ferns, rises above the lawn and gardens. A canopy of purple blossoms in May, the empress tree echoes the color of the purple wisteria that blooms at the same time on a pond-side arbor.
In spring and summer, the gardens display a glory of color and texture. Mature trees and shrubs form the bones with foliage colors in blue and gold, green and purple. Rhododendrons, hibiscus, hydrangeas and crocosmia bloom in their turn. Honeysuckle, roses, clematis and wisteria climb arbors and trellises. Pots and hanging baskets overflow with bright summer annuals.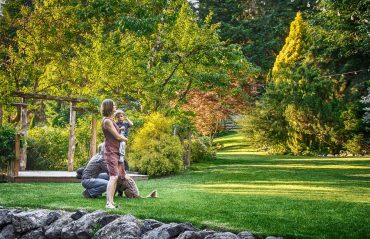 Tiki torches, tiny white lights strung between the trees, and a fire pit add romantic atmosphere. As one guest wrote, "This is the kind of place where I can imagine fairies coming out of the gardens."
With the new name comes a new website, EmpressHill.com, subtitled, "A llama rose farm and garden venue." A search by either name leads to the new site.
The website has a wealth of photos of the lawns and gardens in bloom, romantic bridal parties and small, rustic outbuildings with antique stained-glass windows. It also presents a menu of the variety and sizes of events Empress Hill can host, including pricing.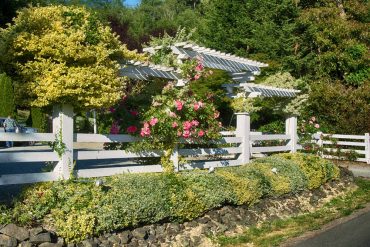 A feature of the new website that especially pleases Emily is the online event scheduler.
"It has made a really big difference," she said. "Once people find us, they want a tour, and they can book a tour immediately, online. Then I can make contact with them."
One can also see when the venue is available. A welcome convenience for guests, the online scheduler is a great planning tool for the Hirsches as well.
In addition to weddings and rehearsal dinners, Empress Hill will host anniversary and graduation parties, vow renewals, corporate events, one-day retreats and school outings. Charles is an active Navy officer and the couple knows that sometimes military life interferes with long-range planning. For those times, they offer small, intimate events they call "elopements."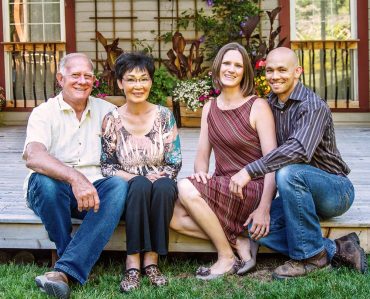 In spring and summer, the outdoor venue can host up to 150 people. The restored — and heated — classic red barn can host smaller groups in any season. The barn also has two rustic-chic rooms: the bride's room, with plush antique chairs and settee, and the groom's room. For outdoor events, the venue includes a large and elegant white tent erected on the lawn.
Big Career Change
Running the farm and gardens and hosting events is a second career for both of the Hirsches. Charles has been in the Navy for 16 years. Before moving to Poulsbo, Emily worked for NOAA Fisheries doing digital mapping of coral-reef ecosystems all over the Pacific.
They were each living in Hawaii when old friends who were about to get married introduced them.
"I went to college with the bride and he went to college with the groom," Emily said. "And we were both in their wedding." The rest, as they say, is history.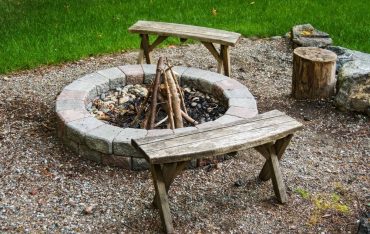 Seven years ago, when it was time for Charles' next posting, Puget Sound was their first choice. Emily had gone to graduate school in Oregon, and was happy for a chance to return to the Northwest.
Managing a 6-acre property with extensive gardens and running an event venue was a leap, but perhaps not quite as big a leap as their previous careers would suggest.
Their first two years here, they rented a house in Poulsbo that had an established garden, where Emily began to dig into weeding and learning.
"Then I did the Master Gardener program, so that helped," she said.
Charles grew up around gardening and the hospitality business, working in his mother's restaurant in a small Kansas town from the age of 15 until he left for college. In addition to owning and running the restaurant and catering weddings, his mother is an ambitious gardener. The family transformed their flat Kansas plot into an Asian-style garden, with a small mountain, terraces, waterfalls and ponds.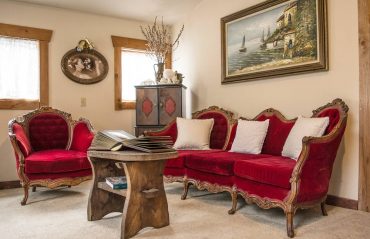 Three years ago, when the event business began to take off, Charles' mom and stepdad, Chong and Joe Spreier, moved here to join the couple. They occupy their own house on the property, in the woods at the top of the hill.
"We became their retirement plan," Charles said.
But the Spreiers are far from retired.
"His mom is our secret weapon in the garden," Emily said. "She is our gardener. I've learned the most from her."
The four adults work as a team. Charles said, "I do all the structural stuff, like moving dirt. Emily helps a lot with the vision." "And I'm the lawn mower," said Emily, who appreciates their new, self-propelled mower.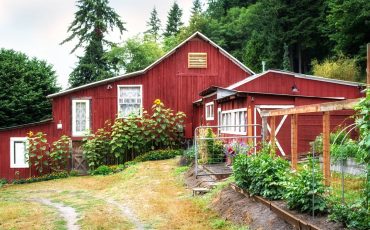 The Spreiers handle much of the weeding and pruning. And Joe loves keeping busy with the many projects that arise around the property. Chong also grows vegetables for the family in a sizable raised bed.
"It's a relationship that benefits both of us," Charles said. "They have us nearby, and they can stay in their home as they get older. If they need help with things, we're here."
But so far, at 73 and 68 respectively, Joe and Chong show no sign of slowing down. And they enjoy being close to their young grandsons, Maddox, age 3, and Landon, 5.
Future Plans
Reaching out to the community, Empress Hill plans an open house on May 20 for wedding vendors and for prospective couples. May 20 is also the Friday of Poulsbo's Viking Days weekend. The Hirsches hope to arrange a shuttle to the gardens from downtown Poulsbo.
Somewhat farther down the road, they've got their eye on an adjacent piece of property for event parking. All the assessments are done and they're just waiting until the economics line up. For now, their neighbor across the street lends his field for guest parking. And in four years, Charles will retire from the Navy and turn full time to the family business.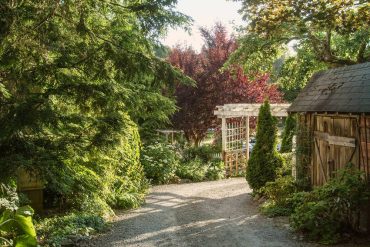 Five llamas still roam the steep hillside, separated from the gardens by a fence. In the winter, they eat hay. In spring, when the grass grows fast, they keep it in check on the slopes that are too steep for a mower.
Mark Kuehn and Chela Grey from StillPointe Llama Sanctuary in Seabeck come at intervals to help with shearing, toenail trimming and vaccinations. Event groups can feed the llamas for a $100 fee, which is donated entirely to the llama rescue sanctuary. Many of the wedding parties have enjoyed this activity.
"We also had goats for a while but they'd get out and eat the garden. When they started eating the wood off the barn, that was the last straw," Emily said.
The goats had to go, but the llamas remain a welcome part of the charm at Empress Hill.