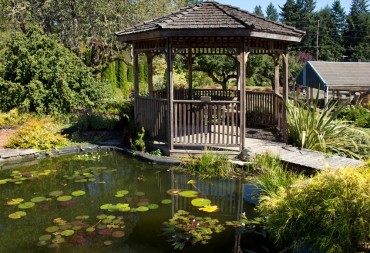 Jan Bahr at Roadhouse Nursery on Central Valley Road in Poulsbo is the go-to person for advice on how to construct and maintain water features in home gardens and landscapes. She believes that the most important thing is to do your homework. Start by deciding what features are most appealing, and consider cost along with availability of water and electricity.
Is your area filled with wildlife? Water features can be a good thing for wildlife, but critters such as raccoons, river otters, herons, kingfishers and eagles can devour fish in what seems like minutes. Think about the attractive nuisance factors. Could a child or others be harmed by falling into a pond or water feature? Think about fencing and its cost. Check with insurance providers in case homeowners insurance coverage needs to be increased when adding a pond or water feature.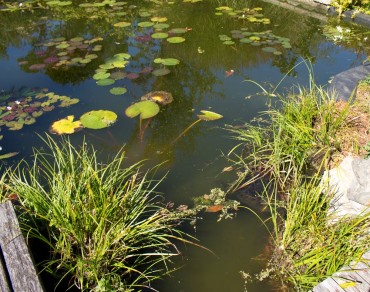 Roadhouse Nursery is a good place to start. You'll find many types of water features there, including smaller ones such as plant containers, half a wine barrel and a bathtub. A huge lily pond filled with koi; a meandering, man-made stream and water-filled planters brimming with water garden plants provide good visual clues for making decisions and even for dreaming of future water gardens.
"Your favorite local nursery that carries water-gardening plants and supplies will be your best resource, along with YouTube videos," Bahr says.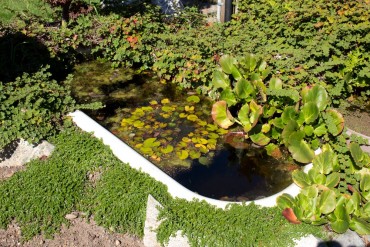 She added that books and websites with information about building water features and choosing plants are also helpful. But the most important caveat is to make sure the information is reputable and applies to the region's growing and weather conditions.
"Know what you want, do your homework first and make educated choices," says Bahr, who regularly speaks to groups about water gardening, including on her most popular topic, "Think before you dig." Below are her tips.
Three Feature Types
Water incorporated into the landscape can be grouped into three main types. Choose one or combine all three elements. Bahr says that most people start small and work their way up to larger features, while others start big from the beginning.
Water feature: This often involves gurgling, bubbling or running water, and even still water for gazing and contemplation. The water is the main reason for having it. It can also include a pond and fountain. But the plants and the fish are incidental, not the main reason for creating the feature.
Water garden: This type can be quite small or as large as a gigantic pond. The main purpose of a water garden is to incorporate plants into the feature. Think lily pond or a water container filled with plants. Many think of it as another way to collect more plants to enjoy or add to their plant collection.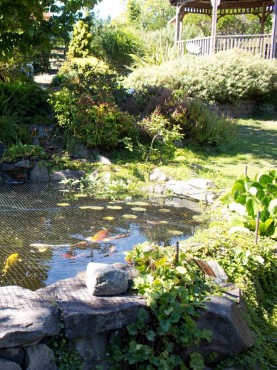 Fish pond: Fish are the most important element in this water feature. The fish can be koi (an often quite expensive undertaking) or they can be inexpensive "pet store" goldfish. This feature must be designed to meet the needs of the fish. Moving water provides oxygenation and filtration and is important to fish survival. A pond involves a filter and pump.
Pros and Cons
Once you've done your homework and studied the options, you're ready to get started. Remember though, "it's an ecosystem that you set up in your landscape," Bahr says. Here are a few pros and cons to consider for each type.
Water feature pros: Designs are unlimited as long as there is access to power and water. The feature can fit into any size space, from small to elaborate. Maintenance is low (less time than spent on mowing and watering a lawn). The only limitation is time, space and money.
Cons: It must be properly designed to fulfill the desired purpose. Large water features can use lots of electricity (i.e. power to run the pumps for filtration or waterfalls). Some systems require multiple pumps. It can be an attractive nuisance — as in, attracting critters you may not want in your yard. If you don't like frogs (and their frog songs), don't do a water feature.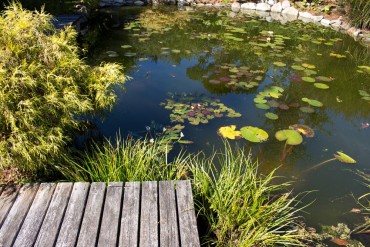 Water garden pros: Provides a place to grow lots of cool plants. A few fish can be added. If properly set up, it requires less maintenance than a lawn. Same pros as the water feature.
Cons: Needs to be designed to provide the proper growing environment for plants to survive and thrive. Predators, especially raccoons, can be an issue (i.e. plants get dug up, torn up and sometimes eaten). Requires some maintenance to keep debris from collecting in the pond.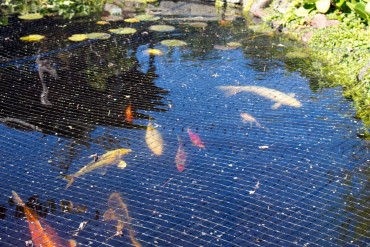 Fish pond pros: If you have fish, you won't have frogs (the tadpoles and even frogs are food to koi and other pond fish). Ponds add a whole other layer of life in the garden. Fish become pets. They recognize who feeds them and have fun personalities; their colors and behaviors are fascinating to watch.
Cons: You must think long term with a koi pond. "A koi can live for decades," Bahr says. Koi ponds require pumps and filters. Fish need a bio filter system that must be properly maintained.
The ponds need to be properly designed to meet the needs of the fish. Koi can grow to 24 inches long. As fish grow, more filtration is needed. Filters must run 24/7. Koi also require certain water temperatures for optimal health, especially when first being introduced to the pond.
You'll need to deter fish-eating predators such as raccoons, eagles, river otters, herons and others. There are many ways to keep predators out, but all require time, expenses and monitoring. "Koi can be an expensive habit," Bahr says.
DIY or Hire a Pro?
"Only you can make the decision of whether you have the physical capability and the knowledge required to fulfill your dream," Bahr says.
She recommends visiting your favorite local nursery that carries water-gardening plants and supplies. Bainbridge Gardens, Valley Nursery and Roadhouse Nursery are three such nurseries. Roadhouse, at present, is the only one offering fish.
Many local landscapers do installation and design. Hire a professional who is licensed and bonded. Ask for references. See if you can view installations in person, not just photos.
Make sure the contractor is going to construct the pond and features according to your needs, not to meet the designer's own concept of what a pond "should" be. Bahr stresses that there are certain cookie-cutter methods out there but if the contractor's plan does not meet your needs, choose another professional.
"If you're unsure of something, get another opinion. If what you're told doesn't seem right, get another opinion," Bahr says.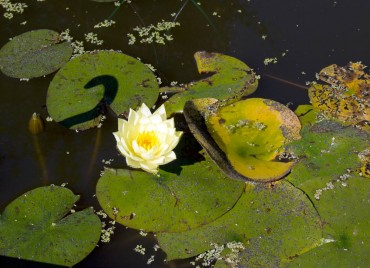 It's a very good idea to hire a company or individual who belongs to a trade organization. WALP (Washington Association of Landscape Professionals) and WSNLA (Washington State Nursery and Landscape Association) are a good place to start. Members of trade associations have studied, have been tested and meet certain stringent criteria.
If you decide to do it yourself, calculate all the costs involved. Not only for the materials but also for rental of digging and earth-moving equipment. Also consider how far you'll have to run pipes and conduit for water and electricity and what those costs will be (both for installation and for ongoing expenses). Some landscape designers will work with you so you can do some of the work yourself instead of contracting it all out.
Final Tips
"Get info from as many sources as possible. Take everything with a grain of salt. Ponds from other regions are done differently than here," Bahr says. "Check with local nurseries for a pond person on staff who can give you practical, local knowledge."
She also stresses: "Ground it with local people with local knowledge. Ask current pond owners what they would have done differently or would do differently."
When asked which time of year to build a pond, Bahr says, "Ponds can be put in whenever the ground is not frozen or too wet. Just know that you may have to wait to stock it."
This is the first in a three-part series on water gardening.