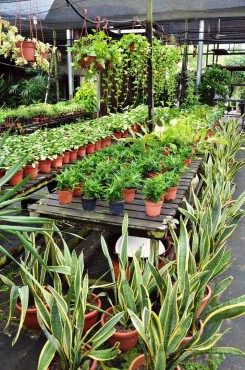 Let the official gardening season begin. At least for hardcore gardeners. It's time to plant potatoes; put in peas and sow some lettuce seeds, bok choy, chard, kale and a host of other cooler season veggies. Get ready to plant fruit trees, raspberries, asparagus and other wonderful edibles found at many local nurseries this time of year.
For those who prefer only ornamentals, check out offerings of summer-blooming bulbs, bare-root and containerized roses and a host of lovely shrubs and trees. It's also the time of year when annual ornamentals start arriving. Snatch some up and get to planting.
Farmers Markets
Local West Sound farmers markets are starting to open. Check with the local Washington State University Extension Office to find out when and where this year's markets are open. Remember, too, that you can find WSU Master Gardener diagnostic clinics (plant problem and answers) at nearly all the local farmers markets.
Plant Sales Galore
Plan sales abound from late March through the middle to end of May. Just a few on offer are: Fuchsia Society, garden clubs (Hansville, Kingston, Poulsbo, Bainbridge Island, Central Valley, Indianola, Key Peninsula), Kitsap County Master Gardeners, Heronswood, among many others. I'll list the dates, as I learn them, in my Plant Life column in the Kitsap Sun (on the second and fourth Sundays).
Give Back to the Ecosystem
Make this the year you and your family give back to Mother Earth. Opportunities to volunteer in a host of environmental projects and activities abound in West Sound. Some are just a one-day work party, others offer a plethora of education and volunteer choices. Here's a very short list going from North to South to get started:
Dear Deer
Deer seem to be abundantly reproducing in West Sound. Many gardeners love and appreciate their beauty and grace, while others wish the deer would go far, far, far away or at least hang out in someone else's garden. Horrors!
The last time I wrote about deer in this column was 2008, when I said, "Has Bambi discovered your garden as if it were a veritable buffet of tantalizing tasting delights laid out just for him to devour? Wouldn't it be perfect if deer only ate the weeds in our gardens instead of our prized roses, Japanese maples and freshly emerged veggies?" Well, it's time to revisit the topic of deer.
Each female deer gives birth to two youngsters every year. It seems the first thing the mother does is show them her favorite browsing spots. For their own protection, deer are most active in early morning and just before dark. Not always the time when we're active in our own gardens.
What's a gardener to do? Here are a few tips that might provide ways to deter or discourage these four-legged beauties from devouring everything in your gardens.
Many peoplehave great deer-deterring success with large dogs and tall fences. Others use concoctions and smelly products that purport to keep deer away. In our rainy and sometimes drizzly climate, these products may work for a short while but usually have to be reapplied frequently and after a while, Bambi and his friends become accustomed to the scent and keep on munching away.
Young deer will nibble on just about anything. They're in their learning curve and will try out many plants that their adult parents won't. Once the youngsters learn that certain plants are unsavory or unsafe, they will usually leave those plants alone.
Deer often avoid herbs. Try planting rosemary, lavender, mint, thyme, sage, santolina, artemesias and other scented herbs. Deer, so far, avoid daffodils, but they will nibble away on tulips (even though some plant lists say they won't eat tulips).
They don't seem to like thick- or fuzzy-leafed plants and shrubs, nor will they feed on plants with spines, thorns and stickers very often. Of, course even though roses have thorns, deer seem to relish the taste of roses or any plant in the rose family. Especially the new growth on roses. Avoid overfertilizing plants because deer are very fond of tender, new foliage.
Many fruit trees are in the rose family so you'll always want to fence in fruit trees until they grow tall enough to be ignored by deer. This will usually take several years. Espalliered fruit trees will especially need to be fenced or protected since they are at just the right height for browsing deer.
Some gardeners have reported that all deer will nibble on new plantings. It's as if the deer say, "Ooo, look what they planted for me to try out." Use posts and chicken wire to fence around and protect new plantings until they become established.
One gardener told me via email that he strings fishing line, at several heights, tied between tall dowels (a fishing line and dowel fence) around his garden or areas where deer browse. The deer cannot see the fishing line and when they bump against it, they turn away. He's reported it has worked quite well for several years.
Many deer-proof plant lists suggest using these perennials: aquilegia (columbine), artemesia, delphinium (larkspur), digitalis (foxglove), hellebore, iris, kniphofia (red-hot poker), lupine, narcissus (Daffodil), oxalis, Phormium tenax (New Zealand flax), trillium, tulip and calla lily.
For shrubs, try berberis (common barberry), calyeanthus (Western spice bush), Choisya ternate (Mexican orange), Cornus stolonifera (red osier dogwood), Cotinus coggygria (smoke tree), daphne, forsythia, jasmine, juniper, leucothoe, oleander, Pieris japonica, rhododendron, Sambucus racemosa (red elderberry) and Syringa vulgaris (common lilac). Suggested vines are clematis, solanum (nightshade), Tecomaria capensis (cape honeysuckle) and Wisteria floribunda (Japanese wisteria).
Check out the 635.0496 section of the Kitsap Regional Library, where you'll find timely and quite interesting books on deterring deer in gardens: "Deer Resistant Ornamental Plants for the Northern United States" by Pamela Gehn Stephens, "Outwitting Deer" by Bill Adler, Jr. and "Deer Proofing Your Yard and Garden" by Rhonda Massingham Hart. Each book will give you "food" for thought.
The lists of deer-proof plants and advice offered in all three books are worth a try. When selecting plants from lists in books or online sources, first check to make sure the plant listed is not a noxious weed or an invasive plant in your area.
On the bright side, when Bambi destroys one of our plants, it gives us an excuse to zip out and purchase yet another plant for our gardens.