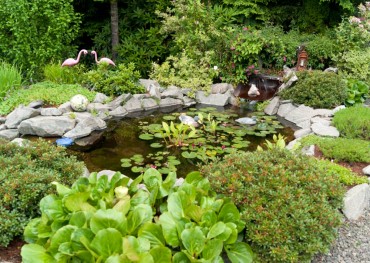 Lana and Bob Decker live on a secluded hilltop above Wildcat Lake. They've created their "forever" home and garden on an idyllic 5-acre piece of land.
Bob Decker was a lifelong Alaskan and Lana moved to Alaska in 1981. They married in 1989, bought a fixer-upper and further honed their gardening skills since both were avid gardeners.
"The only challenge was, you can really only garden in Alaska for three to four months a year. On Labor Day each year, we would take all our beautiful potted plants and dump them in the trash as Labor Day was the cutoff date to clean the garden for fear of an early snow storm," Lana said.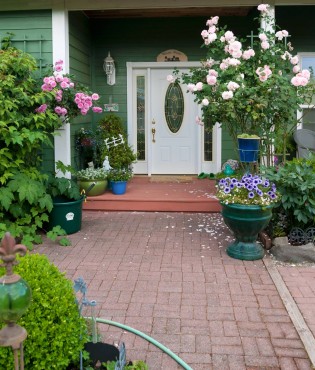 They also grew a few roses but had to bring them into the garage for shelter during the wicked winters.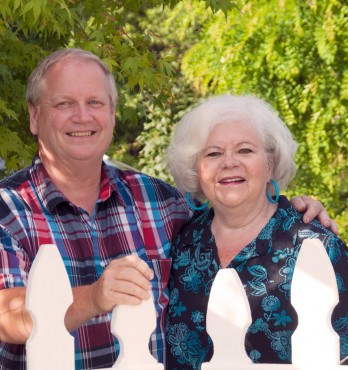 Some of their family lived "outside" (i.e. not in Alaska). Whenever they went "outside" to visit family and friends, they'd stop in Victoria and at Butchart Gardens. They loved all the landscaping and the garden rooms. Lana remembers flying in to Seattle, driving from there to Port Angeles, taking the ferries and telling Bob how much she'd love to live in the area.
"I loved the climate, trees and green everywhere. It was very enticing," she said.
In 2001, they set their dreams of living here into action.
"We began scheduling our trips to the Puget Sound area during the worst time of the year. It was to get a feel for what the climate was truly like. Even at its worst, we still fell in love with the area," Lana said.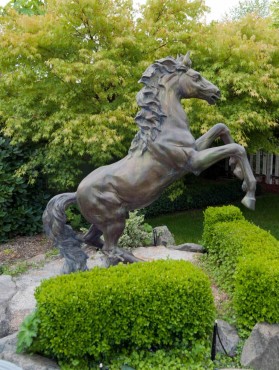 Bob had the perfect background for the adventure they'd undertake of finding, purchasing, developing, building and landscaping their forever home and garden.0 He had worked in all those fields, in addition to being a data processing and IT specialist. The Deckers knew what questions to ask, how to do research and what to look for in finding the perfect building site and then designing and building the whole package.
Dream Becomes Reality
In late 2003, after many trips to thoroughly search the area, they purchased property on a little dirt road off Wildcat Lake, just 8 miles from Bremerton.
"The land had already been cleared by the lumber company that was selling the property. They had left a grove of small trees not worth cutting down," Lana said.
These same trees now serve as a beautiful, green backdrop for all the maples, flowering trees and fruit trees interspersed throughout the property. The cleared land, with glacial till, was perfect for siting the home.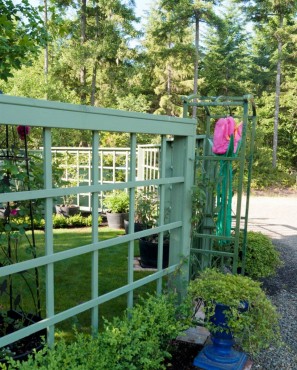 In 2005, they packed up all their possessions into a 45-foot trailer, modified with electric lights and a heater because it would eventually be used as the job shed during construction of their home. The trailer, which would be shipped by sea, had shelving on either side for storage and empty space down the middle for all their furniture and items they'd need while living for a year in a rented apartment.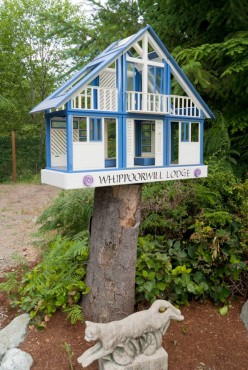 The day after Lana retired from her job with the state of Alaska, the couple left Anchorage in an RV borrowed from a friend and drove it down through Canada. They began construction of the new home the day after arrival and a little over a year later moved in.
Creating and Decorating the Landscaped Gardens
"While we worked on building the home (which I designed), I also had to put in some of the hardscaping, rock walls, pathways and garden beds so we could begin gardening as soon as possible," Bob said. "I did it for Lana so she'd have something pretty to enjoy while waiting for the home to be finished."
Lana added, "Bob can build and fix anything. None of my ideas would ever come to fruition if it weren't for Bob. He laid out the design for the gardens and started building the backbones to each of our garden rooms."
Just a few of his creations are two ponds, a fire pit encased with bricks and a rock border, an outdoor kitchen, a greenhouse, fences all around the perimeter of the property, a recirculating stream, a rose garden, decorative rebar creations and wood trellising.
Plants Galore
The couple now have 34 different garden areas, all cataloged in a large binder for reference. Each entry lists the name, cost, place purchased and date planted.
"The plant tags are removed and put in the binder in the corresponding gardening areas. The binders are updated and revised when plants are moved or if they die," Lana said.
She emphasized that if a plant is invasive, it's removed both from the garden and the binder.
The Deckers aren't done yet, though. Next year is another large, brick patio for entertaining and a vegetable and fruit garden with lots of raised beds and room for growing fruits.
Boxwoods are perhaps the most used plants in the Decker gardens. Their garden style is fairly formal, reminiscent of French and English palatial gardens. Quite a few of the planting beds are surrounded and bordered by boxwood hedges.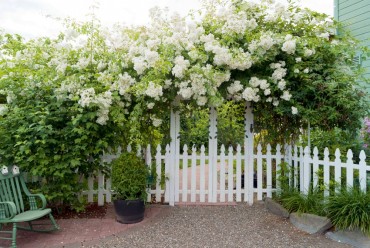 Bob uses a shop vacuum to clean up inner and outer leaves as they fade away and fall off the plants. He repeats this same process on the arbor vitae trees and hedging.
The Deckers love to tell the story of how Lana was so excited about being able to garden in this area that she bought 10 mature trees from Valley Nursery in May 2006. (See the sidebar for the list of trees.) Then she realized they did not yet have water installed at their property to care for the trees during the spring, summer and early fall weather.
"Valley was kind enough to house the trees until the following spring of 2007," she said.
Bob had been working on their home for six days a week and on Sundays, they'd visit all the local nurseries in this area. They discovered Dragonfly Farms Nursery and got ideas for plantings from owner Heidi Kastner. She also visited their property and made suggestions for their gardens.
The plants in the garden have come from Valley Nursery, Dragonfly Farms, Country Nursery and Gardens, Roadhouse Nursery, Bainbridge Gardens and Bremerton City Nursery. They've also been known to bring home plants from Home Depot, Lowe's and Walmart.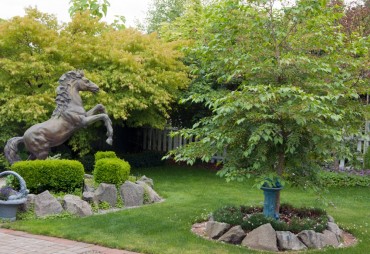 A favorite nonplant purchase is an almost-life-size rearing bronze horse purchased from Bainbridge Gardens when Junkoh Harui was still alive. They even named the horse after him. The Deckers say this is perhaps the most expensive item in their gardens but was well worth it.
Garden Art and Structures
Everyday and surplus items are often turned into garden art or structures. Many of the found items turned into art are painted hyacinth blue. An old Barbie Swiss chalet, once yellow and orange, is now hyacinth-blue with white trim, sitting atop an old stump. It has become "Whippoorwill Lodge," serving as a bird feeder.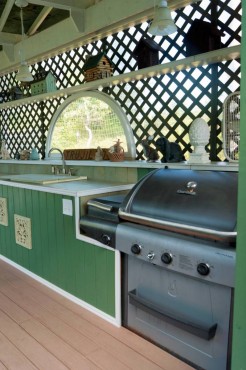 Old bowling balls are painted chartreuse-green and set atop homemade cement leaves. An old dredge and tractor treads form some of the garden beds and are incorporated into the water features. Sturdy metal tubing from an old Costco tent (to house a truck or large vehicle) was turned into an arbor festooned with wisteria vines.
Other Inspiration
Bob was involved with plants and landscaping since he was a teenager and had a love of gardening even before that. Lana dreamed about having a lovely garden even as a young girl. She's been cutting out pictures of gardens from magazines and filing them in notebooks for decades.
When they first arrived here, they joined the Kitsap Rose Society and met Jerry and Margie Breunig.
"Margie and Jerry have been our inspiration and mentors since we moved here. They are like our family now. I've tried to fashion some of my gardens to look like Margie's. It's very therapeutic to be in her garden. She's also shared many plants with us," Lana said.
Living with Critters
Since they're out in the woods of Kitsap County, the Deckers are often visited by families of deer. One area is fenced in and the fencing has been shored up because a family of two does and their twin little ones have pruned the arbor vitae into pointy, arrow-shaped trees. A small tree frog lives in a Rubbermaid storage shed.
"I always knock before entering the shed so the frog won't be scared. She's been there for three years from early May and is gone in October," Lana said.
The passion and peaceful respite for Lana and Bob Decker is their home and garden. They say they rarely travel because where they live meets all their needs. They love company though and happily share their garden with friends, family and other visitors.
The Deckers have found their forever home and garden in Kitsap County and plan to remain there for the rest of their lives.