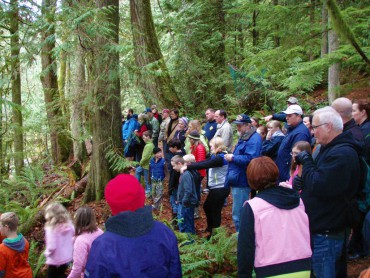 Salmon Steward
Learn about salmon and their habitat, life cycle and species in the Puget Sound. Trainees who work two hours at salmon events get a new Kitsap Salmon Field Guide and are eligible to have the class fee refunded. Choose from a single-day session or a series of Wednesday evening sessions.
When: Sept. 30 – Oct. 21, 6 to 8 p.m. or Oct. 16, 9 a.m. to 3 p.m.
Where: Norm Dicks Government Center, WSU Classroom 406, Bremerton
Cost: $25
More details: Call Renee Johnson at 360-337-7224
Salmon Viewing Events
Family and friends are invited to celebrate returning salmon at these free events. There will be children's activities and experts on hand to answer questions.
Salmon Viewing Saturday
When: Saturday, Nov. 7, 9 a.m. to 2 p.m.
Where: Poulsbo's Fish Park, 228 NW Lindvig Way
Kitsap Salmon Tours
When: Saturday, Nov. 14, 10 a.m. to 2 p.m.
Where: Chico Salmon Viewing Park, Chico Way at Golf Club Road, Bremerton; and Mountaineers Rhododendron Preserve, 3000 Seabeck Hwy, Bremerton
Details: Presentations at 10 a.m., 11:30 a.m., 1 p.m.
Cowling Creek Center
When: Daily during daylight hours in November
Where: 20325 Miller Bay Road, Poulsbo
These events are presented by WSU Kitsap Extension, Clean Water Kitsap, WA Sea Grant, Great Peninsula Conservancy, Mountaineers and the Suquamish Tribe.
For more information, call Renee Johnson at 360-337-7224
Professional Rain Garden Workshop
A two-day workshop for green industry professionals will cover the design and installation of rain gardens: benefits, current regulations, site analysis, hydrologic modeling, materials specifications, appropriate plants and maintenance tips. Class is available for total of 11 CPH, ecoPRO and CLT credits and is presented by WSU Extension Kitsap.
A database of businesses that have completed the training is provided to homeowners and small business owners in Kitsap County who are seeking to hire professional firms for rain garden projects.
When: Thursday and Friday, Oct. 15-16, 9 a.m. to 4 p.m.
Where: Norm Dicks Government Building, Bremerton
Cost: Early registration by Sept. 4 is $60 per day/$100 for both days; $85 per day/$150 for both days thereafter.
Details and online registration: For more information on the two-day agenda, speakers and to register online.
For more information contact Colleen Miko, cmiko [at] co [dot] kitsap [dot] wa [dot] us or 360-307-4378.