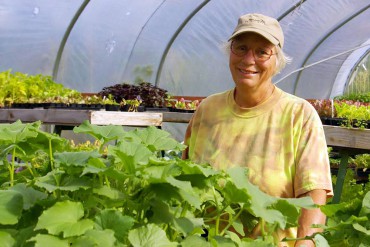 After the severe decline in this year's snowpack, Gov. Jay Inslee declared a statewide drought in May. By July, runoff from snowpack had disappeared and 83 percent of the state's streams and rivers were reported running at below normal or record low flows.
For counties like Kitsap, whose dominant source of water is groundwater, not snowpack, low stream flow is a major concern not only for fish habitat, but for the water supply for drinking, farms and household use.
Did you know that in a pristine, forested area, if you cover 10 percent of that area with impervious surface such as roof or driveway, it alters the natural rainfall cycle and has the potential for ecological damage? Amazing, but true.
Rain that falls on a driveway mixes with any pollutants on that surface, like petroleum products from automobiles, and can end up directly in Puget Sound. Rather than soaking gently into the soil, where it would percolate down to regenerate ground water, it frequently flows in great volume and speed over land into a streambed, causing erosion to banks.
When water runs off impermeable surfaces, slopes can be destabilized and water becomes awash with sediment, suffocating salmon eggs, among other impacts.
If every drop of water that hit our roofs and patios were infiltrated into the soil on our own properties, we would recharge our aquifers and prevent water pollution. The microbes that live in the soil are capable of breaking down most toxins that run from our roofs and parking strips, thankfully. All the more reason to catch that rain and use it in the garden or farm.
Eugene Brennan and Deborah McDaniel in Manette were motivated to install their rainwater catchment system simply because rain here is so plentiful.
"I originally came from Denver, Deborah from El Paso, both dry places. Not using the rain here just seemed wasteful to us," Brennan said. "It wasn't the cost of water that motivated us; our reasoning was more ecological."
Being avid food gardeners, they put the water from their 3,000-gallon tank to good use for backyard veggies, fruits and chickens.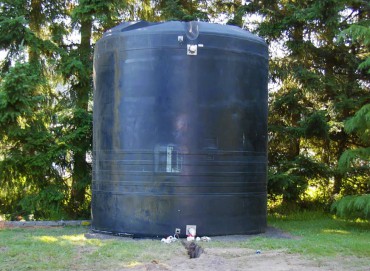 Using the Rainwater
How much water can be collected off a roof? It depends on whether you live in Sequim, with 16 inches of rain a year, or in Seattle, with 38 inches, and the size of the roof.
Let's use Bremerton, with 52 inches of annual precipitation, as an example. If you live in Bremerton and have a 1,200-square-foot roof, 35,000 gallons of water pours off it yearly. For the same size roof in Sequim: 17,000 gallons.
It has been six years since the state Department of Ecology issued a policy statement declaring that a water right permit is not needed to collect and store rainwater from a roof. This is great news for those who want to make use of all that free rainwater for the garden.
And that's the key — garden usage. You don't ever want to use the rainwater for anything but watering plants or animals, and washing cars or garden tools. Never drink, cook or wash your hands with the water.
For some cistern systems with proper filters and pumps, the water can be used for flushing toilets. The Kitsap Conservation District (KCD) uses rainwater to flush the toilet in its office building.
When Brian Stahl, technical coordinator for KCD, gives tours of the site on Central Valley Road, he points out the purple pipes that are required by law to indicate the water flowing through it is "reclaimed." These are the pipes that deliver the rainwater from the 1,200-gallon underground storage tank to the toilet via a submersible pump.
The KCD system is a bit more complicated than most, partly because rainwater collected from the office roof is pumped to fill a 11,100-gallon cistern, as well as the underground tank. When the tanks are both full and the winter rain is still coming, water is diverted to a rain garden. All this rainwater irrigates the landscape, fruit trees and greenhouse.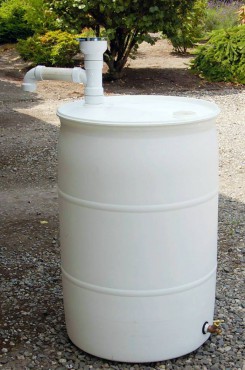 Since the water piped into homes can be treated with chemicals as necessary for health and sanitation, rainwater is better for irrigation. Chlorine and fluoride can be toxic to plants. Tender seedlings and houseplants, in particular, do better watered with rainwater.
Nikki and Allen Johanson of Pheasant Fields Farm in Silverdale installed a cistern system that is used primarily to water vegetable starts in the greenhouse and hoophouses.
Because the water in the cisterns is so much warmer than from the well, it doesn't shock the young plants thriving in the extra warmth of the greenhouse. Nikki Johanson raves about how much better they do when irrigated from the cisterns. Their tanks are fed from the downspouts of the 1,400-square-foot metal roof of the farm store building.
The cisterns also irrigate the cutting garden via gravity and tee off another line to reach the chicken house.
"I can put cisterns the whole length of the building if I want; there's more water than I catch now," Johanson said.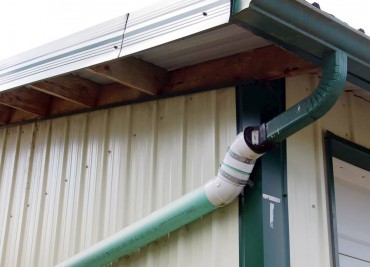 She is glad that she has the cisterns, especially in February through March when she's got so many crops started in the greenhouses. She speaks highly of working with KCD to install the cistern through the Green Stormwater Incentive program.
Storage Capacity
Water usage is as much as 30 percent higher in the summer because of landscape and recreational uses. The real limiting factor in how much water can be used from a roof is that two-thirds of it falls from November to March, when you don't need as much.
So, without a lot of storage capacity, you'll only be using what falls from the sky from late spring to early fall. This is why cisterns are preferred to rain barrels, which are only about 50 gallons.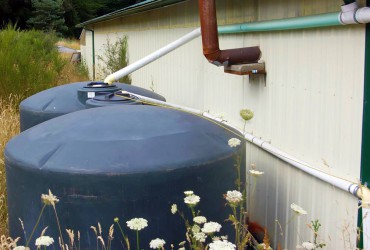 Brennan figured out that a 50-gallon rain barrel can water an 8-by-4-foot veggie bed, 1 inches per square foot, just shy of three times.
According to Stahl, KCD's cistern has never run dry in a summer, but he says that with a couple of years like 2015, it could be possible. Brennan said that their tank has never run out in summer, but this year it might.
There's also the fact that a rain barrel operates on gravity and has no pump, which means the water in it most likely will have to be applied using a watering can. It's a great way to irrigate house plants, container plants and beds within a short hose's reach.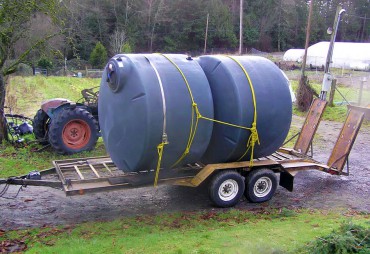 Since the Brennan and McDaniel's garden is at a higher elevation than their cistern, a sump pump is used to pressurize a hose or to fill four rain barrels. The rain barrels are mounted high on a platform and when valves are manually opened at their bases, they feed drip lines that water veggies. Brennan has devised clever homemade watering systems that many have marveled over on the Manette Edible Garden Tour.
Is your home, garage or shed a candidate for rainwater collection? If you live in unincorporated Kitsap County, you can receive a free site visit from the Kitsap Conservation District to learn more about the Green Stormwater Solutions incentives.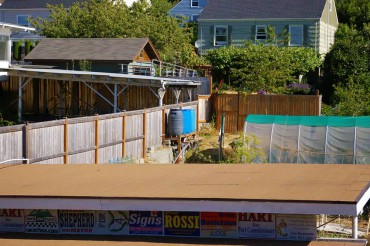 Technical assistance and funding are available for qualified homeowners and small commercial properties. See the resources list for information on designing systems.
For folks in most of the world — and closer to home on the San Juan Islands, for instance — rain collection is the only way to meet all of their household and agricultural water needs. Mankind has collected rain from roofs and other hard surfaces since transitioning from nomadic life to permanent settlements.
For now, it seems those individuals who are "first adopters" to rainwater catchment in Kitsap (beyond rain barrels, that is) are primarily those who have the skills and interest to tinker and perfect their systems to best fit their sites and uses. But given the ongoing drought issues, this is likely to change, with more people taking advantage of all that free rainwater.