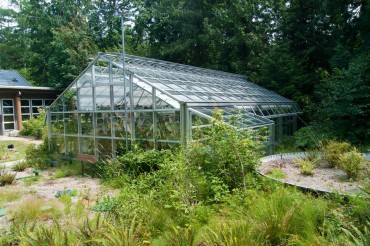 Located on the opposite ends of the Greater Kitsap Peninsula, Bainbridge Island's IslandWood and Key Peninsula's YMCA Camp Seymour share many of the same goals. Both offer environmental education and outdoor programs for children, and both are focused on sustainability.
One of the unique features that both locations have in common is a Living Machine — an innovative technology that allows the sites to capture and reuse their wastewater.
"The Living Machine is doing what the environment itself does — processing wastewater and nutrients," says Clancy Wolf, senior faculty member for science and technology education at IslandWood. "We're using living organisms to do it."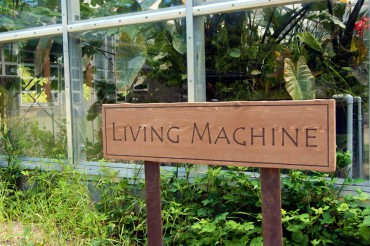 The Living Machine mimics environmental processes by using beneficial bacteria — and in some cases, plants — to clean water that would typically flow into a septic system or wastewater-treatment plant. The reclaimed water is then used for irrigation (although it's also clean enough to use for flushing toilets, neither IslandWood nor Camp Seymour are able to do that because of health department regulations).
Some of the water ends up in drain fields, but it's much safer for the environment because the Living Machine process cleans out nitrogen and phosphorous. Those nutrients would otherwise eventually end up in Puget Sound. The second-largest marine estuary in the United States, Puget Sound is facing environmental challenges that include nutrient pollution from sources such as septic systems, wastewater-treatment plants and water runoff.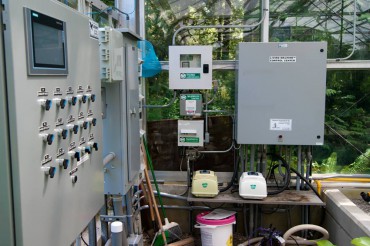 The Living Machine technology was created by Living Machine Systems L3C, a social benefit corporation based in Virginia. The system is used by entities like municipalities, private developments, schools and zoos, and there are three of them in Washington state.
Hydroponic Reactors at Camp Seymour
Camp Seymour installed its Living Machine in 2003 as part of a master plan to upgrade the septic system. Housed inside a greenhouse, the system has six hydroponic reactors — 8-foot-deep tanks filled with water and subtropical plants.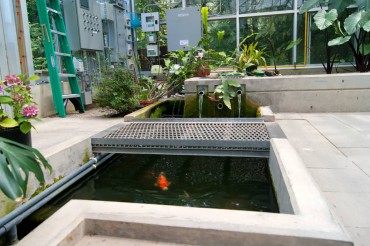 The wastewater goes through a traditional septic system as well as charcoal filters for odor control before making its way to the tanks. In the reactors, bubble diffusers aerate the water to treat it, and bacteria that thrive in the plant roots, as well as other beneficial insects, "graze" on the biomass, further cleaning the water.
"(The system) is saturated with air — like an aquarium — for odor control and to make it a bacteria-friendly ecosystem," says Scott Gjertson, outdoor and environmental education director at Camp Seymour.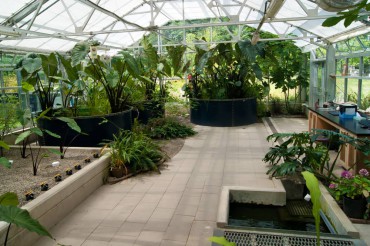 Admittedly, the maintenance of the system is not simple, nor inexpensive. The plants — which include calla lilies, white butterfly ginger and purple taro — require regular pruning and heat in the winter.
"It's an expense, for sure, but it's meant to be a good example of being a good steward of Puget Sound," Gjertson says.
In addition to drip irrigation, the recycled water is used for a pond that has various types of goldfish and koi. The Living Machine is part of various sustainable features at the camp, including an organic garden and a composting program. To demonstrate sustainable ideas, there's even a chicken coop repurposed from an old water tower, with a "living roof" and windows recycled from an old cabin.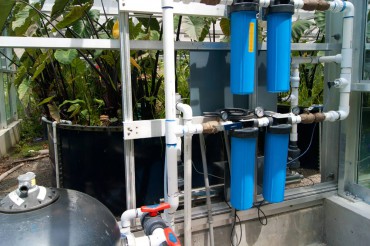 The Living Machine is part of an evolving curriculum developed by Gjertson. It includes hands-on activities and discussions focused on water pollution and recycling. The kids learn about the scarcity of fresh water as well as water pollution.
About 13,000 people come to Camp Seymour every year. The majority are students from more than 100 schools. Through the years, thousands of them have gone through the environmental curriculum.
"It hits home with kids to think of water as an important resource," Gjertson says. "Rethinking wastewater will be real important for the next generation."
Tidal Flow Wetland at IslandWood
IslandWood first installed a Living Machine when the campus opened in 2000. Three hydroponic reactors were located inside a greenhouse.
Two years ago, the system was rebuilt, using newer Living Machine technology. Instead of the hydroponic process, this system uses a "tidal flow wetland." The change was part of a capital project that included a new lodge, requiring larger wastewater-treatment capacity.
The system has three separate parts — a tidal wetland, an aerated wetland and a vertical fall wetland — each with its own habitat.
The tidal wetland portion is essentially a pair of special tanks filled with rocks. The gray water goes into one, then flows into the other once it's full, giving air and oxygen to the organisms living on the rocks.
"They're robust ecosystems with all kinds of organisms," Wolf says.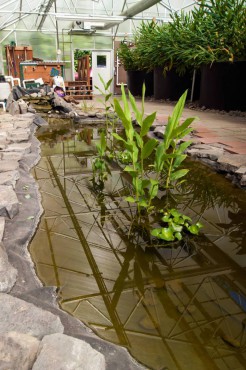 Each of the tanks is about 10 feet deep and 14 feet in diameter. Although this technology doesn't require plants, at IslandWoods plants are grown on top of the rocks to help decrease water evaporation. An equalization tank is also used so that peak times don't overwhelm the system and the water is pumped through incrementally.
The Living Machine can process about 1.5 gallons of water per minute and was designed to output as much as 2,000 gallons a day for irrigation and another 1,500 gallons for flushing. Since the cost of getting approvals to use the water for flushing or above-ground irrigation is prohibitive, the water currently just goes into the drainfield.
Unlike the hydroponic system, the tidal flow wetland is less expensive to maintain. The plants, for one, are native.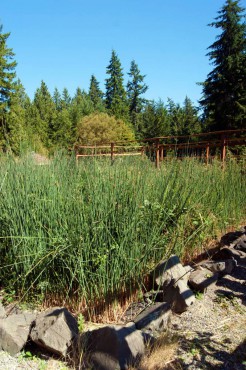 "Before, with the subtropical plants, we were pumping a lot of energy into keeping them happy," Wolf says.
Although the new Living Machine is not a formal part of the curriculum, it does help reinforce the kids' understanding of the ecosystem and it's also included in the tours of the campus. The message, Wolf says, is to think about what happens to the waste product created by people.
"The amount of waste we're putting into the environment has evolved because of population increase," he says.
The Living Machine is not inexpensive, but in IslandWood's case, it was less expensive than connecting a wastewater-treatment plant 4 miles away. It may also be less expensive than clearing a site for drainfields and installing a septic system, Wolf notes.
"They're cost-effective if you understand what the alternatives are," he says. "What the Living Machine is doing, is looking at how we can use natural processes that always go on underground… It's like domesticating decomposition."