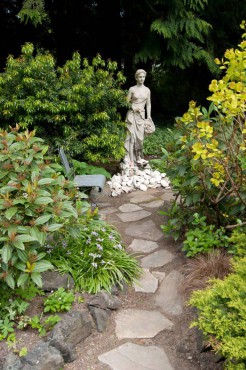 "More than anything else, a garden is a portal, a passage into another world, one of your own thoughts and your making; it is whatever you want it to be and you are what you want to be." ~ William Longgood
Creating your own private space in your garden is something you may not have considered. We find relaxation in our homes but invariably there are unavoidable interruptions, noises and distractions. Having a special place outside in the garden removes those issues and provides a reflective opportunity to be quiet and peaceful with nature.
Private garden spaces should be seen as a sanctuary that is defined as a place of refuge or safety. Other words to call a private space are: haven, harbor, oasis, shelter, retreat, hideaway. Those beckoning, descriptive words provide strong support for having such a place.
Remember the forts that were a part of our childhood? Recapture the feeling of privacy and secrecy and create your special fort. It will become that special space for being still, hearing the volume of life turn down, decompressing and moving toward restoring inner balance.
It will provide a soothing and tranquil place where you can appreciate the inspiring simplicity of the garden and experience something bigger than yourself.
So where do you begin?
Having a private garden space begins with the decision to have one and then having intention to create it. Developing your space is a necessary and purposeful endeavor, as it needs to have credence and validity. When it does, the space has definition and becomes more than just a random place to sit for a passing few minutes.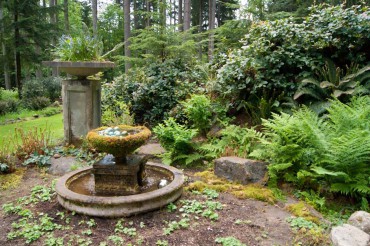 It should be a place with purpose that reflects your individual tastes and desires. The space you carve in the landscape should support you and your quiet moments.
"By bringing a soulful consciousness to gardening, sacred space can be created outdoors," wrote S. Kelley Harrell, in "Nature's Gifts Anthology."
Your space will be a partnership among plants, hardscaping and decorative elements. And while you may feel in control, remember that nature has a say and she will make it known.
Nature will be involved in your private space in the spontaneous whirr of hummingbird wings, pink confetti petals creating a temporal carpet, dancing leaf shadows, hundreds of beading dew drops on leaves, the gentle rustle of foliage as the wind whispers through, and the hopeful return of frog song at dusk. Be at peace with that and enjoy the show.
Planning Your Private Space
Consider these questions: Will this space be close to the house or far away? If the latter, will a path be needed? What are the light conditions during the time you believe you will most likely be there? Will it be sunny or mostly shady? What about wind? Will you need a windbreak with either plant hedge, wall, trellis with climbing vines or roses? What about rain? Will there need to be overhead protection with either tree canopy, umbrella, pergola with vine-covered trellis or a lean-to with waterproof canvas?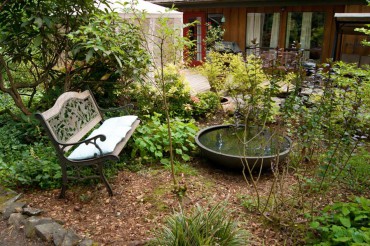 Another consideration is the "floor," or whatever is underfoot. Drainage plays a large part in this so observe the area first. Surface materials can be bark, grass, recycled broken-concrete slabs, brick/aggregate pavers, gravel, flagstone, moss, wood, etc. Using recycled pallets can be a quick and affordable option to consider for having a raised "deck." Durable, fast-draining, waterproof, outdoor carpets are also an option.
Lighting is needed and while functional, it can also be decorative. Beyond the landscape lights that use solar power or electricity, consider other alternatives.
"A garden should make you feel you've entered privileged space — a place not just set apart but reverberant — and it seems to me that, to achieve this, the gardener must put some kind of twist on the existing landscape, turn its prose into something nearer poetry." ~ Michael Pollan, "Sacred Nature: A Gardener's Education"
Strings of mini white lights add a fairy-like charm and rope lights can define the space as well. Candles can be a delight in the garden. Use them in candelabrums, place small votives inside hanging jars in trees simulating flickering fireflies, and floating candles in still water bowls. Sand-filled clay pots can also support tapers with hurricane lanterns for wind protection. Soft candle light adds a lovely, romantic flavor to the sacred space. Consider having many candles of all sizes and types to create a candle-filled cathedral.
Water adds another highly desired element to the space. It can be in the form of a glazed bowl filled to the rim to act as a reflective mirror, a birdbath or a bubbling fountain with a submersible pump. Water can also become exotic with an outdoor shower or a bathtub.
Plant material needs to be carefully chosen with mature size and growing requirements in mind. Evergreen shrubs and trees will add to a sense of privacy but the structural form of deciduous shrubs/trees can be visually intriguing.
There also needs to be something comfortable to sit on, something that will withstand the weather. Keep it small unless you intend to share it with someone. Places to sit can include a boulder, swing, hammock or chair/bench made of wood or metal; even a pallet can be used with cushions and pillows. Why not consider having a bed draped with mosquito netting?
Adding decorative elements will give personality and provide a focal point for emphasis. These can be such things as wind chimes, statuary, sculpture/art, sundials, topiary, decorative containers/urns, bird cages and more.
Deciding to have a private garden space is where it begins. Then take deliberate action to see it come to life.
Enjoy the planning, procurement of materials and the process of making it happen. Take into consideration certain aspects, such as weather, drainage and comfort that will help enhance the enjoyment of your sanctuary. Then sit down, slow down, take a breath and feel the calm.