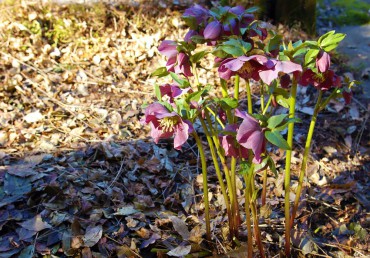 Gardening. My livelihood, exercise, psychological wellbeing, and yes, my obsession.
From learning to garden alongside my parents in Los Angeles to teaching horticulture in Kitsap today, my gardening style and philosophy have taken many forms.
My first job in the business was at an independent nursery in San Diego whose owners also had a landscape business. One of the owners had suffered neurological damage from exposure to garden chemicals in the course of work. When I joined the staff in the early '90s, their businesses were all organic.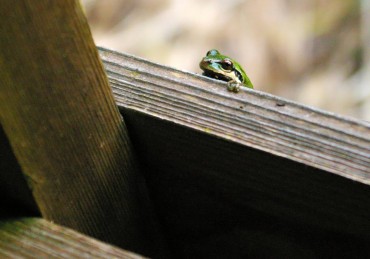 From my formative years in the industry, I was surrounded by mentors who championed least toxic methods of gardening so that I didn't have to learn the hard way. However, the garden itself is the greatest teacher, as I would find out.
A "type A" person by nature, I want things organized and in their place. When you do landscape maintenance, that's what most people pay you for: order. No leaves, no clippings, hedges like boxes and roses without spots.
My personality fit well with my next job of landscape maintenance. Luckily I had many clients who were willing to splurge on upgrades — using beneficial insects to control pests, mulching with compost to improve the soil and replacing disease-prone plants with hardier types. I learned every day from using conventional as well as organic methods, depending on my customer's requests.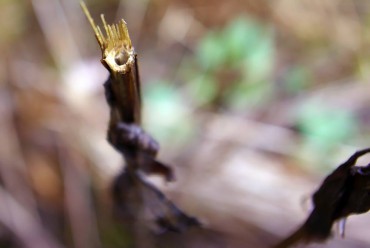 But it wasn't until I had my own property in Kitsap that I really learned. It was one thing to care for others' gardens once a week — mow, deadhead and go. It was another to watch how plants, soil and nature responded over time to how I was pruning and mulching, and to what I was planting. I have become in-tune with how a garden hosts life. Now I derive as much joy from the creatures in my garden as from the plants and the gardening process.
A garden is an ecosystem, a concept I only recently comprehended, and it was the land that schooled me. Any one thing I do or change has a ripple effect on the whole. As I started to landscape my own plot, the rows of plants were orderly. I deadheaded and staked all the perennials and applied organic fertilizer and lime by the calendar. I spent every waking hour working in the garden, trying out methods book by book.
One thing that I learned from professional landscape maintenance is that nature abhors a vacuum. Bare soil will require weeding for eternity — a kind of perverse job security, you might say. To me, nothing is more satisfying than turning a weed patch into room for new plants.
I battled patches of noxious weeds and replanted desirable plants in their place. I planted thickly and closely so that plants covered the bare ground. I broadcast seeds of annuals like alyssum to fill the space temporarily, shade the ground and attract beneficial insects. My early, compulsive weeding paid off in that it is now a smaller part of my gardening to-do.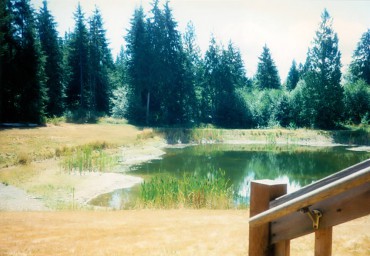 Evolving Techniques
When we bought our home, the large pond was a selling point. We discovered quickly that something was out of whack — there were no frogs around. The lawn was shorn to water's edge; no other plants ringed it.
From day one, we have cared for the lawn and home without the use of chemicals that could end up in the water. We allowed native plants to volunteer and added them by the gallon pot. Today there are so many frogs that when the neighboring house sold, the new owner confessed having trouble sleeping because of the chorus.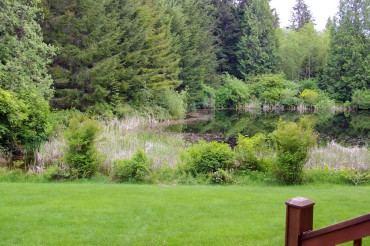 After 22 years, the once-barren pond edge is overhung with lush branches that bob under the weight of songbirds. It's wild, natural looking and full of intriguing life, from dragonflies to wood ducks.
Over time, other gardening practices have been ditched as a result of direct experience. When cleaning up after the bigleaf maple one autumn, I accidentally rounded up a newt. It was cold and slow to respond, its bare orange belly in my gloved palm. I immediately felt remorse for ripping it from its leafy protection. Did I need to collect all these leaves and compost them, only to then put the compost at the base of the maple?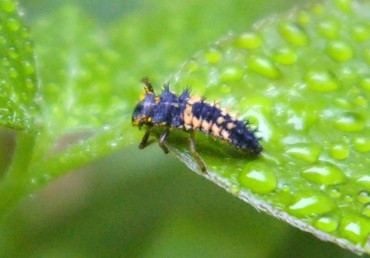 Raking is my least-favorite garden chore. It made sense to phase it out in favor of composting in place. Nowadays, leaves that fall on lawn get chopped to bits with the mulching mower. Beds under trees are weed-free, with thick, moldering debris as nature intended. My soil is richer and healthier for it and doesn't dry out. Leaves are habitat.
Yellow jackets are a pest that few take lightly. While it's easy to ignore aphids on the asters, thinking a predatory insect will make a meal of them, it's harder to ignore stinging insects. One summer, a yellow-jacket nest was forming on the eaves near the picnic table so I hit the hardware store for a can of wasp spray. Then I read the labels: caution, warning, danger. I came home empty-handed and promptly forgot about it.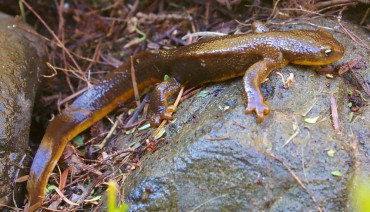 "Tomorrow," I thought when I noticed the now-larger nest weeks later. Before I headed out the next day to finally get the spray, a quick survey of the nest revealed only a torn strip of paper. The ground underneath was littered with bits of papery cells. To my amazement, something had ripped it down and eaten it overnight!
For once, procrastination had paid off. Since then, the same thing has happened many, many times. I ask every wildlife expert I meet: "Who is eating my yellow-jacket nests?" No one has offered a definitive answer.
A new respect of nature has come from the yellow-jacket predator mystery. I don't always understand how nature works, but I know that it is complex and self-regulating. Everything we do and don't do in the garden has an impact, whether we take notice or not.
One day, I hope to witness the nest-eater (from the protection of my house, mind you). I can afford at times to ignore nests as I have no allergies to stings nor small children, but others can't. We all form our own, unique garden philosophies. Just as no two gardens are alike, no two gardeners follow the same techniques.
Perennials have always been a gardening addiction because I love to photograph the insects that flock to the flowers. Creating flower arrangements brings me calm. I used to follow gardening calendars that dictated fall was for cleanup. Hurry up and clip off spent flower heads so they don't go to seed and pop up where they don't belong; give a haircut to the ornamental grasses and rake up the leaves — all this before cold drives me indoors.
After many years of this, I decided to try a different way.
The winter of 2011 brought an early, extreme cold that came without warning. It was only the second year I had stopped doing fall cleanup. This new process of leaving the spent foliage and flowers in place for the winter was new to me and I was still unsure I could handle looking at the messiness. (Note: Annual veggie plants should be cleaned up after harvest so as not to spread potential disease.)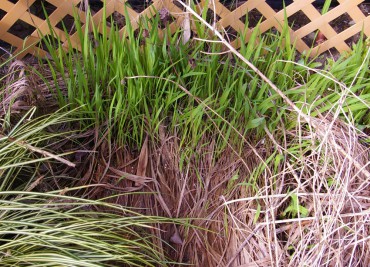 With the freeze, I expected major plant die-offs as the plants were not yet acclimated to the cold when it struck. I had lost hebes, lavender and other plants in very cold winters before.
Come spring, unlike in previous years, I was shocked to find fewer plant losses than anticipated. This is anecdotal evidence, I admit. However, leaving the stems and leaves from the previous season to protect the crown is something that I have since read is helpful for a number of reasons.
Spring cleanup is the present routine. It allows beneficial insects to overwinter unharmed in the garden debris and I get to see the frost glisten on the seed heads of last year's flowers.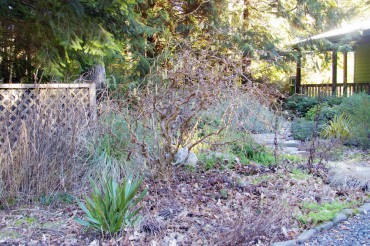 I don't mind the messiness because I see its value. In addition, I enjoy a much more relaxed fall-gardening season. By spring, the plant material has broken down a great deal, with nutrients finding their way back into the soil. What does need to go to the compost bin is further decomposed and doesn't require chipping — nature has weathered it for me. There seem to be fewer weeds, as well, though whether it's due to regular, vigilant care or less bare soil over the winter, I don't know.
In autumn, I used to generate a lot of yard waste. What to do with it? At first I shredded it with the chipper, adding it to my compost. Many days of work, wearing ear and eye protection, wasn't fun. After a close call with a flying chip in the eye, I switched instead to hauling it to the yard-waste recycling center.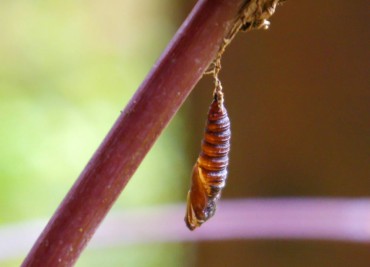 With less time to garden than before, my process has evolved yet again to cold composting for most yard waste and kitchen scraps. Branches and weeds are piled together in a hidden spot.
Gardeners with small spaces might not want to give up precious room for this. I hope that sometime in the future, my neighborhood gets curbside green-waste recycling, which would probably alter my techniques yet again.
When I do spring cleanup of perennials, I snap last year's stems into pieces and drop them in place in the beds, allowing the plants to create their own mulch. Since the garden has matured and the plants filled in, there is less bare area to smother with compost these days.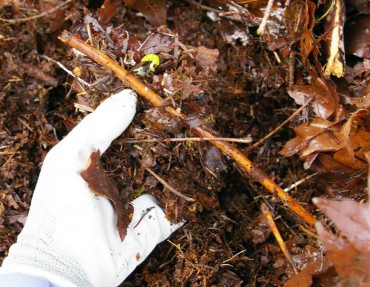 Fewer inputs: more garden time. Fewer trailer loads of yard waste saves gasoline and time in the car. For years, gardening was all tasks and little time in the hammock. I didn't spend much time appreciating the fruits of my labor. Today, I spend active hours admiring garden denizens, from bees to birds, reveling in each new discovery.
Last summer, I watched tiny beetles chew pinholes in the clematis, only to see ladybug larvae and lacewings in the leaves a few weeks later. Were they eating those beetles? Another delightful mystery unsolved.
My gardening ethic has changed over the years, motivated by nature. I used to think the garden was mine. It turns out, it is not; I am only its steward. My main goal and pleasure these days is to facilitate diversity and, of course, to keep on top of the weeding.