Organic Gardening for Year-Round Harvests
This is a hands-on class taught by Master Gardeners to help you create an organic backyard vegetable garden, with an emphasis on extending the growing season and food crops to harvest fall through early spring. Learn the principles of organic gardening with a focus on soils, composting, locally appropriate techniques and integrated pest management.
When: Friday, July 10, 9 a.m. to 4 p.m.
Where: Poulsbo Fire Department, 911 Liberty Road, Poulsbo
Cost: $45 for general public (includes class materials, Maritime Gardening Guide and resource guides)
More information: ext100.wsu.edu/kitsap. Register online at organicgardening2015.bpt.me ($5 cancellation fee after June 26)
Free Summer Gardening
Activities and Classes
Master Gardeners will host free demonstrations at Blueberry Park and Raab Park. See below for an overview of workshops for children and adults.
Visit WSU Kitsap Extension's website for detailed, individual class listings at ext100.wsu.edu/kitsap, the Raab Park Youth Garden Blog at raabyouthgarden.blogspot.com or the Raab P-Patch blog at poulsbop-patch.blogspot.com (by invitation only).
Blueberry Park Kids Cultivate
WSU Master Gardeners welcome elementary school-age youth for five consecutive Fridays to learn about bugs and plants and construct cool take-home garden crafts. One or more adults must accompany each group of children
When: Fridays, July 10 – Aug. 7, 12:30 to 2 p.m.
Where: Blueberry Park, 737 Sylvan Way, Bremerton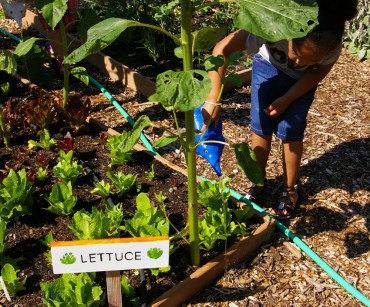 Raab Park Youth Garden
Join WSU Kitsap Master Gardeners and Poulsbo Garden Club volunteers to plant, water, harvest and make a garden- related craft to take home. One or more adults must accompany each group of children and a $1 donation is requested. For groups of 5 or more, contact Poulsbo Parks and Recreation at 360-779-9898.
When: Mondays, June 22 – Aug. 10, 10 a.m. to noon
Where: Raab Park, 18349 Caldart Avenue NE, Poulsbo
Raab Park P-Patch Gardening Demonstrations
WSU Kitsap Master Gardeners will host edible gardening demonstrations for p-patch gardeners and the public.
When: Saturday, July 13, 18; Aug. 15; Sept. 12, 10 a.m. to noon
Where: Raab Park, 18349 Caldart Avenue NE, Poulsbo