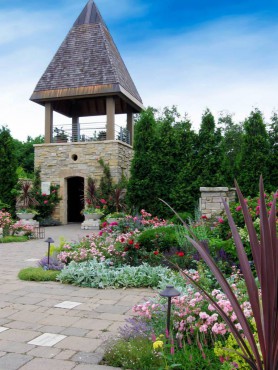 Many of the old garden roses (OGRs) we now grow in America came to us by way of Europe. During her brief tenure as Napoleon's empress (1804-'09), Josephine of France collected more than 200 rose varieties, nearly all that were known in the Western world at that time. The gardens designed by Josephine at Malmaison were not cataloged and sadly, the original collection was not preserved due to wars and neglect. Malmaison is now a museum of the Napoleonic period.
The early roses blooming in the garden are typically the types classified as OGRs.
The OGR classification includes 22 classes, more than the modern roses discussed in the previous article. They are living antiques whose classifications existed before 1867.
Many are disease-resistant and have continued growing because of their positive qualities. Most produce only an initial crop of blooms for four to six weeks in May and early June. Be sure to cut a bouquet of these roses and enjoy the rich perfume in your home. They also make nice hostess gifts.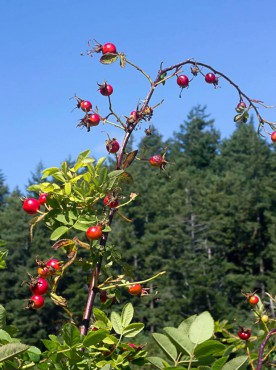 OGRs bloom on the previous year's cane and should not be pruned until after flowering, rather than during early spring like the modern roses. Some rose gardeners never prune OGRs or do so only to shape the plant.
After flowering, attractive hips provide interest during late summer and fall. Do not discount growing these types because they only bloom once. Embrace the fact that many spring plants only bloom once a year, unlike the modern roses that have the repeat blooming trait.
Many of the OGRs are very fragrant and fall into the pink, white or mauve color range, with very few yellows such as Harison's Yellow, a hybrid foetida (HFt) from 1824. You may hear of Harison's Yellow being called the "yellow rose of Texas" but that is the subject of debate.
Some of the OGR classes grow best in the South and do not thrive in our rainy weather. Classes of OGRs that do grow well here include the gallicas, damasks, albas, centifolias, hybrid perpetuals and the moss roses. These are the hybrid roses that prevailed in European gardens prior to the introduction of Rosa chinensis from China in the 18th century.
When R. chinensis was introduced to the European world, hybridizers used this rose to develop new classes of roses that were repeat bloomers. Repeat-blooming, old garden rose classes we know of today are the bourbons, Portlands and hybrid perpetual classes.
Another classification of roses is called species roses (not in the OGR category), often called wild roses, such as the native wildflower roses of Washington. Rosa pisocarpa, Rosa woodsii, Rose nutka and Rosa gymnocarpa have four to eight petals. They are only seen blooming once a year in June and are most often recognized by the shape of their hips, leaves and prickles.
You will have to do some searching to find specific OGRs and species roses available for sale. Search online and call for information about current stock. A few known resources are listed at the end of this article.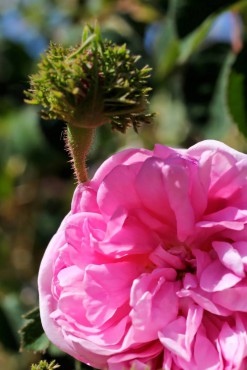 Rose companions
The OGRs and species roses look great as a specimen plant or anchor in your sunny, mixed border. Companion plants you choose should require similar growing conditions and not compete too aggressively with roses. Good companions extend the flowering season and attract beneficial insects.
Clematis and fragrant Oriental lilies add height and color to the scene. Blue and purple plants such as lavender, delphiniums, blue salvia, Veronica or purple pasque flower look especially attractive mixed with roses. Fine-textured artemisia and velvety lambs ear also add an artistic element to the sunny border. Paint a picture in your mind when placing the companion plants at least 12 to 18 inches from your roses.
Pests During the Growing Season
Closely inspect any rose or other plant you may purchase this season. Insects and disease may be part of your purchase. Once you get the new plant material home, it is a good idea to isolate it for a few days to see if any problems hitchhiked in with your purchase.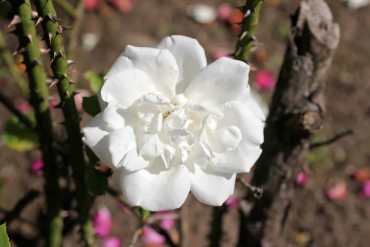 Rose pests are beginning to make an appearance at this time of year and each gardener has an individual tolerance for the amount of damage allowed by fungal disease and insects. Cleaning out all of the fallen leaves from the previous season should be the first task of the year. Preventative action for fungal disease is preferred rather than the difficult and largely unsuccessful attempts to cure the disease. Cutting away diseased flowers, leaves or canes is a prudent garden practice.
A spray combination of lime sulfur and horticultural oil in February before the plants leaf out will kill fungal spores that may have wintered over from the previous season. If this was not done, now you could also try a product called Green Cure, potassium bicarbonate (not baking soda), a white, powdery substance mixed with water according to the directions on the package.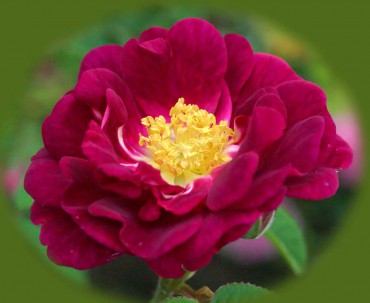 This product is approved for organic gardening and desiccates any fungal spores that may be present. But do remember that fungal spores are everywhere and blow in with the wind.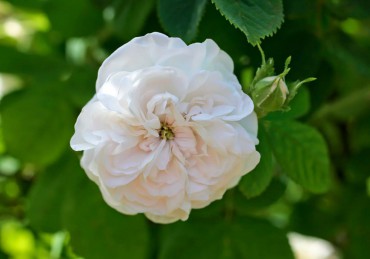 A few insects may cause damage to roses and knowing "good bugs" and "bad bugs" will help you decide if you want to rid the garden of these pests. Insects such as tiny, green aphids are attracted to and will damage new growth and rose buds but these pests can be easily washed off with the spray setting of your hose. This water spray will be most effective if done early in the day, every other day, as long as aphids are seen.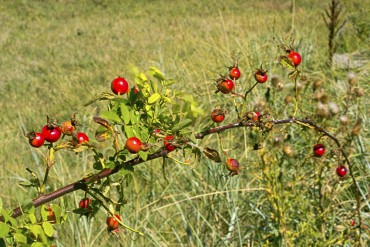 Another bad bug for roses is the bluegreen leafhopper. It is half inch long and sometimes seen on roses or noticed by the white, sugary residue left from excrement. Bluegreen leafhoppers have mouthparts that allow them to pierce the plant tissue and feed on the juices, leaving unattractive damage. They are also known to transfer disease among plants.
Two spotted mites are tiny, green or red pests that arrive during the hot and dry months. Symptoms of a mite infestation are dry, crunchy-looking leaves; in a severe infestation, you may even see tiny spider webs.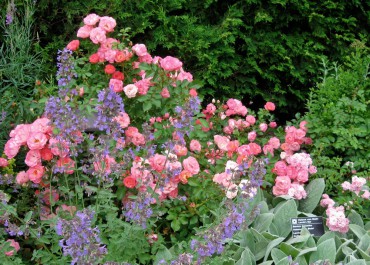 It is a good cultural practice for roses to water-spray the entire plant, especially the undersides of leaves early in the day. This washes off any spider mites before they do their sucking damage to the leaves. Remove any fallen or crunchy leaves.
Flower thrips can destroy a rose bud. Thrips show up during the summer when the grass is dry. They are most noticeable on light-colored roses because the petals brown and show damage.
Cut off any infested flowers you may notice. Attracting, introducing and nurturing predatory insects should be your first line of defense for dealing with thrips and mites. Encourage the good bugs long before they are needed and they will stay and munch on the bad guys as the season progresses.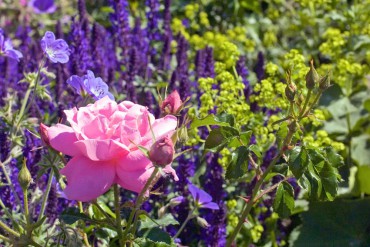 The worst pest here is the rose midge (Dasineura rhodophaga). It is a tiny, rose-eating fly, 1/20th of an inch that will cause bent tips of canes, malformed leaves and canes with no flowers. Another symptom is a cane with a crispy, brown tip that is the result of feeding on the tip.
If you see this, prune out damaged buds and discard them in the trash. Most rosarians avoid insecticides, but this is often the only exception because of its 10-day life cycle. Search online for more information and hope this pest never finds your garden.
If you are unsure about any insect or fungal disease or about what action to take, contact an American Rose Society consulting rosarian, Kitsap Rose Society member or a Master Gardener before you spray any chemical.
Roses are really very easy to grow once you recognize their needs of water during the dry season and monthly rose fertilizer during April through August. Any box fertilizer labeled for roses will provide success.
A healthy rose plant is the best defense against things that can go wrong. Keep an eye out for pests and disease during the growing season and your garden will be the source of much pleasure. Enjoy your roses!
This is the second of a three-part series about seasonal care for roses in the West Sound.