Plant Sales and Garden Tours
Hopefully you've been getting in shape and building up stamina during the last few months, because May and June in the gardening world are packed with opportunities, activities and lots of time out in the garden.
Be sure to check out all the local garden tours and plant sales. The plant sales are a great way to pick up plants and at the same time support worthy causes. Many of the sales take place on the first and second weekends in May but you'll find a few more later in the month.
The garden tours run from early June through early August. Some of the tour and plant sale details are included in this WSH&G issue. Remember to look for late breaking and reminder announcements on the WSH&G blog and Facebook page.
Plant a Food Garden
In a normal weather year in our temperate Northwest climates, May and June are the perfect time to plant a food garden for personal consumption and also to share with the hungry.
The first step is to decide what you and your friends and family enjoy eating, and only plant those vegetables. Remember, too, that veggies are usually an annual plant with a short growing life. That means they need good soil, fertilizing at specific times and regular watering. Also remember that most veggies need to be harvested continuously (think beans and peas) to continue producing harvest.
Many gardeners plant seeds but others purchase starts from local nurseries. When purchasing seeds, be sure to read the instructions on the seed packet and also look for how long it takes until time to harvest.
Visit the WSH&G website for a seed-starting video and also to learn how to plant already started veggies. See the listing of resources in this column for much more information.
The very best way to learn about growing veggies in our area is to take the organic gardening class through WSU Kitsap Extension. The Master Gardeners who facilitate and teach this course have been growing their own food for many years and are an excellent resource.
The course runs for four Saturdays in the wintertime, but each year in June, a class is offered on what to plant in the summertime for harvesting in late fall and through wintertime. Even though gardeners know and use the term "winter veggies," the time to plant them is in summertime.
Another great way to see and experience how to grow veggies (and ornamental plants) is to visit these learning gardens: Blueberry Park P-Patch on Sylvan Way in Bremerton, Anna Smith Garden on Tracyton Boulevard, Heritage Garden at the back of Presidents Hall at the fairgrounds on Fairgrounds Road and Raab Park Youth Garden at the south end of Caldart in Poulsbo.
You'll find Master Gardeners there in person to answer your gardening questions. Sometimes hours and days change so check with the WSU Kitsap Extension Office or visit its website for details. All of these gardens are open during daylight hours and many have good signage, so you can visit and learn even when MGs aren't on site. Please don't pick the produce though. Some of it is raised by individuals or is being grown to donate to local food banks.
The staff at many of our local nurseries are also a good resource for learning how to grow veggies. Some are experts at growing fruits too. Look for certified professional horticulturists on staff — they've taken an arduous test and worked at least 2,000 hours over two years in their professions so they can better assist home gardeners.
Last but not least, growing food (fruits and veggies) is not for everyone. Try it and see if you like it and if you don't, take advantage of the abundant farmers markets, where you can purchase great locally grown product.
Cats and Dogs in the Neighborhood and Garden
Many gardeners or their neighbors have dogs and cats. These creatures provide entertainment and abundant unconditional love. However, sometimes cats and dogs can become a bit of a pest or problem in the garden.
A recent reader survey requested information on dealing with these issues. Here are just a few tips and ideas on being a better pet parent. Also a few tips on how to deal with cats and dogs who wander into nearby gardens without an invitation.
Avoid using anything toxic as a deterrent. Mothballs are one example to avoid. This method has been listed in popular media, but mothballs are poisonous to many creatures, including humans. They are also very bad for the environment.
Many of the pesticides, herbicides and other "cides" found in home and garden centers are also toxic to animals. Always read labels carefully and consult with Master Gardeners, certified professional horticulturists and others who can help you choose animal-friendly products when needed.
If you're a pet parent, always pick up after your pets when taking them for a walk. Local pet stores and online vendors have biodegradable pet-waste bags. Once you've picked up the pet waste and tied the bag up, don't leave it behind. Carry it to the nearest waste disposal container or take it home to dispose in the garbage.
Clear Creek Trail is a prime example of people putting their pet-waste bags along the trail, thinking they'll return to pick them up. But alas, they do not. Clear Creek Trail volunteers find literally hundreds of forgotten, filled-up bags left behind on a regular basis each year.
Contrary to popular belief, unbagged pet waste is not good for the environment and does not biodegrade quickly. And, bagged pet waste left behind is possibly even worse. Pet populations are rapidly expanding and if everyone left their pet waste behind to biodegrade, West Sound would soon be overrun with unhealthy situations.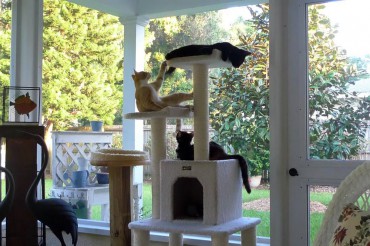 Remember, too, that the ground water comes from under our feet. It's not a good idea to let pet waste soak into the ground. In fact, according to Kitsap Public Health, Clean Water Kitsap and the same entities in Pierce County, it's a definite health hazard.
Fencing works beautifully to deter wandering pets. Decorative fencing not only keeps deer out but also deters other furry critters. Fenced yards and gardens can also provide lots of outdoor playtime and enjoyment for the much loved dogs.
Plant dog-friendly shrubs and other ornamentals and perhaps even create a digging area if your dog is a digger. Remember to still take your furry pet for one or more daily walks — it's good for you and the dog.
Wandering neighborhood cats sometimes become a problem by digging and depositing their waste in neighboring vegetable gardens. This is not a good thing.
Several years ago on the Suquamish Garden Tour, an avid veggie gardener used salvaged oven and barbecue racks laid across the garden beds with the veggies planted in the rows in between the racks. Chicken wire works beautifully too. When cats start to dig, their paws encounter the wires and metal racks and they decide to go elsewhere to do their business. Permeable netting between the planted rows works well also. Try floating row covers. They've been reported to work well.
Several reputable resources report that each outdoor cat kills an average of one to 34 birds each year. Other sources say at least one billion birds are killed nationwide. Besides birds, cats kill rabbits, frogs, snakes and other small outdoor critters.
Many gardeners make decorative outdoor play areas for their cats. Some screen off a portion of their decks and porches so their cats can safely enjoy the outdoors without becoming a nuisance or doing any harm. These outdoor play areas have cat-friendly plantings and scratching posts, plus an abundance of other cat-friendly accoutrements. Kitty enjoys a lovely time outdoors, can watch wildlife from a safe distance and still soak up lots of stimulating time outside the house without doing harm or being harmed.