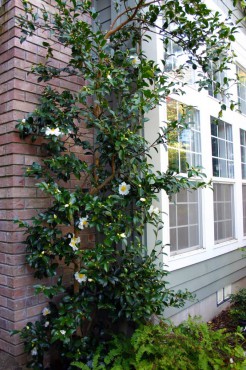 After taking down the Christmas lights and all the bling is gone, January looks cold, dark and gray. Depressing. Does it have to be this way? Not if you plant a garden that looks good even during the coldest days of the year.
Winter is a time to celebrate a quiet place, when the garden strips down to its bare bones. Yet outside can be beautiful, full of sweet fragrance and color.
Not much work is necessary in the garden during the early part of the year. It's a time where you can look out the window and see color, texture and the grand structure. Granted, most of the color will be subdued, but the beauty is in the surprise of winter flowers and beautiful foliage.
Here is how to keep the garden looking alive, even when many plants slumber underground.
The best time to look over your space and make plans to improve its structure is right now. Since you most likely won't be sitting out in the garden with a cup of tea in the mornings or walking the garden most days, winter is a good time to assess where you view the garden. Anywhere you can observe it during the dark days of winter is where you want to plant a boost of winter color.
Winter Color Through Foliage
Evergreen shrubs and perennials will be the main characters of your winter plantings. We are lucky we can grow a large variety of them in our mild climate. During the colder season, heavenly bamboo (Nandina domestica cultivars) gives brilliant red foliage and berries, while some heathers (particularly Calluna cultivars) give orange, yellow and red a whirl in their needled foliage.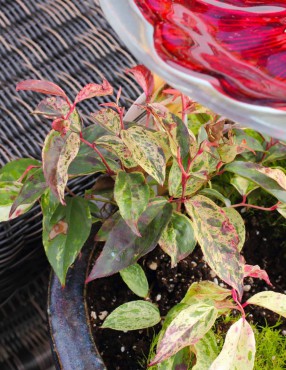 Fatsia japonica "Spider Web" has an interesting, permanently frosted appearance on its large leaves. And the cascading waterfall effect of a variegated Leucothoe (pronounced loo-KOTH-oh-ee) "Rainbow" can soften a hard wall with foliage in hues of cream, green and burgundy.
Maybe you don't want a winter garden but would like to spruce up your entryway with a few colorful, winter containers. When you plant a container with hardy, colorful foliage, you can dig it out of your decorative pots in spring and plant it out in the garden to continue giving your winter a lift of color every year.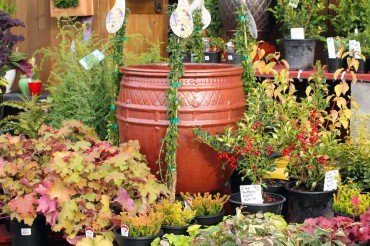 Plant a pot that hosts a variegated Leucothoe to cascade down the side, a hardy Euphorbia (related to poinsettia) for their beautiful foliage, such as "Ascot Rainbow" or the wintery-blue and white leaves of "Swan Song." Add a golden-needled conifer or a coral bell (Heuchera). With all the gorgeous coral bells on the market, it is hard to pick one or two for winter. Choose those that have been around for a few years and have gorgeous foliage, such as Heuchera "Fire Chief." Its name gives it away. The red foliage is a knockout.
False holly, Osmanthus "Goshiki," is not really a holly at all and not as prickly either. Planted in the garden, it will give you plenty of greens for Christmas but also some beautiful, variegated foliage throughout winter and the rest of the year.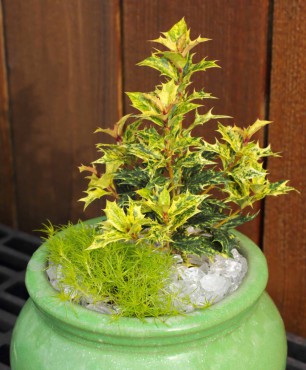 Ilex "Northern Lights" is a true holly with variegated, creamy-yellow foliage and dark-green edging, and bright-red berries. This evergreen shrub looks fantastic in the landscape or in a container. It's another plant that gives you lots of foliage and berries for dressing up your winter home with color during the darkest time of the year. This one is a prickly one, however, but worth growing in a container.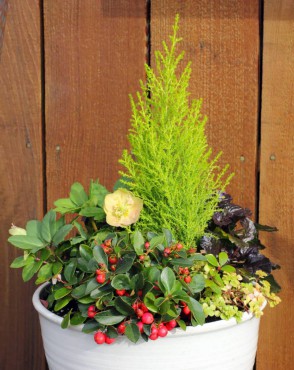 The much-loved cypress, Chamaecyparis "Wilma," gives a shot of light-green foliage in a pot or as a light accent of green in the garden. Surround it with wintergreen, a creeping Gaultheria procumbens that produces bright-red berries that stand out against its dark-green, evergreen foliage in winter. Take a look around your favorite nurseries and pick out other colorful and hardy conifers.
Winter Fragrance
Three outstanding shrubs that give winter fragrance are sweet box (Sarcococca), wintersweet (Chimonanthus praecox) and Chinese witch hazel (Hamamelis mollis). The sweet box has dark-green foliage you prune like a boxwood hedge or let grow into its natural shape. The flowers won't visually stand out but when they are in full bloom, they will come knocking on your olfactory nerves.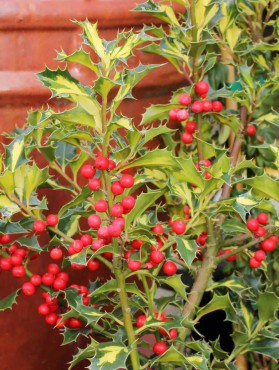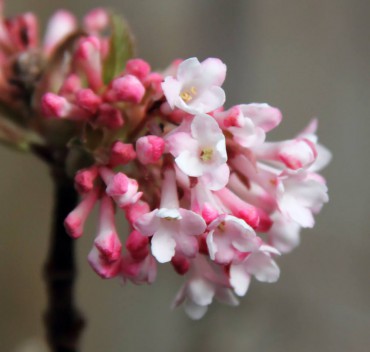 On a still day, the related deciduous shrubs of wintersweets and witch hazels give plenty of fragrance to the garden. Plant any of these close to where you will frequently enjoy their sweet presence. The popular small tree Hamamelis "Arnold's Promise" has cheery, yellow flowers, but there are many outstanding choices in the trade.
Viburnum x bodnantense is a deciduous shrub that throws clusters of dark-pink buds that open to pink flowers in the crisp winter air. These longtime bloomers are not only pretty in pink, they are fragrant too. Plant these in bright shade or full sun and they will reward you for months every winter.
Notable Winter Flowers
For a lift of color and evergreen foliage before and after Christmas, include the exquisite Camellia sasanqua in your winter garden. Camellia "Yuletide" has gorgeous, red flowers, and C. "Setsugekka" has semi-double, snow white, undulated petals with golden stamens. Their flowers will not turn a mush-brown in the rain like the Camellia japonica flowers do in early spring.
Don't forget the hellebores, the mainstay of winter flowers, especially the cultivars with top-notch foliage and outstanding flowers that never seem to quit their show. The latest breeding work has produced some of the most outstanding hellebores the winter garden has ever seen. Right after Christmas, Helleborus x ericsmithii "COSEH860" (sold under the trade name Monte Cristo) has fantastic blue foliage. Pink buds open to outward-facing, ivory-white flowers that last well into spring.
Explore local garden centers in winter and see what looks great this time of year. There is no rule that says your garden has to look devoid of life during the coldest time of the year. Make it come alive and fill another season with color that chases the gray days away.