Time to Plan and Learn
When gardens are dormant, it's the perfect time to take a class — or two or more. Check with your favorite local nursery and the WSU Kitsap County Extension Office for upcoming opportunities. Here are just a few ideas.
Organic vegetable gardening: If you want to find really good information on how to grow organic vegetables and small fruits, plan to take the WSU Organic Vegetable Gardening Course on Saturdays from 9 a.m. to 3 p.m. The four class dates are: Feb. 28 and March 7, 21 and 28. Registrations received by Dec.15 are $125 total for all four classes. After that date, the cost is $150 for all four classes or $45 per class.
This is a fantastic class with abundant information and resources. The Master Gardeners who teach this course grow vegetables and herbs themselves, some for their own livelihood, and the tips and techniques imparted cover everything imaginable. Do not miss this opportunity — it only happens once each year.
Classes are hosted at the Norm Dicks Government Center in Bremerton. Parking is free at the center for those classes. If you have questions or need further information, email kitsapvegclass@gmail.com or call 360-337-7157. Register here.
Free seminars: The Master Gardener Foundation of Kitsap County offers free, two-hour seminars on the third Wednesday each month during the gardening season. For a complete list of the seminars for 2015 check out the MGFKC website and click on the "events" tab for the topic and location.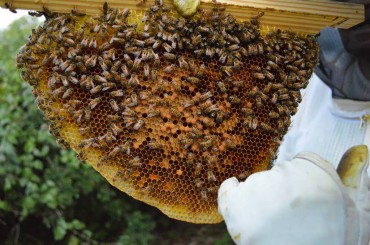 Beekeeping class: The West Sound Beekeepers Association offers abundant information about the bees in this region. If you've always wanted to have your own hive, WSBA offers a "Bee-ginner beekeeper class" every Tuesday night in February and March. In 2014 the classes were at the Silverdale Community Center.
The club also meets the third Tuesday of each month at 7 p.m. at Stedman's Bee Supplies, located at 3763 NW Anderson Hill Road in Silverdale. The website lists how to contact members of the club to find answers to all your questions about bees and participation in the West Sound Bee Keepers Association meetings and activities.
Moles and Other Tunneling Critters
This past year seemed to be the year of the mole. There were tunnels and hills everywhere. But was it really only moles? Maybe yes and maybe no.
Washington State University Extension and local gardeners are fortunate to have Dave Pehling, small mammal expert, based out of Snohomish County Extension. Much of his more than 20-year career has been spent studying moles, voles, rats, mice and gophers. If you ever get the opportunity to attend a workshop with Pehling as speaker, do so. He is also a large mammal expert, but that's another column entirely.
In the meantime, here are some helpful tips on how to live with moles especially and how to tell the difference between them and the other tunneling and hole-making critters. Also visit the listed links for lots of additional information, along with photos for easier identification of holes and the small mammals mentioned.
Gardeners often think of moles as rodents but they belong to a different mammalian order, the Soricomorpha, which feed mostly on insects. Alas, though, sometimes plants and bulbs are uprooted by their tunneling but not by nibbling. Voles, however, are burrowing rodents with dark tails and small front feet; their tunnels can be similar to moles and they sometimes use mole tunnels after moles move on.
There are two types of moles in this region: Scapanus townsendii (Townsend's mole) and Scapanus orarius (Pacific mole). The Pacific mole is a bit smaller than the Townsend's mole, but their habits are very similar.
Washington state voters passed a law making it illegal to trap moles and it's also illegal to catch and relocate them to the wild. Pehling suggests "perhaps adopting a 'live and let live' approach."
He says, "Consider whether you can just live with a mole in your landscape. Simply raking soil mounds flat or removing (and relocating) the displaced soil will keep the lawn looking good. If you just stomp on the mounds, the mole will push the soil back out. Moles do provide some pest-control benefits by eating crane fly larvae, cutworms and even some slugs."
Moles create a network of tunnels, sometimes vacating the "runs" for a while and then returning later. They'll use different tunnels throughout the year and scent glands they use to mark their boundaries.
Even though it seems like numerous moles in the garden, usually it's only one or two. A single mole's territory can be two-fifths of an acre, roughly 132 feet by 132 feet. The most active tunneling periods are early spring and all of fall.
Moles can live up to three years. Each April or May, the females give birth to three to four young. After rearing, these youngsters are sent away from the mother's territory to find their own. Moles are solitary and come together only to breed.
Pocket gophers, Thomomys mazama, are found in South Sound and on the Olympic Peninsula but so far have not been officially reported in West Sound. Keep your fingers crossed that they stay away from this region.
There are seven species of voles in Washington state. Habitats vary but most are similar in appearance and in tunneling habits. The vole most often found in this region is the Townsend's vole. It can often be a pest because of the damage it does to the tasty plant roots and bulbs it nibbles.
Voles, often called meadow mice because of their appearance, are especially abundant in gardens found near fields, grasslands and forests. Their population can reach as many as 1,000 per acre and vole populations explode every three to five years, luckily followed by a crash.
It is also lucky that voles can be trapped and killed using mouse traps baited with apple slices, peanut butter or both. It's recommended to check the trap daily and to cover it with a bucket or something else to prevent other animals from being harmed.
Last but not least in this discussion are roof rats and Norway rats, which also make holes. Roof rats (rattus rattus) have longer tails and are less likely to tunnel. But Norway rats (Rattus novegicus) make rather large holes (2 inches or more) in comparison to moles and voles and they do tunnel. You'll want to look for these holes when vegetation has died back this winter.
The WSU Pestsense website gives details on how to combat the rats in our area. Sometimes it's best to call in a licensed and bonded local exterminator.