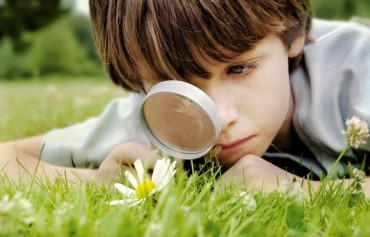 Early fall is a great opportunity to introduce children to new activities. Children are naturally curious and they love to explore and learn about the natural world. Parents will be amazed at the fun and adventure children can experience in their own backyard, at their local park or on a camping trip.
Here are some activities to help connect your children with nature.
Put up a hummingbird feeder.
Hummingbirds are one of the easiest birds to attract. By hanging a hummingbird feeder, you and your child can witness the birds' aerial acrobatics. Hummingbirds can fly up, down, forward, backward and sideways, and hover in midair.
You can make your own nectar at home. Use a solution made from four parts of water to one part table sugar to fill the feeder. Having your child make the nectar and being responsible for filling the feeder can create a sense of achievement.
Create a nature bracelet.
Using a wide roll of masking tape, make a loose-fitting bracelet around your child's wrist, sticky side out. Take a nature hike around your neighborhood, a local park or campsite. While on your hike, encourage the children to find flowers or flower petals, leaves or other natural items and attach them to the bracelet.
Plan a flashlight hike.
Take a nature walk at dusk or after dark with a flashlight. Place the back end of a flashlight on your chin or nose and slowly shine it around on the ground, bushes and trees. Some insects', animals' and birds' eyes are reflective and you can find them in the dark by the eyes' reflection shining back at you. Can you find any spiders, flying squirrels, raccoons or owls?
Go on a bird scavenger hunt.
Pretend to be a bird detective and encourage your children to look for birds in different locations and describe what they are doing. You can discover places where a bird might live (holes in trees, an old nest in a bush and mud nests under bridges), seek out evidence of birds having been somewhere (look for egg shells, a fallen feather and tracks in the mud), and search out foods a bird might eat (bugs, insects and fruit). You can visit the Cornell Lab of Ornithology website, www.allaboutbirds.org, to help identify birds that you come across.
Play a game with the colors of nature.
Stop by your local home improvement or hardware store and select a few paint sample cards. Then on your next nature hike, share these with your children and encourage them to find colors in the natural world that match the colors on the card.
When children spend quality time outside, it can have a lasting, positive impact on their personal lives and the future of our great natural heritage. By livening up their senses to the outdoors, you will create a passion for nature and animals that older generations had as children.
For more exciting ways to reconnect your children with nature, visit this link or stop by Wild Birds Unlimited of Gig Harbor, located at 3120 1/2 Harborview Drive.