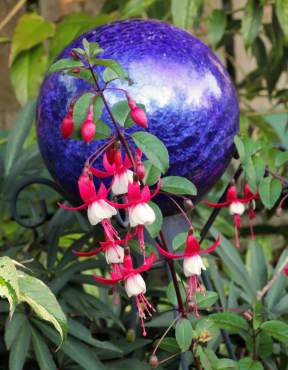 It is said that people who love fuchsias, really love them. With three generations of fuchsia lovers in my family, I was destined to fall in love with them too.
I remember my grandmother's hanging baskets overflowing with fuchsia branches smothered in blousy, red and white flowers. My family sat on a deck and chatted with Grandma while she tended her beautiful baskets. Her nimble fingers quickly pinched off the faded blossoms. I sat on her deck mesmerized by the hummingbirds buzzing in to drink the nectar from the flowering baskets above me.
When I purchased my first fuchsia basket, I chose the blousy red and white flowers of Fuchsia "Swingtime," similar to the ones that my grandmother grew. Years later when I spotted a 6-foot-tall, hardy fuchsia growing in a lightly shaded woodland garden, I began a lifelong love affair with the genus.
Many fuchsias come from the cloud-infested, higher elevations in the Southern hemisphere forests. It's not surprising that fuchsias thrive in our cool maritime climate. Hardy fuchsias easily fit into almost any landscape, from woodland gardens to formal ones. You can utilize them as seasonal hedges, cascading down walls, housed in containers or nestled into a mixed border. Wherever you plant them, they will bring a long season of color for the hotter days of summer well into the cooler days of fall.
During mild winters, hardy fuchsias loose their leaves with minimal stem dieback. However, about every four to five years, this area experiences a colder than normal winter that freezes the hardy fuchsias down to the ground. This isn't a problem since they sprout again from the roots and by midsummer flower as profusely as before. Low-maintenance plants once well established, fuchsias are surprisingly drought-tolerant in mild climate. However, for optimum growth and flowers, they prefer a moist, humus-rich, well-drained soil. The following are a few select fuchsias.
Planting and Growing Fuchsias
In the spring or early summer, choose a well-drained spot in your garden. Dig the hole twice as wide as the root ball, and then mix in a handful of complete organic fertilizer. For a small plant, dig the hole deep enough that half the plant goes under the soil. For larger plants, place the crown 6 inches deeper.
Backfill the hole halfway with soil and water it in. After backfilling the rest of the hole and watering again, mulch the fuchsia lightly with compost or composted manure. When fall arrives, spread an additional 6 inches of mulch over the plant. When spring comes around and the leaves begin to open, prune back about half of the previous year's growth.
If the plant dies back to the ground in winter, prune the dead stems to the ground. Fertilize your fuchsias once in spring and again in early summer and add a yearly mulch of compost or manure.