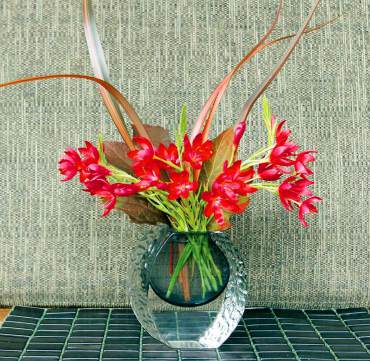 Fresh floral arrangements make a statement. Whether composed of a single, stunning blossom or multihued, full and brimming with petals, a bouquet says that you care about the details and flourishes that make a house a home. And to guests, flowers are a welcoming signal that you consider their company special.
For those who like to entertain, flowers are another creative way to play on a theme, set the mood and complement lovely food. Yet most of what we see in floral displays are pampered prima donnas, grown with the help of copious chemicals and whose price per stem leaves us feeling that perhaps a bowl of fruit might do. But don't turn to silks just yet. Have a look at our bouquets composed with easy-care flowers from the garden or patio container.
Perennial plants provide some of the best cut flowers we know. Whether evergreen or dying back to the ground each winter, perennials are plants that live for two or more years in the garden, producing more flowers the longer they're in the ground. The term perennial usually describes herbaceous rather than woody plants, but a corsage knows no distinction and thus we include here other types of long-lived plants. Perennial plants with showy blooms not only fill the garden with color, but double duty as your own personal floral case, available at a moment's notice and as variable as the seasons. The selection of perennials useful for cut flowers expands yearly as growers improve older varieties, breeding the flowers to be larger, stems to be straighter and colors to be bolder. The world is also becoming smaller and new delights are found the globe over.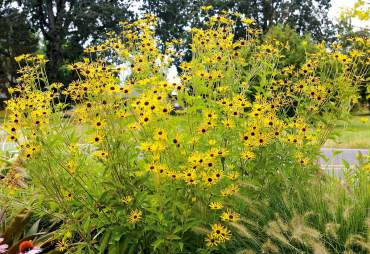 It's not only flowers you'll want — leaves with sheen, shape and texture balance flora in the border and the boutonniere. At times when blossoms are few, foliage extends the bouquet season, as do seed heads, pods, berries and bare branches. Trees, shrubs, and grasses are especially important in winter arrangements.
The new introduction Fatsia japonica "Spider's Web" (variegated Japanese aralia) is an example of an evergreen shrub that forms the backdrop of a garden bed and a floral composition. The blades of ornamental grasses, either wide or wispy, add a finishing element to floralscapes and create fascinating effects when used underwater in a clear glass vase. Use the broad and colorful Phormium cultivars (New Zealand flax), wide variety of Miscanthus (eualia grass) or Carex (sedges). My new favorite of the grasses: Carex muskingumensis "Ice Fountain" (palm sedge).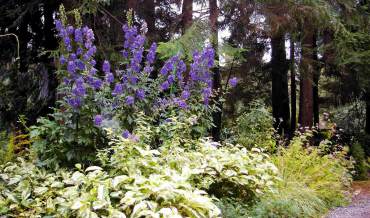 Growing a variety of plants that bloom over a long period and in different seasons insures there will always be something worth plucking for the kitchen table. Consider what you currently have in your garden and which seasons could use some "oomph." For most of us, it's fall and winter that need a kick, but perhaps color range is your limitation. Landscape designers commonly see resistance to yellow and orange blossoms among their clients, yet how these colors orchestrate with blue and purple is reason enough to grow them.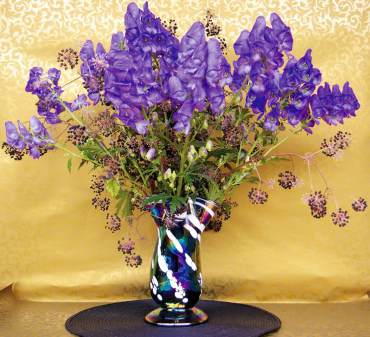 In our area, it's understandable that winter gardens are shy on flowers. Autumn gardens, however, have the potential to be incredibly floriferous. Schizostylus coccinea (kaffir lily) is a perennial that extends the bouquet season with stunning coral red, white or shell pink flowers that open continually starting in late August, often continuing into November. And kaffir lily needs no pampering or pest control — just average water, good, well-drained soil and sun.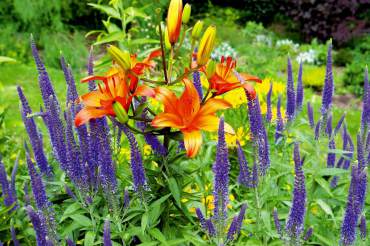 Asters, dahlias and mums have long been the staples of fall borders, but "David" phlox and "Fireworks" goldenrod make vase-worthy additions. Of the asters, "Lady in Black" calico aster, recently classified into the genus Symphyotrichum, is an uncommon and particularly late-blooming lovely. If you really want to turn heads with your floral compositions, plant Aconitum (monkshood). Making delphiniums look anemic, staking is imperative as certain cultivars can reach six feet, but wow! Come September when most perennials are in decline, the monkshoods are just opening their buds, which are green with blue veins and to the vivid imagination resemble alien heads. Straight and thick stems are useful for both tall and compact flower arrangements and combine well with many flowers. Their main caveat is that they are poisonous and both cut flowers and plants should be kept away from toddlers. Monkshoods appreciate morning sun, even moisture and happily form large clumps that are quite easy to divide and share with admiring neighbors.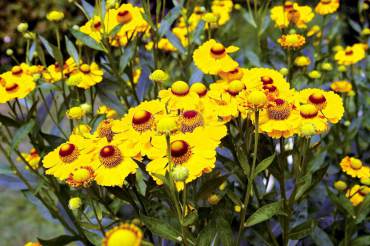 If you've ever made a holiday wreath with fresh greens, you already know some of the vast possibilities for winter bouquets. Alas, floral options are slimmer come winter solstice, but if you think shrubs, you've got the solution. Sarcococca and Viburnum x bodnantense "Dawn" give us heady fragrance in February. Ever floated flowers in a bowl on the dining table? This low-profile arrangement is splendidly simple and doesn't impede cross-table conversation. Camellia "Yuletide" and hellebore hybrids are made for such flattering treatment. The pendant pale yellow flowers on bare branches of Corylopsis (winterhazel) or twisty sprigs of contorted filbert enliven an urn with their solitary, Zen-like presence.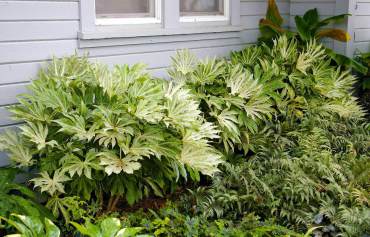 Balance, proportion, symmetry — all potentially intimidating terms used to describe the art of floral grouping. Growing your own cutting garden is the key to unabashed experimentation without a worry that a spendy stem is wasted or won't work in concert with another. Having a supply of homegrown flowers is liberating and begs creative endeavor. Think about it: If it looks good together in the garden, it will surely be an opus in a vase. Bringing a bunch indoors brightens the mood when we can't be outdoors enough and combinations not possible in the garden, such as a favorite fern and that sun-kissed lily, are only possible in a bouquet. Not a plant mentioned here is difficult to grow, and this list is by no means exhaustive, so go ahead and plant your own posy.