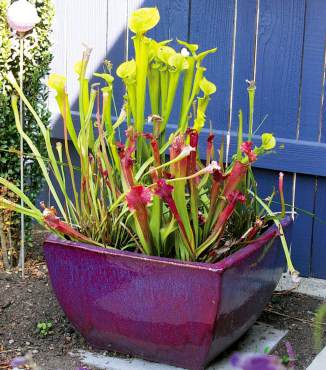 Allowing a bit of creative autonomy is the key to encouraging children to spend time in the garden. Children can be reluctant to try something new, afraid of doing something wrong or making a mess. With their own space to experiment, putter and even goof up or get dirty, a child can learn creatively. This is especially true in a lovingly tended garden where the little ones might hear from the kitchen window: "Watch out for the [insert your own favorite plant here], please!"
This is where the dedicated "planting bed" comes in. Just as a child's room is a special, personalized place in the home, an individual flower bed in the larger garden is a fun kid space.
As an example, in one garden specifically designed for two girls, ages 3 and 5, "garden beds" for flowers, veggies or making mud pies were installed. Each girl creates her own magic in the raised planters built in the size of a twin bed: 3.5 feet wide by 6 feet long by 18 inches high. Filled with topsoil and amended with 3 inches of compost, the beds are irrigated with drip lines that come up from underneath. Mom bought used wrought iron trellises for "headboards."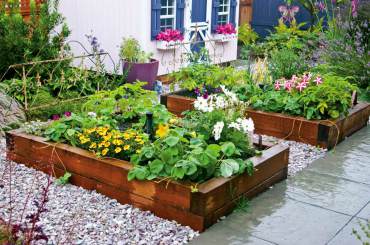 Initially, with their mother's help, the girls selected their favorite potted annuals like petunias and alyssum and planted sweet peas to twine up the headboards, as their seeds are large and easy to handle. Later they added strawberries and planted pumpkins. It was a hoot to see each girl's personality come out in the plant choices and the ornaments they made for the beds.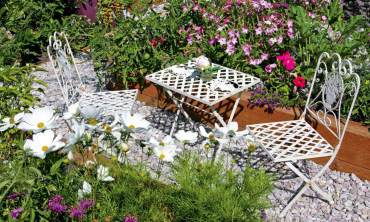 There are lots of different uses for planting beds; road courses for instance: hills, tunnels and tracks where the plants serve as roadblocks or backdrop for a rock quarry filled with gravel. And when veggies are grown, putting a cherry tomato in the back of a matchbox dump truck generates giggles. Or use the bed to lure interesting insects and mount a screened box with magnifying glass nearby to contain and better inspect the creatures that come hither.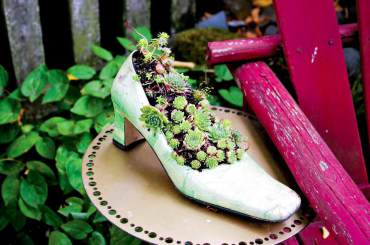 The bed's style and use will grow as your child grows. From rain-tea parties to forts with plastic soldiers to school science experiments, your kid can have his or her spot in the garden to nurture appreciation for the outdoors, the seasons and the plants. With a personal space where they are allowed to get dirty and yes, kill things (we've all had our share of sad plants), children can even love to make their bed!
If you don't have a garden where children can experiment, make room for a container on the balcony. An oak barrel or pot planted with love can afford just enough interesting nature time to sow the seeds of gardening in their minds. Let them paint the box, make their own plant tags, introduce red worms and build racetracks through some strawberry plants.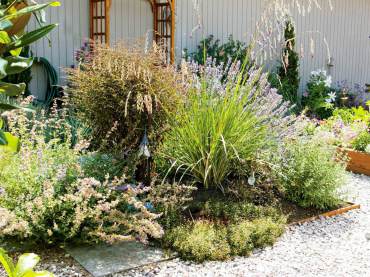 Even a container with a single interesting plant can be a perfect spot to construct a faerie hideout from sticks, leaves, flowers and lichen. Selecting outrageous containers can make the project even more fun. How about repurposing a colorful used toy tote or giving new life to a tired old boot? Oscar the Grouch would certainly approve of playing in a recycled trash can full of good dirt.
There are loads of intriguing plants out there with a yummy fragrance or interesting texture. Scented geraniums thrive in containers and kids enjoy being blindfolded and guessing the smells — from peppermint and rose to chocolate. Dalmatian iris blooms waft the scent of grape soda. The fuzzy leaves of lamb's ear beg to be pet, while snapdragons make the best finger puppets. Or try a container of fabulous pitcher plants. These carnivorous beauties are fascinating to grow, beckoning insects to dine and never escape.
Even without a balcony, there are countless opportunities to sprout a love for growing and tending. From the ubiquitous avocado pit, forcing bulbs like amaryllis, to simply growing some grass seed, a bright windowsill is all you need.
Planting kitchen scraps is an inexpensive way to learn about growing food. Try planting a carrot with the green top still on or spouting an onion in a watertight container of pebbles. These are the kind of fun growing projects that don't take up space and are irresistible to kids and adults alike.