Master Gardener Program Free Children's Gardening Activities
School's out! Are you looking for something fun and free for the kids? The WSU Kitsap Master Gardeners are offering children's gardening activities in two of our demonstration gardens this summer — plant, water, harvest and make a garden-related craft to take home.
Join us at:
Raab Park Youth Garden (at the far south end of Caldart St. in Poulsbo) with assistance from the Poulsbo Garden Club on Mondays from 10:30-12:30 on the following dates:
June 23: Stepping Stones & Planting Seeds
June 30: Soil, Worms & Sprouting Seeds
July 7: Butterflies & Ladybugs
July 14: Planting in Unbelievable Containers
July 21: Plants & How We Use Them
July 28: Sunflowers, Birds & Garden Wildlife
August 4: Pacific Northwest Plants and Their Uses
August 11: Wonderful Messy Art Day
For groups of five or more, contact Poulsbo Parks and Recreation at 360-779-9898.
Blueberry Park "Kid's Cultivate"
(737 Sylvan Way near Pine, Bremerton)
Six consecutive Thursdays from 12:30 to 2 p.m. at Blueberry Park starting July 10 through August 14 to learn about bugs, butterflies, plants and flowers and construct cool take-home crafts. One or more adults must accompany each group of children. Activities are designed for elementary school-age youth and a $1 donation is requested. For groups of 10 or more, please notify us ahead of time at blueberry.community.garden@gmail.com.
For a more detailed activity description visit this link. http://county.wsu.edu/kitsap/gardening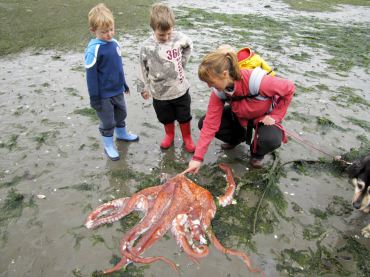 Professional Rain Garden Workshop
Two-day workshop for green industry professionals covering the design and installation of rain gardens: benefits, regulations, site analysis, hydrologic modeling, materials specifications, maintenance and special attention to how to market these low-impact development (LID) features to your clients. Class is available for total of 11 CPH and CLT credits and presented by WSU Extension Kitsap. A database of businesses that have completed the training is provided to homeowners and small business owners who are seeking to hire professional firms for rain garden projects. Thursday and Friday, October 16 and 17; 9:30-4:30 at a location in Bremerton TBD. Early registration by September 3 deadline is $60 per day/$100 for both days; after Sept. 3, $85 per day/$150 for both days. Box lunch and beverages included. For more information contact Colleen Miko cmiko@co.kitsap.wa.us 360-307-4378. To register online: ext100.wsu.edu/kitsap/nrs/rain-garden-program/professional-rain-garden-workshop/
Applications for Master Gardener training for 2015 are being accepted October and November. Learn about the program and sign up to receive an emailed application at www.kitsap.wsu.edu.
Kitsap Water Stewardship Program
A WSU Kitsap Extension and Washington Sea Grant Collaboration
Native Plant Advisor Training
Fridays 9-3 at the Norm Dicks Government Center, July 25 through August 29
Join local gardeners and other community members to discover the beauty and value of native plants. Delight in learning about historical uses of native plants for food and clothing, while also learning to appreciate their many benefits to people and the environment. There will be in-class and outdoor experiences presented in this six-week series. The cost is $65 ($60 if you register by July 3). Scholarships are available. After the class, participants will have the opportunity to volunteer in their communities as native plant advisers.
Free Beach Explorations
Join Kitsap Beach Naturalists to explore and wonder at the rich and colorful sea life that is exposed during low tide. Beach explorations are open to the public and naturalists will be on hand to share resources and knowledge.
Kitsap Memorial State Park *
May 6 – Friday, 11 a.m. to 2 p.m.
June 13 – Friday, 11 a.m. to 2 p.m.
July 14 – Monday, 11 a.m. to 2 p.m.
July 28 – Monday, 11 a.m. to 2 p.m.
August 10 – Sunday, 11 a.m. to 2 p.m.
Bainbridge Beach Explorations
May 17 – Saturday, 10:30 a.m. to 2:30 p.m. at BI Ferry Terminal Beach
June 15 – Sunday, noon to 2 p.m. at Ft. Ward Park
July 13 – Sunday, 11 a.m. to 1 p.m. at Point White Pier Beach
August 10 – Sunday, 10 a.m. to noon at Fay Bainbridge Park
Scenic Beach State Park *
May 28 – Wednesday, 10:30 a.m. to 12:30 p.m.
June 14 – Saturday, 11:30 a.m. to 1:30 p.m.
July 12 – Saturday, 10:30 a.m. to 12:30 p.m.
For more information on any of the Water Stewardship program offerings, contact: Renee Johnson 360-337-7224 or rkjohnso [at] co.kitsap [dot] wa [dot] us.
* State parks require Discover Pass or admission fee