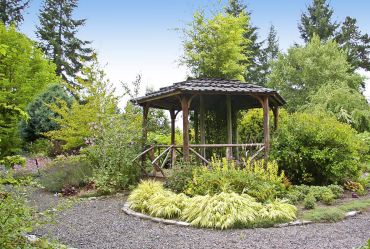 Texture. It's a word used to describe plants and how they look and feel to the touch. What plants do you think of when you hear the words silky, prickly, smooth, fuzzy, papery? Do you think of bark, leaves, stems or flowers?
Nancy Hansen, owner of specialty nursery Glenwood Gardens, knows a thing or two about plant textures. A visit to her Port Orchard nursery in any season reveals a treasure trove of unusual plants that taunt you with their sumptuous texture.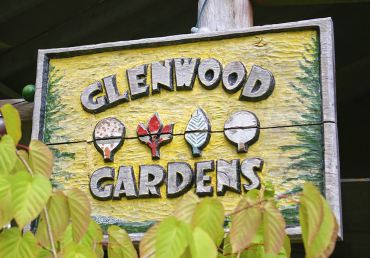 Surely Hansen would be hard-pressed to name one plant as a favorite above others, but she does adore conifers, the grouping of woody plants that reproduce via cones such as pines, cedars and fir. And conifers do bring texture to the table — fluffy, stiff, scaly, sticky. Pinus wallichiana, which she describes as looking like a shih tzu, is the most fetching. Unlike the dog, the Himalayan pine has a pleasing bark. Who can resist a plant whose texture tempts to be petted?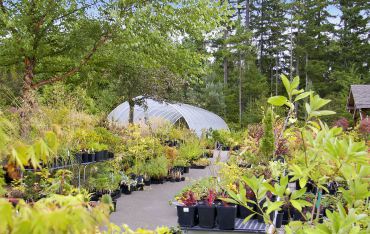 Hansen comes by her love of plants and their propagation honestly. From a long line of plant growers and hybridizers, she tells how the plant Mahoberberis miethkeana (related to barberry and decidedly prickly and waxy) was named for her great grandparents, who were Tacoma nursery owners at the turn of the century.
With a bit of seasonal help for regional plant sales and her annual Glenwood Plant Fair, for eight years Hansen has run a small but savvy nursery that is well known with the "plant set" for unusual selections. Trees to perennials and everything in between, first and foremost she chooses plants that are hardy and easy to grow.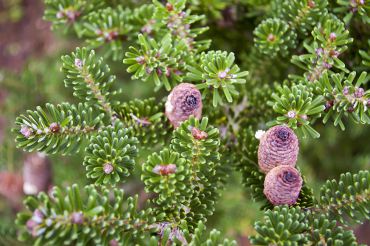 Hansen's nursery sits on 2.5 sunny acres dotted with a variety of trees that like the speedy drainage of her sandy soil, like pines and Chilean birch (Nothofagus antarctica). The nursery sports several hoop houses and ever-expanding display beds. Visiting Glenwood Gardens is a feast for the eyes any time of the year.
With her focus on plants with texture, the display gardens, while floriferous in season, rely mainly on bold or colorful leaf, bark or form — attributes enjoyed long after the petals have fallen. Hansen is deft at combining the plants so their colors and shapes play off each other. The gardens are meant to provide landscaping inspiration and the plants literally sell themselves.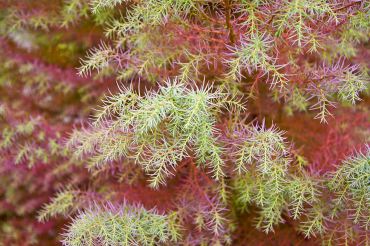 Around a turn of one of the gravel paths, a black bamboo grows through the open center of a rustic gazebo; swaying canes peak through the roof. Hansen points out that down this same path is a huge, dense Escallonia shrub that her grandkids have carved into a hideaway fort. The poster child of plant texture, hosta, features prominently along the edges of the shaded path. The brightly colored, enormous leaves crowd the path when at the peak of their growth. Pleated, crinkled, matte or slick describes hosta appeal. One of the newer display areas, the alpine rockery, is punctuated by dwarf conifers that mound and sprawl, and rocks are hugged by plants resembling pincushions.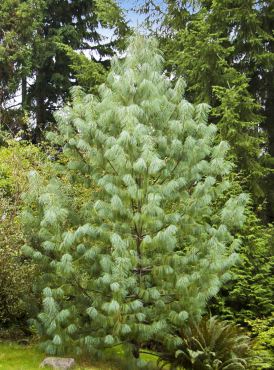 Besides retailing at the nursery (by appointment only) year round, Hansen sells a good number of plants by setting up a booth alongside other specialty growers at plant sales throughout Western Washington. Of all of these, the Northwest Horticultural Society autumn sale is her favorite because the shoppers know their plants and she can interact with those who truly appreciate the rarity of what she has to offer.
In its sixth year now, the Glenwood Plant Fair is an annual open house where buyers have access to all the containerized plantings in the hoop houses, not just the smaller ones she can cart about. The WSU Kitsap Master Gardeners will be on hand this year to answer questions and there will be a free gardening presentation to further tempt self-described plant geeks to drop in. The nonprofit group Bats Northwest will be there to provide information on local bat species and how to protect these valuable creatures and their habitat.
Hansen is looking forward to the fair and showcasing new perennials for her customers. A couple of new standout offerings she mentions excitedly are unusual Epimediums (leathery) and Rodgersias (corrugated and rough). Need some texture in your garden? Come out to the fair and steal some ideas — a little "combination inspiration" from Glenwood Garden's displays. Then bring home some velvety, spikey, flakey, shiny, silvery or (fill in the blank) to add some tactile and visual pleasure to your own garden.
Glenwood Gardens

15015 Owl Place SW, Port Orchard
www.glenwood-gardens.com
360-876-2449
nancy [at] glenwood-gardens [dot] com
Nursery open by appointment only

Glenwood Plant Fair

June 14, 2014, 10 a.m. to 4 p.m.

Directions: From S-16, Burley-Olalla exit, go west (right if coming from Bremerton, left if coming from Gig Harbor) 0.2 mile; take left on Bethel-Burley Rd. 1 mile; right on Pine Road 2.3 miles, continuing around sharp left curve, 0.2 mile; left on Daffodil (dirt road); left on Owl Place; nursery is on the right. Note: Do not use directions from mapping programs such as Google, Mapquest or GPS. If lost, call 360.621-0762 the day of the fair.