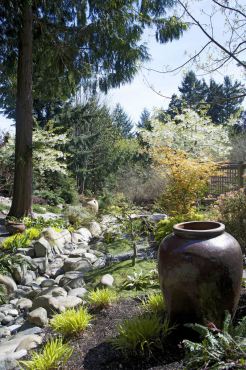 The Bainbridge Island Arts & Humanities Council is celebrating creativity at the 2014 Bainbridge in Bloom garden tour. Open 9 a.m. – 5 p.m. on July 11 – 12, the event features exquisite gardens and live music throughout the tour.
Highlight of this year's Bloom is the studio and gardens of renowned landscape painter Gayle Bard. Designed with an artist's point of view, the Living Canvas Garden illustrates composition, color, texture and tone.
Once a dense ravine filled with invasive species, the Landscape Melodies Garden is a timeless tempo of terraces with rhythmic paths and Asian-inspired bridges. The diverse planting arrangements finish on a high note, a vista view of Rich Passage.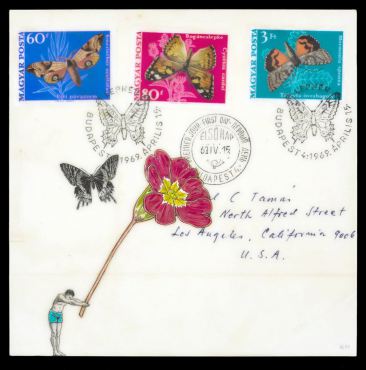 Sculpted Serenity describes three gardens seamlessly molded into the small spaces surrounding neighboring townhomes. Purposeful assemblages of peace and tranquility, these exceptional gardens define compact creativity in an urban setting.
Century-old conifers frame the Dance of the Natives Garden. As stone pathways explore the understory, celebrating the partnering of native and ornamental plantings, a stunning water feature completes the choreography, repose in a tranquil setting.
The Midsummer Takes Center Stage Garden sets the scene for shared stories with a giant, beach-inspired fire pit. Lush ornamental and edible gardens line the performance area. Farther into the backdrop is "the wildspace" play area for the youngest of the cast members.
Tickets for Bainbridge in Bloom are available on the Arts & Humanities Council website and at Bainbridge Island nurseries. Visitors may enjoy the gardens by bike, car or arrange for a bus shuttle. For more information, contact the council at 206.842-7901 or visit BainbridgeArtsHumanities.org.
The 26th Annual Bainbridge in Bloom Garden Tour

Preview day, Friday, July 11 is a quieter opportunity to take the self-paced tour of the gardens. Preview day tickets include the opportunity to return on Saturday, July 12. Bike the Bloom tickets are also good for both days. For information on a special benefactor's package, complete with a chauffeur-guided tour and gourmet lunch, call or contact bloom@BainbridgeArtsHumanities.org. Bainbridge in Bloom is the Arts & Humanities Council's key fundraising event.