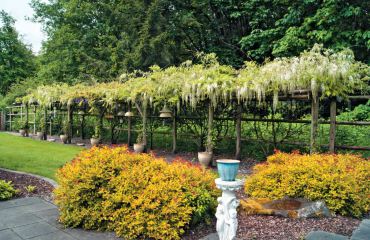 Rhonda and Steve Edwards, married 40 years, grew up in Kitsap County. In 1988 they bought acreage in South Kitsap, where they began to create their dream home and garden. They made a point of incorporating areas to accommodate the growing needs of their children and now their grandchildren.
They owned the Heritage Fireplace Shop in Poulsbo for 27 years and Steve is retiring. He plans to spend even more time tending their acreage and gardens. In the past, he worked in construction and as a pipefitter so he imagines he'll find some other work to do when he gets tired of retirement. Rhonda is in real estate but she loves spending leisure hours in the garden. Steve's also very handy with any kind of woodworking or building that their ideas require. He can tell you how many bricks it took to build their all-brick home. (It took 22,000.) "I handled every brick," he says.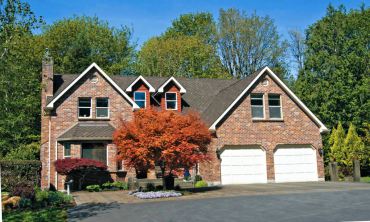 Beautiful greenery and pastoral scenery can be glimpsed or observed from every window in the home. "We had always talked about and dreamed about having a brick home and living on a farm," Rhonda says. Their home, gardens and pastures are truly a labor of love and the culmination of a dream come true.
Their children and grandchildren have had a part in many of the creations and chores too. Each year, it seemed, they'd build one more element in their plan — a shed, a barn, a garage, fencing, arbors and trellises. When their sons were in junior high, they helped Steve build fencing around the pastures. The older grandchildren now help Rhonda with deadheading her extensive perennial gardens.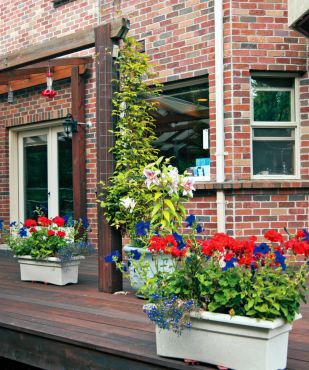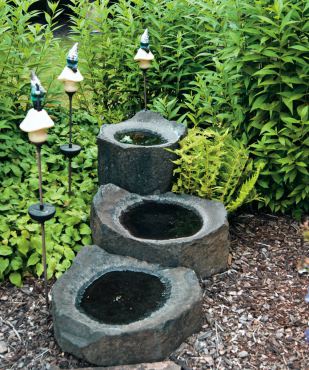 "When they say they're bored, I have them help me deadhead," she says. They even help sometimes with bulb planting. It's not "all work and no play" though. Steve has nestled a wooden bench swing between two stately trees. A large cement patio serves as a place where the children, when younger, learned to ride their bikes, roller skate and now play basketball.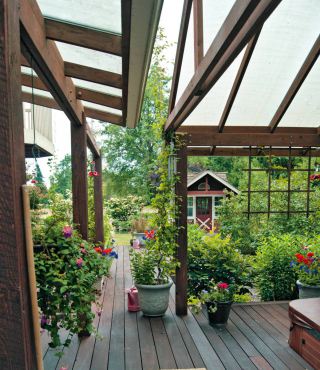 Steve hand-selected huge stones that catch and puddle water plus special stones to serve as seating or resting areas. These are interspersed strategically throughout the garden. Three humongous stones serve as an entryway into the most floriferous part of the garden. Steve calls it "the fertility gate." This portion is bordered by bulbs of every shape, color and size, plus lots of flowering trees and shrubs.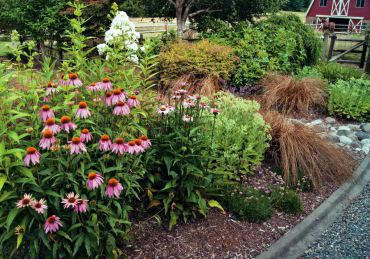 The Edwards' home farm through the years has included chickens, goats, dogs, cats, horses and cattle. During holidays and summertime barbecues, the patios and decks are filled with numerous grandkids (usually about 17) and 50 or 60 adults. Rhonda grew up in Port Orchard and is the oldest of five children. Steve has three brothers and grew up on a farm in Silverdale. They all still live in the area. Many holidays and celebrations are hosted at Steve and Rhonda's. "We always try to have Easter here because there are so many places to hide Easter eggs," she says.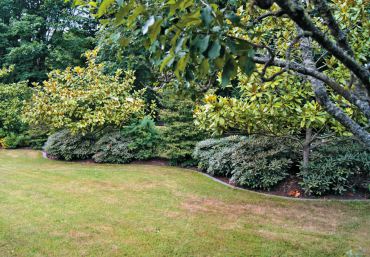 Enough Food to Feed a Family
The couple grow nearly all their own food on their small farm. They have raised vegetable beds, lots of berries and fruit trees. They grow blueberries, raspberries, strawberries and blackberries. Fruit trees include plums, peaches and apples. Their raised beds are used to grow corn, carrots, tomatoes and green beans.
"We grow what we all like to eat. It's so heartwarming to watch our kids and grandkids go outside to pick a snack," he says.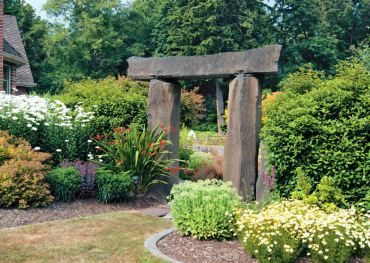 Nothing from the vegetable garden goes to waste. The leftover spoiled veggies and greens go to the chickens. "Our chickens are free range during the day, but surrounded by a huge fenced area so marauding critters cannot harm them," Steve says. "I'm the only one in this neighborhood who hasn't lost a chicken because of my fencing."
He built a first-class chicken house to shelter them during the night or get out of bad weather. Steve even built a beautifully crafted and charming "dog house" with heat lamps and raised shelf beds for their two Boxer dogs. The dogs passed away this year, and now Rhonda is eying and laying claim to the dog house for a garden shed. It actually would be a perfect potting shed for her many plants.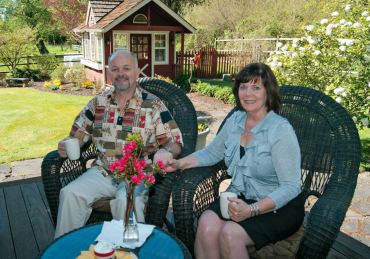 Steve has plans to build a greenhouse too. A neighbor's steers graze in one of the pasture areas. "He gets free grass and I get beef and free fertilizer for the garden," Steve says. "We grow and raise enough to feed us and our kids and grandkids. We even raised goats at one time. We had a herd of 20 goats. They kept the pastures clear of blackberries and thistles."
Landscaped Areas
Rhonda worked with a local landscaper early on in their garden, laying out some of the garden areas, but now gets inspiration from visiting garden tours and local garden shows. Steve enjoys the garden shows too. "It's really fun; every time we go to a garden show, we come home with something new," she says. "And then we rip out something and build a new landscaped area," Steve adds.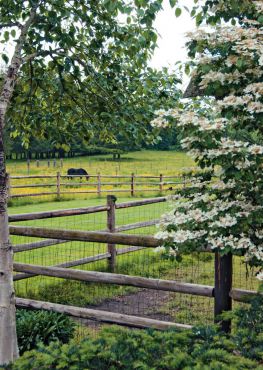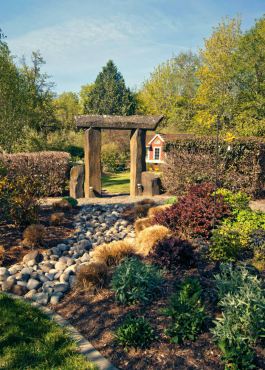 The garden starts bursting into bloom in February when six fothergilla, lining the path to the garden shed, spring to life. Next come the narcissus and tulips, followed by peonies, and all during that time there are both evergreen and deciduous magnolias and lots of deciduous and evergreen azaleas in every hue and color.
"My favorites are the Stargazer lilies," Steve says. These beauties can be viewed from the dining room of their home. Rhonda loves to fill containers with abundant plant combinations. When asked about all the containers, they both agree maybe it's because they are, at present, running out of spaces to tuck in any more plants. It's a pretty sure bet, though, that they'll manage to find another area to dig up and plant up.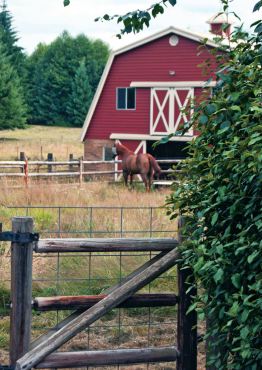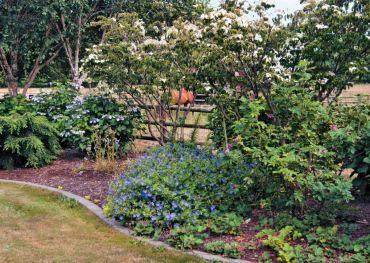 Maintenance and Yard Care
Other than assistance now and then from their kids and grandkids, Rhonda and Steve do all of their own garden and pasture work. Steve estimates it takes him about four hours a week during the growing season to mow the 2.5 acres of unoccupied pastureland. He built all the trellises and pathways and does all the maintenance work on the outbuildings, including a barn and palace-like chicken house that he built. His goal was to create fencing or trellising all around their home, and it was accomplished with tremendous appeal. One whole side viewed from the kitchen, deck, patio and family room features a long arbor festooned with bird feeders and shaded most of the year by wisteria vine.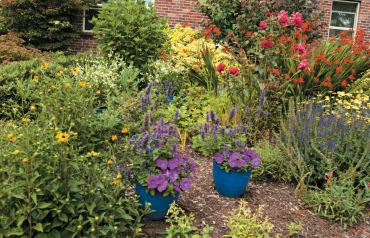 Steve leaves the hummingbird feeders up all year. He brings them in each night during winter so they don't freeze and then puts them out in the morning. Another arbor with trellising shades parts of their outdoor deck and patio viewed from the kitchen and family room. Huge pots, located next to the trellises, contain clematis, marigolds and petunias.
Their gardening year usually begins in March, doing winter cleanup and getting the raised beds ready for planting. The rest of the time they both estimate they spend, on average, four hours in the garden doing chores.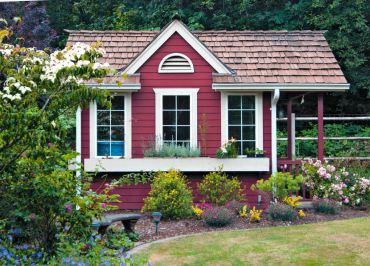 "I love to go out in the garden each morning before I head to work," Rhonda says. She pours a cup of coffee, picks up her gardening tools and heads out to her garden. "People need to enjoy their garden," she says.
Steve spends time cleaning and filling the bird feeders as part of his chores. He says, "Life's too short. We need to enjoy what we've been blessed with. I get that from sitting out in my yard or spending time in the yard."
Neither Steve nor Rhonda mind working in their gardens. It's a labor of love for them.