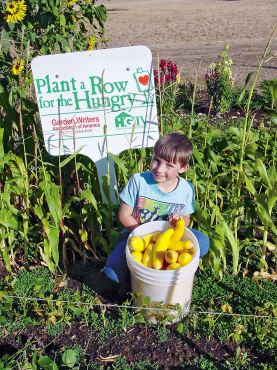 Victory gardens during World War I and II sprouted up on any vacant lot, in front and back yards and anywhere there was a spot to grow nutritious fruit and vegetables. Today a new movement is underway to grow victory gardens once again. Only instead of supporting the war effort, these new gardens are a way to have victory over pollution, pesticides and unsafe food sources. They're also a way to not only feed ourselves but others who are hungry (think local food banks). The new victory gardens are a return to our roots, so to speak.
Everyone has the opportunity to grow some nutritious food or support a local farmer or vendor at the farmers markets. If you'd like to try your hand at growing a few of your own vegetables, small fruits and berries this year, read on for a few tips, resources and ideas.
Getting Started
You'll need either containers or a plot of land. If your property is in shade or space is limited, contact the WSU Kitsap Extension Office for a list of local p-patches where gardeners can lease a spot to grow a garden. Know that it takes about three years to build up tilth in garden soils. First-year crops are sometimes not as lush as crops in successive years.
You may want to amend beds with a soil mix created for growing vegetables. Also mix in some compost. For container plantings, find potting soil suitable for growing vegetables. If you choose to grow small fruits and berries, these same soil and potting mixes will work for those plants too.
Sun, water, compost, fertilizer, seeds and starts come next. The local public utility district tracks rainfall and temperatures throughout each year. Consult the PUD website for seasonal conditions in your neighborhood. In many areas of West Sound, unless you have a cold frame, hoop house or greenhouse, the gardening season doesn't kick into full tilt until the first or second week in June. However, you can plant potatoes, peas, lettuce and radishes beginning in March. Locate garden plots and containers to receive maximum sunlight and be easily watered.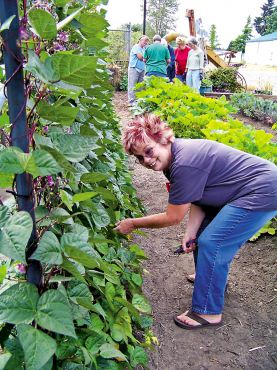 Garden plots can be on flat land or constructed in raised beds. Raised beds can be edged in wood, stone, cement blocks or any number of materials. Some raised beds are created by piling soil up into a raised bed without any edging materials. There are pros and cons of using raised beds. Raised plots keep path materials (bark, mulch) out of the beds and are a little easier on the back but can possibly present a challenge in turning over cover crops and in adding more compost or soil when needed.
The size of beds needs to be determined before beginning. Think about access in and around the beds for planting, weeding and harvesting. Use a hose or rope laid out on the ground in the shape of the desired garden bed, then reach across this pseudo bed from all directions, keeping access issues in mind. Adjust or adapt the size of the bed to fit your needs. Make sure paths between beds allow enough room to move and turn wheelbarrows and carts.
Seeds or Starts
Opinions vary on the pros and cons of using seeds and starts in planting a garden. Local nurseries, grocery stores and home centers carry abundant racks of seeds this time of year. It's good to choose seeds and starts developed for the Pacific Northwest. It's also good to read the back of the package or check plant tags to see the total time from planting to harvest.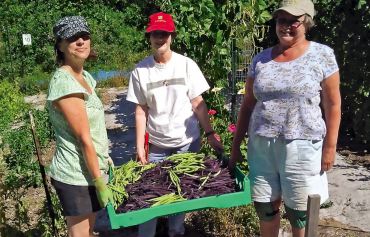 The local growing season is mostly from June through mid-October (with the exception of some cold-loving crops). It also takes relatively warm temperatures (60s and 70s soil temperatures) for seeds to germinate. Many gardeners love to plant their own seeds though, and the following vegetables grow very well here from seed sown directly into the bed or container: spinach, lettuce, radishes, peas, chard, kale, beets, beans and squash. Try your luck with any of the desired vegetable seed packets you find; just remember to choose shorter growing season varieties.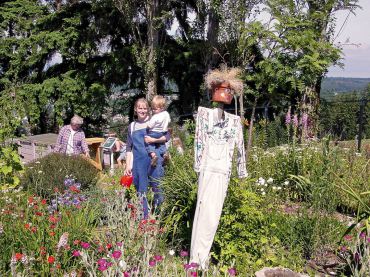 One way to get a jumpstart on the growing season is to choose and plant vegetable starts. A grower has already planted the seeds and cared for them in small containers. It saves time and provides a way to harvest vegetables a month or more earlier than starting from seeds sown directly in the soil or in the container.
Local farmers at the farmers markets throughout West Sound usually have starts available for purchase. The WSU Kitsap Extension Master Gardener Plant Sale on Friday and Saturday of Mother's Day weekend also has plant starts, as do other groups holding plant sales in April and May. It's best to get these starts planted in their new location soon and remember to use floating row cover (Remay is an example) to protect them from spring chilling or frost.
Small Fruits and Berries
Small fruits and berries require the same conditions and attention as vegetables. Raspberries, blueberries and strawberries grow very well in Northwest gardens. Most are shrubs and perennials; once established they'll require a minimum of care and attention. Local nurseries carry plants suitable for this region. Staff can answer questions and provide good care and growing information. The Extension office has publications with instructions on how to grow small fruits and berries.
Fertilizing and Cover Crops
Most vegetable plants are annuals. That means they germinate, grow leafy edible foliage (or produce fruit) all in one growing season. Annuals need abundant heat, sufficient water and some fertilizer. Organic fertilizers are the best choice, according to research, because the plants can absorb the nutrients most readily.
Package directions offer good tips and instructions on when and how often to fertilize. Usually fertilizer is incorporated into the soil before planting and then several times during the growing season, depending on the plant. Tomatoes are an example of a plant that will produce more foliage than fruit if fertilized or watered too often.
Cover crops are sown at the end of the growing season and then turned over and dug into the garden in early spring. The cover crop vegetation that's been dug in turns into compost, thus enriching the soil and adding tilth. Cover crops also subdue or restrict weeds over the winter and keep the soil in the beds. The cover crops prevent rainfall from splashing soil out of the beds. Cover crops are often called green manure.
Watering
Vegetables, small fruits and berries require regular watering during the growing season. Some plants will only need water once a week, others may need watering several times a week. Watering deeply produces good, strong roots. Soaker hoses work well, as do some of the drip irrigation systems. Water in the morning, or at least earlier in the day so foliage can dry out before nightfall. Watering too late in the evening can sometimes produce molds and mildews.
Record Keeping
Keep good records from year to year. Draw a map of where each vegetable was planted. Crop rotation is important to prevent insect infestation and disease. Record keeping can be as simple as notes on calendar pages, a document on the computer or jottings in a notebook. It's also fun to take photos of your garden and the progress. Some items to note or record are: planting dates, weekly temperatures, frost dates, favorite plants, yields of plants and ideas for the next gardening year.
Learning Opportunities
WSU Kitsap Extension Master Gardeners can be found at Raab Park in Poulsbo, Anna Smith Children's Garden in Tracyton (near the fairgrounds), Heritage Garden (on the fairgrounds behind President's Hall) and at numerous local p-patches (Blueberry Park in Bremerton and Raab Park in Poulsbo are two examples). The gardeners will answer questions about what to plant and how to plant and care for it. These sites mentioned provide examples of produce growing so you can learn how the plants look throughout the season. Dates and hours when MGs are at the sites can be obtained from the Extension office.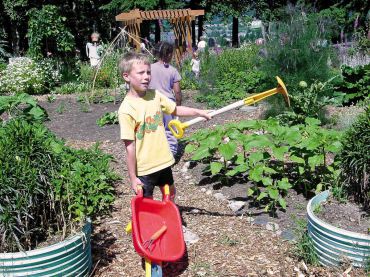 You'll also find Master Gardeners at most of the local farmers markets. Call the Master Gardener hotline at 360-337-7158 or visit the Extension Monday through Friday from 10 a.m. to 2 p.m. during the growing season for advice and information.
Each year in January and February, the Master Gardeners offer an organic gardening course on growing safe and nutritious produce. Local nurseries also offer classes and staff can answer gardening questions. Look for certified professional horticulturists (CPH) on staff at local nurseries; they'll provide information and tips for success.
Growing with and for Others
Local p-patches offer community growing opportunities. Fees are usually between $40 and $55 for a whole year, which includes the cost of water. Most p-patches have sections where the community of gardeners grow extra produce to harvest and donate to local food banks.
Gardeners at p-patches also share their own tips and techniques with each other. P-patch coordinators often distribute regular newsletters and conduct classes to help gardeners learn more about successfully growing produce. The WSU Extension can help you locate a p-patch nearby.
Consider growing extra produce in your own garden. Plant an extra row or more for the hungry. Vegetables that store well are: beets, carrots, potatoes, beans, turnips and radishes. Brush dirt off the produce but do not wash it. Washing produce begins the biodegrading process.
Contact local food banks to find out what is needed and how they wish the food cleaned and tidied before delivery. A team of Master Gardeners in Olalla have a production garden where food is grown specifically for South Kitsap Helpline. Their website provides tips and information.
Support a Local Farmer
Growing produce is not always easy. Last year's weather was extremely challenging for many gardeners. Lettuce and cold-season-loving crops were abundant because of all the rain and shade, but sun-loving plants did not grow as well. Try your hand at growing vegetables, but if you find it too challenging, consider supporting the local farmers at farmers markets or through a local CSA.
CSA is the acronym for Community Supported Agriculture. Kitsap Peninsula has several CSA farms. Participants pay a fee upfront at the beginning of the growing season and then pick up fresh produce each week from the CSA farm they're supporting.
Preserving the Harvest
Once you've grown it, what do you do? Vegetables and small fruits and berries need to be picked continuously in order for the plant to keep producing more fruit. This is especially true for beans, peas, tomatoes and berries. Leafy plants vary in how and when to harvest.
Shannon Harkness and Diane Fish with WSU Kitsap Extension are Master Food Safety Advisors. These ladies are passionate about helping others can and preserve local produce safely. The University has been working on curriculum for classes and there aren't any scheduled at this time, but you may call or email both of these ladies with questions or concerns or if you would like to have your pressure canner's gauge checked. Contact Harkness at Shannon.harkness@ wsu.edu, 360-337-7162 or Fish at dfish@wsu.edu, 360-337-7026.