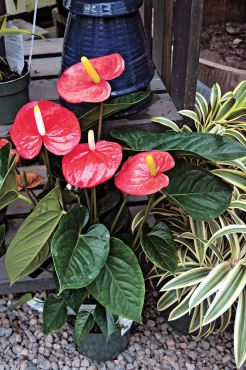 Gardeners can still get their plant fix during the winter months. It's a great time to explore the world of indoor houseplants. It's also a time to purchase a few usually outdoor culinary plants to brighten up a sunny windowsill or kitchen counter.
Culinary Herbs
Thyme, basil, rosemary, sage and mint are a few herbs that can live indoors for a month or more. Ideally, purchase the plants in 4- or 6-inch pots. Insert the plants, pot and all, into decorative containers. Remember to remove them from the containers once a week or so, place them in a sink or shower and give them a good drink of water.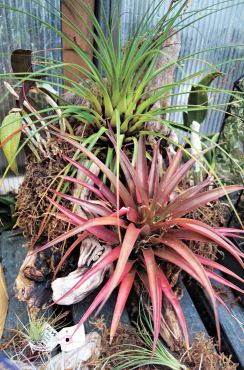 Plants can be single in cheery containers or grouped into one container, depending on how much space is allocated on a kitchen counter or windowsill. Snip freely from these culinary herbs to add flavor to soups, salads or other entrees. Keeping the plants pinched back will guarantee that they will remain smaller and fuller during their indoor life.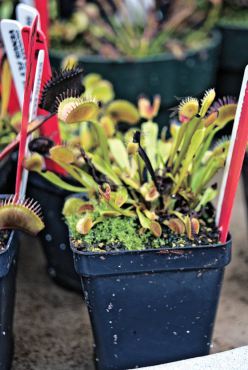 When temperatures start warming up in late winter or early spring, these herbs (except basil) can be placed outdoors during the day and sheltered from frost in the evenings. This process takes a week or longer to acclimate the plants to the outdoors. Then plant them either into much larger containers grouped with other plants, or directly into the garden. Remember that mint will run all over your garden, so decide whether you want it everywhere or confined to a certain area. Many gardeners keep their mint in containers.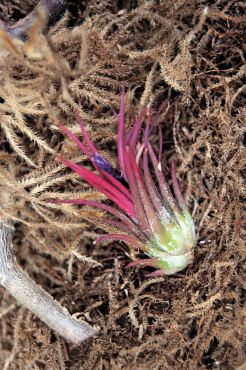 Basil is the exception since it is a heat-loving annual and its tender leaves will turn black when temperatures dip. It's a plant grown mostly in summertime or in a greenhouse. Basil is sold in bunches at grocery stores all year though and actually makes a lovely bouquet on a countertop. Change the water daily and snip away to season soups, salads and sauces.
Successfully growing annual culinary plants indoors requires heat mats, grow lights and a somewhat controlled environment. However, lettuce and radishes can often be grown indoors as long as they're given lots of light and the temperatures stay somewhat constant. It could be a fun project to try with children, especially the radishes.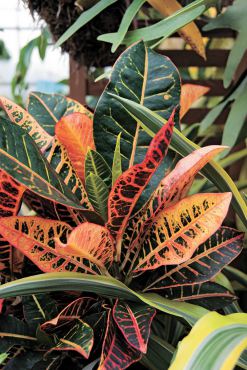 Use sterile potting soil to avoid damping off and to keep the soil evenly moist until the seeds germinate. Then water at least weekly. Look for radish seed packets with the shortest growing period. See the sidebar for ideas on growing edible plants indoors with children.
Houseplants
The ancestors of most indoor houseplants were originally found growing outdoors, mostly in tropical climates. Today houseplants are propagated and cultivated in greenhouses throughout the United States and in other countries. They are grown by tissue culture, from seed or from cuttings, and are fertilized and coddled until they're ready to be sold to the public. This is a bit of an oversimplification; however, it helps to put in perspective the beginnings of houseplants and provides clues for growing plants indoors successfully.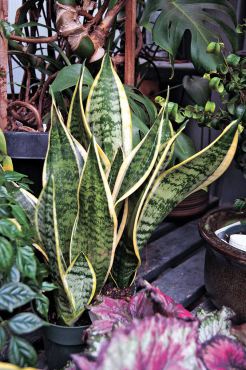 Regardless of how they began life, houseplants will thrive if gardeners can provide the light, water and nutrients that resemble the plant's natural life.
The three main causes of houseplant death are too much water, too much fertilizer and not enough light. For success with houseplants, strive for a good balance among these three factors. Remember too, that many houseplants thrive when pot bound. Unless the plant is spilling over the edge of the container or roots are growing out of the drainage holes, most houseplants live happily in a container for several years, some even for a decade in the same pot. When repotting, only move up a few inches in diameter from the current pot. Also make sure containers have drainage holes to avoid having the plant's roots continuously wet.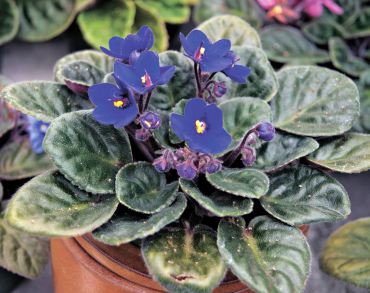 Some houseplants are given as gifts, coming in groupings in containers. Be aware that sometimes these groupings include plants that do not have the same culture needs. Look closer and you'll often see that the plants are still in their small nursery pots and are camouflaged in the container with a covering of decorative moss. Enjoy these groupings for a week or so and then plant them up into individual containers for proper care and watering.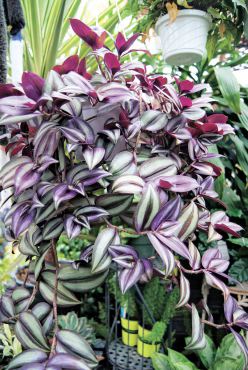 Houseplant soil needs refreshing periodically since nutrients wash out and the soil contents settle over time. Add an inch or more of fresh soil on top, making sure to cover up roots near the top. Indoor plants also enjoy a good shower (in the tub or shower stall) once or more each year. This removes dust from the leaves.
Remember that some plants do not ever need fertilizing — carnivorous plants are an example, as are Hypoestes varieties commonly called polka dot plants. Both of these plant families will die if given nitrogen fertilizer.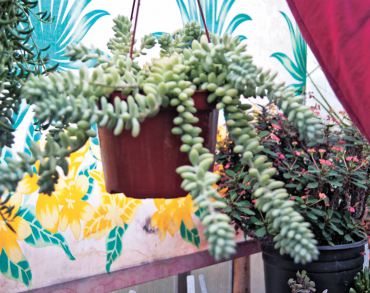 Houseplants are perfect to grow indoors and can often be purchased all year long. Valley Nursery in North Kitsap and The Brothers Greenhouses in South Kitsap are two local nurseries specializing in houseplants along with their other selections. There are many easy-care houseplant varieties that will provide success for novice to expert gardeners alike.
Here are just a few of the plant to try indoors and why.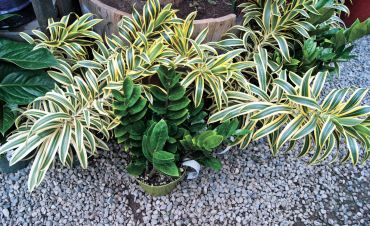 Carnivorous Plants
You will not have to worry about fertilizing Sarracenia (Pitcher Plant) or Dionaea muscipula (Venus flytrap). Adults and children are often attracted to carnivorous plants. These colorful, interesting plants get all their fertilizing and nutrition from the insects they consume. They also thrive in humid conditions.
They're a perfect plant for a kitchen windowsill because of their ability to snap up and consume fruit flies. They're also good in well-lit bathrooms because they appreciate the humidity from tubs and showers. Try grouping several plants in a saucer filled with colorful marbles or stones. Keep water in the saucer to provide the humidity. Empty and clean the saucer regularly to avoid algae growth. Note, though, that you will sometimes see moss on the potting medium of carnivorous plants. This is fine, do not worry. They live happily together.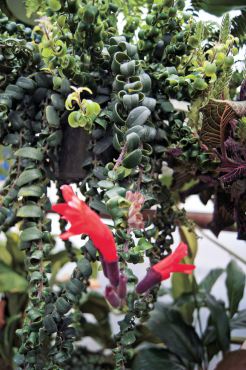 Air Plants
Tillandsia with tiny (almost nonexistent roots) are in the Bromeliad family. Tillandsia are called air plants because they seem to thrive on air alone. They do not need a soil medium and can be hung or attached by fishing line or wire to unusual places throughout the home. They are especially happy in bathrooms where they can drink up humidity without getting overly moist.
Tillandsia come in all shapes and colors and are extremely appealing when displayed in groupings of three or more together. Spritz them once a week with distilled water or rain water. These plants really do thrive on neglect. Perfect for those who are reticent about trying a houseplant. Tillandsias live for about five years and multiply by offsets (baby plants sprout off the parent plant).
Croton
Colorful Codiaeum variegatum (Croton) is a native of Florida and can grow into a large tree. In our climate, it makes a good houseplant. It does not require too much water and will droop a bit to signal when you've neglected it too long. It can be pinched back to become more bushy or allowed to grow into a large shrub or small tree. Give it as much sunlight as possible. It is good in an atrium.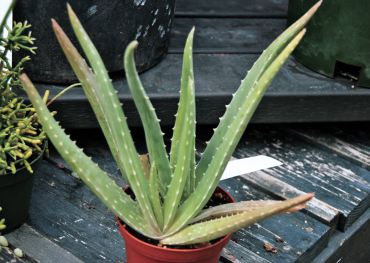 Sansivieria
This cactus-looking plant has been fondly called mother-in-law's tongue and snake plant. It is an ironclad plant that will thrive on neglect, truly. Sansivieria is available in both short and tall forms. It's the perfect plant in either low light or well-lit areas of a home. It loves to be root bound and rarely needs repotting.
Saintpaulia
Most people know them as African violets. These charming plants come in a wide range of leaf and flower colors and forms with single and double blossoms, single color or variegated blooms and leaves, and foliage of light green and dark green. Fertilize several times a year and allow them to become pot bound before repotting. Water regularly but provide good drainage. See the sidebar for good information on growing African violets.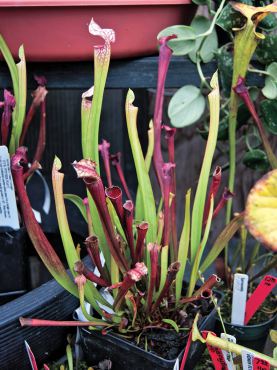 Lipstick Plants
Aeschynanthus lobbianus and Aeschynanthus "mona lisa" are two lipstick plant varieties and can be pinched back or grown as a vine. Their blooms look like lipstick emerging from a tube. They also like to be pot-bound and require regular watering, but will tolerate drying out. Fertilize several times a year for optimum bloom.
Other Vines
Epipremnum aureum (Pothos); Hoya, Tradescantia and Sedum morgianum (burrow's tail) are examples of trailing plants that can tolerate quite a bit of neglect. Water at least once or twice a month. Hoya blooms look like clusters of star-shaped porcelain blossoms. Tradescantia, depending on its location in the home, may require regular watering. Tradescantia can be pinched back to be a bushy plant rather than a vining one. Sedum morgianum may drop stem and foliage segments. Simply poke the stem back into the potting mix and it will continue to grow.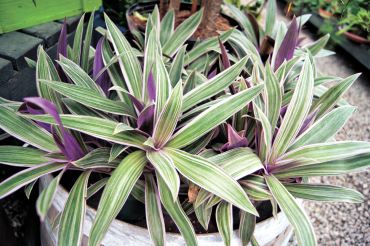 Antherium
These natives of Hawaii can be found in blooms of white, pink, orange and red. Red is the most commonly found. Antherium can be grouped with orchids and other humidity-loving plants. It thrives in good light, not direct sunlight. Antherium is quite forgiving of neglect. Some gardeners grow it as a trailing plant and others like it pinched back to a more densely growing plant. The heart-shaped, long-lasting, bloom-like portions of the plant are actually spathes and the true nearly minute flowers form the pollen-like covering on the finger-shaped center.
Begonias
Begonias grow very easily indoors. Provide good indoor light; fertilize several times a year; water regularly but allow the soil to dry out between watering; and enjoy these plants indoors all year or outdoors during summer months. Many of the begonia rex varieties can tolerate low light conditions.
Poisonous or Toxic Houseplants
Foliage of some houseplants can be toxic to pets. The sap of some houseplants can cause a skin rash or burns in pets and humans. When considering a houseplant, refer to the link shown in the sidebar for a list of toxic plants.
Other Ideas
Plant trends reports say houseplants are becoming more appealing to those who don't have room to garden outdoors. They're also gaining popularity with those who don't have time to spend in the garden, but still wish to have some form of greenery to enjoy when they have a small bit of down time.
If you're still not convinced to try your hand at growing houseplants, your home has extremely low light conditions or if you've tried houseplants and just can't seem to keep them alive, do not despair. Local craft outlets and home decorating outlets often feature many lifelike containerized plants. These artificial plants have come a long way from the "fakes" of yesteryear. Tuck them here and there throughout your home and visitors may never know the difference.
Chat with friends who have great success with houseplants and learn their "secrets." Visit Valley Nursery or The Brothers Greenhouses and chat with their houseplant staff. Call the nurseries first to see when the houseplant staff are on duty. You'll get lots of ideas.
Peruse the websites listed in the sidebar for photos and more details. Visit the local libraries for books on houseplants. Remember that some houseplant gardeners are a bit, shall we say, "fanatic." Others have beautiful houseplants that thrive with very little pampering and babying. Still others feel that if they try their hand at growing houseplants and fail, it's all right because houseplants are good for making compost too, just as failures in outdoor gardens do.
Resources