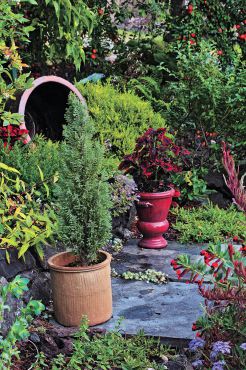 Jefferson Beach photographer, writer and gardener Debbie Teashon personifies the term "rainy side gardener," which happens also to be the name of her popular website. Teashon lived in Marysville on the east side of Puget Sound and had a successful photography career, along with writing for a Canadian publication. She frequently visited the Kitsap Peninsula. It was a favorite place to explore and enjoy. A Marysville friend bought a home in the Jefferson Beach neighborhood and they lost contact with each other. One day the friend called Teashon and said, "There's this house in our neighborhood for sale." That was the beginning of a great adventure for Teashon, who could still write and photograph while living on this side of Puget Sound.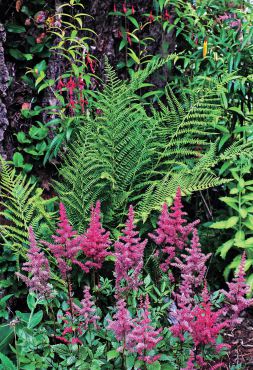 "When we bought this home, the garden was nothing to speak of, but I loved the kitchen and I loved being within walking distance of the water," Teashon says.
The property had a circular driveway, large lawn areas, sickly roses and rows of arbor vitae and photinia serving as screens, more or less. She says, "Our daughter was a teenager and I wanted to be available and at home for her. I wanted to create art, continue professional photography and writing about gardening for the Canadian website."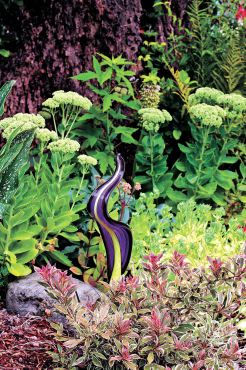 As she got more and more into gardening on her own property, she discovered that there were no online sites to help gardeners succeed in the Pacific Northwest. In fact, there were very few online resources for gardeners.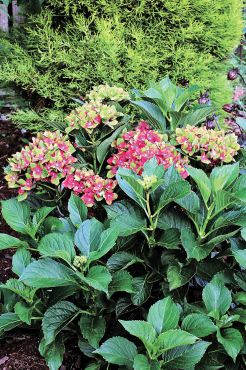 "There was no 'real' gardening advice available," Teashon says. The information she found came mostly from advice for the East Coast; that didn't exactly translate well to the Mediterranean and temperate climate of local rainy winters and dry summers. "That's what motivated me to start a website specifically for gardening in the Pacific Northwest," she says. "I wanted more." She felt strongly that others wanted more too.
She knew a fellow writer, Travis Saling, who worked for the same Canadian website. His specialties were veggies and hers were ornamental plants. The two writers collaborated to create "Rainy Side Gardeners," a website featuring information, photos and abundant news pertinent to the west side of Washington state. However, the website is accessed by gardeners from many different areas of the country.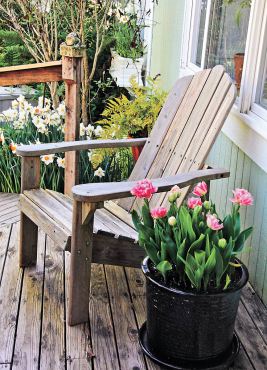 The site was launched in 1997. Teashon remembers taking photos, developing them and then scanning them to post online. Several years later, Saling set up a separate website, "The Westside Gardener," to concentrate on vegetables and growing food. Teashon wanted to take Rainy Side Gardeners to larger heights and is the sole proprietor of the website.
"Travis helped me out with coding for the website," Teashon says. Then, she took many courses on web design and earned a web design certificate from Olympic College. She used Twitter for a while but now mostly uses Facebook and Pinterest in addition to the website. Her goal is to share gardening tips, photos and appealing, informative, useful content with interested readers.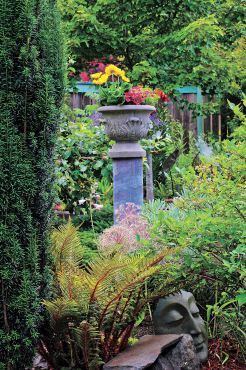 "I've gardened all my life, but when I really knew I liked gardening was at the age of 8 or 9. We lived in Ashland, Oregon, and my mom gave me some cucumber seeds. We had a native hazelnut in our yard and I planted the seeds underneath it. I did everything I wasn't supposed to do, but the cucumbers grew like crazy. We ate cukes all summer and into fall," Teashon says. "I continued to garden all through my adult life. I even lived six months on a boat in Hawaii, but grew plants in containers all over the boat deck."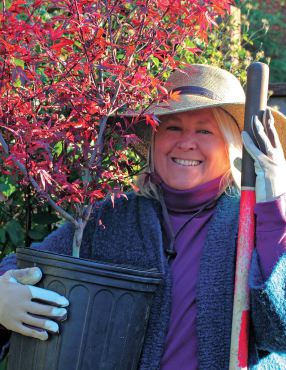 Teashon's daughter was given seeds as a child. She'd start them in paper cups and dirt from the garden and was successful in her endeavors. She loved to garden. "Alas, my daughter now doesn't want anything to do with gardening," Teashon says. "But I hope when she settles down into a home, that will change!"
Teashon has changed and restructured the garden through the years. At first, the water runoff from the street and other areas of the property drained into depressions in the landscape and under the house. The first task was to reroute the water and replant the areas with more appropriate plants. Photinia and arbor vitae have been replaced with luxurious garden rooms. Shady areas are now awash with sunlight.
Several sunny areas are now in dappled or full shade. Lots of edible plants, both trees and shrubs, including berries and other fruits, are interspersed throughout the garden rooms. Another sheltered and useful area houses plants waiting for a new home in Teashon's garden. A small greenhouse protects tender plants and provides a propagation and seed starting area. Benches, chairs and tables are sprinkled throughout for resting and enjoying the garden. Numerous and varied containers spilling with plants and artistic embellishments provide ambiance and enjoyment galore.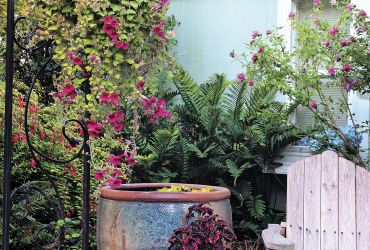 Teashon also experiments with hedging materials, soft and hardscaping, and does much of her own carpentry. She's built fences, benches and rock walls. The first thing she ever built was a lovely, trellised mailbox arbor for three of the homes in the neighborhood. It was a way to deter the mailbox whackers who go through neighborhoods reaping destruction. She also constructed the fence along the front of the property.
"I want to especially credit and thank Philip Bloomquist, who assists and inspires me with planting ideas," she says. Sometimes a gardener needs help and assistance. Bloomquist is that person for Teashon. He is also what many people would call a "plant geek." He's exposed Teashon to plants she may not have thought of using in the gardens. They've been working on new garden rooms and an intricate, espaliered arbor using fruit trees and rebar that will weave together. "He helped me find my way back to the garden after a painful time in my life," Teashon says.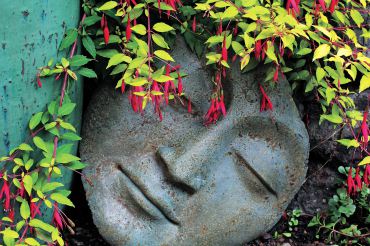 Since she's a collector of plants, Teashon says she uses plant tags throughout the garden, and maintains a Microsoft Word database to catalogue and keep track of the plants. Her extensive photographs of her travels throughout the gardening world, along with photos from her own garden, have been shared with visitors to her website, rainyside.com. Her newest postings on the website and Facebook are short videos of plants and art in the garden.
Teashon is a member of the Garden Writers Association (GWA). She travels to and blogs about West Coast garden shows and other gardens and gardeners she's visited, including garden shows in Seattle and Portland and a garden bloggers' tour of gardens in San Francisco. "I've gone on three of these tours now — Seattle, North Carolina and San Francisco," Teashon says. The experiences, tours, shows and tips are shared with readers and fellow garden writers through online posts, providing abundant inspiration and resources.
"I do a lot of experimenting with plants. I like to share what I've learned on my website," she says. "I'm an organic gardener and I've found that I have a lot fewer problems than those that use other chemicals. Gardening teaches us patience. Never give up. It's like a metaphor for life; gardens ebb and flow, just like life. We have successes and we have failures. We grieve the losses and we rejoice in the successes."