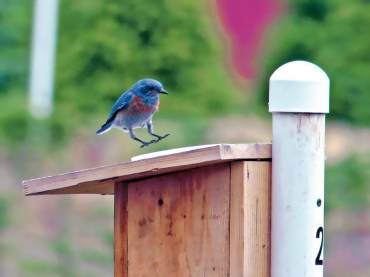 Fall migration of most Pacific Northwest birds has completed — from the huge shorebird population, to the area warblers and many other migrants from Oregon, Washington, British Columbia to Alaska. They have raised successful broods and are now heading south to winter over in Central and South America until January or February, when they will have fattened up and again begin the trip north.
Most of the birds that stay here all year are referred to as neo-tropical migratory birds; they will have movement throughout Pacific Northwest backyards, forests and water areas but stay in the region.
Backyard wildlife sanctuary chores must be completed now to prepare the table for the fall and wintering birds. All bird houses should be cleaned out again and be made available as shelter for the birds during the colder months. To a degree, the houses are also being prepared for early spring nesting.
Trim shrubs and trees now so that you won't have to do it in the spring next year. Trimming now will not disturb any nesting birds, which always happens if you cut back branches in March-July. A branch comes down and inevitably there may be a bird's nest in the shrub.
Save the fall cuttings and develop a brush pile in your greenbelt or backyard that the birds can use for shelter from the weather and larger predators. Ground-nesting birds can use the large piles as a wonderful protective nesting area in spring next year.
Clean all your feeders with a simple soap and water solution, let dry and then give them a 10 percent bleach solution bath to disinfect any leftover bacteria. Rinse again and let air dry, as the chlorine in the bleach will dissipate very quickly from the feeder surfaces. Get your rain covers cleaned as well to help keep seed dry.
The Puget Sound Bluebird Recovery Project (PSBRP) is a new and very exciting Kitsap organization whose goal is the recovery of Western and mountain bluebirds in Western Washington and Kitsap County. The group is lead by licensed veterinary assistant Susan Ford, avian veterinarian Scott Ford, veterinarian Chris Susumi and Bob Wiltermood of Wiltermood and Associates, known for their work in wildlife habitat restoration.
Western bluebirds have been known to inhabit Kitsap County and as Wiltermood told Kitsap Sun writer Joan Carson, if you build the bluebird trails, provide housing and adequate food, they will come. Joan and Paul Carson's recent visit to the PSBRP's South Kitsap trail found one active brood of bluebirds, mommy Lucy and daddy Desi, taking care of five babies and eagerly devouring their meal worms provided by Susan Ford.
Some of the most successful bluebird projects in Western Washington have been at Joint Base Lewis-McChord, whose bluebird program began in the mid-1980s. Hundreds of bluebirds have fledged from this project over the years, and there is no reason why there couldn't be similar results in the future in Kitsap County. Ford has four trails in this area, with only South Kitsap producing a successful brood so far. This is truly a wonderful start to a spectacular project.
The decline of bluebird populations in the country was first noticed in 1934 and just now, after years of education, populations are on the rebound.
Throughout the United States, you can find many organizations passionately working bluebird trails from coast to coast. Those who have traveled to Eastern Washington over the years can observe bluebirds in action right alongside the major roads — just look for bluebird boxes mounted on wood fence posts at about a 5-6-foot level, spaced apart by 50-100 yards.
As Ford points out, bluebirds are attracted to rural open spaces with low grasses, such as many of the Kitsap horse pasture lands and other open areas. Bluebirds are insect eaters that like grubs and other tasty tidbits, so they need the open area for food and adequate housing. Bluebirds are secondary cavity dwellers, using abandoned nests in trees and other open cavities.
Anyone can make these wonderful houses and become a steward of the PSBRP. What can you do if you have the appropriate habitat? Don't cut down any old snags or decaying trees, as they will produce insects, and holes will be drilled for housing for any number of area bird species. Get involved in developing your own natural backyard by using no insecticides, as birds can die if they consume poisoned insects.
You could also join Kitsap Audubon Society (KAS), which will be a major supporter of Ford's bluebird project (www.kitsapaudubon.org). Anyone who joins Kitsap Audubon Society and donates $50 or more to the local chapter will receive a $25 gift certificate from Wild Birds Unlimited of Gig Harbor. When visiting the Audubon website, you will be able to read Susan's article in the May 2011 KAS Kingfisher. KAS is involved in many other local conservation projects, so any donations will be earmarked for area conservation work.
Specifically for more information on Susan Ford's work, you can go to www.pugetsoundbluebird.org.
Despite this tough economic era, anyone can find time to volunteer some hours for the restoration of local habitat or find $1 or $2 to donate to a truly worthy cause, such as the Puget Sound Bluebird Recovery Project, and of course so many other local projects. I challenge everyone who may reads this article to get out there, leave the cell phone in the car, and get their hands dirty to save a species or two. I can envision a number of high school senior projects emanating from Ford's efforts.