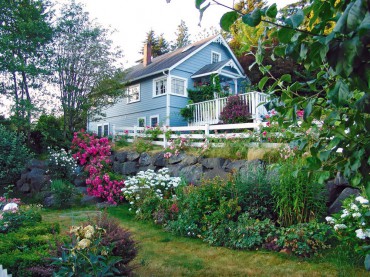 Journey with us back to sunnier days for a tour of an English cottage garden at the home of Deb and Jim Howard. Their charming English country-style property called Orchard House was named for the old fruit trees inherited with the property.
"We're right near the center of Port Orchard but it's our little mini farm," Deb says. The Howards share their property with bunnies, ducks and basset hounds. They also have two horses that are boarded at another location. When it rains and they're not in the garden, the Howards ride their horses in an indoor arena.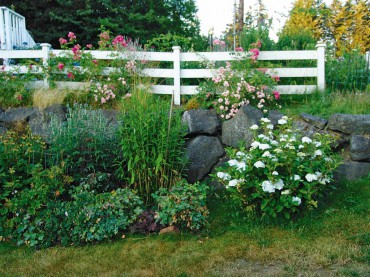 Their home, built in the early 1940s, is painted blue with white trim. The home and the garden are surrounded by several hundreds of feet of white picket fence. The property actually encompasses two lots. The couple purchased an adjoining lot and derelict home eight years ago. They salvaged what they could from the home and then it was used by the fire department for a practice burn. Today a huge vegetable garden and dwarf fruit trees are growing on the site. The cold frames created from the salvaged windows shelter vegetables and vegetable starts during late winter and early spring.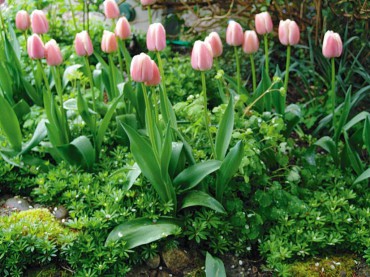 Jim moved an original small picket fence section to the back of their property to border a small patio, and then hand cut the cedar boards to match the original pickets, continuing to surround the whole property, picket by picket. He first created a jig for his table saw using one of the old pickets as the pattern and then patiently cut each picket. Deb paints the fence regularly to keep it looking crisply white.
Jim says, "I pretty much mow the lawn, build fences and haul the manure, rather than do the gardening." Deb says, "Yes, but I try to always buy him cool tools, so he'll build me lots of wonderful things for our home and garden." One year she bought Jim a chipper shredder so they can chip and shred up all their woody debris and return it to the garden beds as mulch.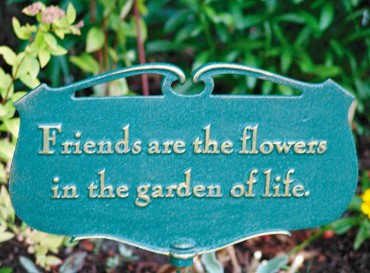 Speaking of hauling manure for gardens, Deb says that's the secret of their gardening success. "We have a friend on Phillips Road who has the very best, fully composted horse manure and we bring it in by the truckloads. I swear by that horse manure; I get more excited about the manure than anything else. It's the way they compost it that does the trick," she says.
The garden has continuously evolved in the 15 years they owned it. The newest Howard gardening venture is what they call "the great wall of China." They hand-stacked rose-colored cottage stone several layers high. The cottage stone wall curves and meanders around several mature evergreen trees and a huge plum tree (called a cherry plum tree because of the size of its fruit). They made sure to stay very clear of the trunks and root zones of the trees in the process, so that the raised bed wouldn't harm the trees.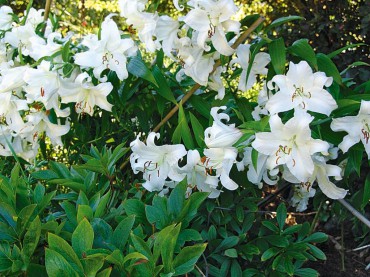 Shady paths wander in and out between the new raised gardening beds. Sprinkled and tucked here and there throughout these shaded paths are tiny dragons, gargoyles, frogs and crystals. The Howards call this area Jim's magical, mystical garden. Visitors on the paths often look up to see a tiny dragon peeping out from the crook of a tree. There are also a few fairies and softly tinkling windchimes. A topiary basset hound quietly keeps watch in the shady garden. The topiary was a gift to Deb from Jim in memory of one of their basset hounds who had passed away.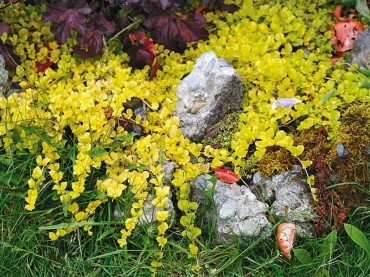 To create and build the new raised bed, the Howards hauled in 4-1/2 tons of black rock for the paths in the back of the rock wall, plus used six or seven pallets of rose-colored cottage stones for the wall, forming the front side of the new raised garden. They also brought in 20 yards of new garden soil along with six pickup loads of horse manure.
The plants were moved in from other areas of their garden as Deb dug and divided up perennials. Deb's friend, Mary Ann Byhre, donated (and continues to donate) lots of wonderful new additions to the garden. "Mary Ann helps me choose plants so the garden has color all year through," Deb says.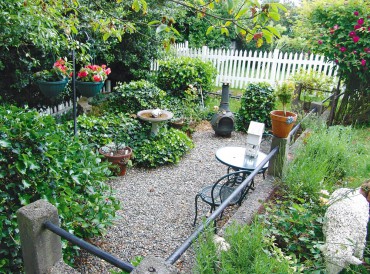 The garden includes hydrangeas, asters, "apple blossom" flower carpet roses, ornamental grasses, day lilies, white "Casablanca" oriental lilies, cranesbill geraniums, dahlias, rose-colored penstemmon, feather grass and more than 1,000 tulips. There are numerous other plants in this area and by next year even more will have been added.
Garden rooms meander throughout the property. The Howards have planted up separate vegetable beds; there are several areas with fruit trees; and some areas combine vegetables, fruits and ornamentals all in the same bed. The ducks enjoy swimming in a children's wading pool in a grassy area reserved just for them. One area of the garden is pastoral with sculptured sheep. Deb says, "I love sheep, but we can't have real ones in the city." The two resin sheep called Lamb and Chop graze right outside Deb's laundry room window, where the window sill is also decorated with small sheep sculptures.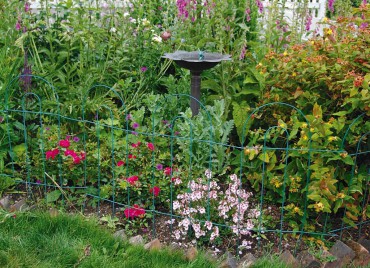 One of Deb's newest projects is a pink garden. The centerpiece is a coral bark Japanese maple surrounded by peonies, hydrangeas, tulips, geraniums, phlox and ever-changing varieties of plants, all in hues of pink and rose. She plans to add plants with burgundy foliage and some with burgundy blossoms next year.
Deb says, "I'm from the East Coast originally and we have roses, peonies and lots of vegetables there. I lived in upstate New York and my mom was always a gardener. I always thought of her garden and the gardening we did together as English-style gardening. When we bought this corner lot we thought, what better place to create an English garden than here, at our new home in Port Orchard. It has many elements of a cottage-style garden. Who else would put miles of white picket fence around their whole property and gardens?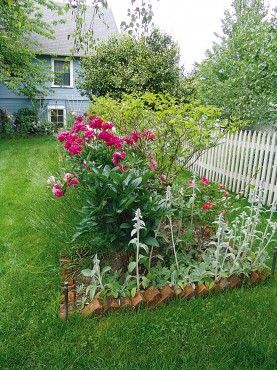 "Johnson's Blue geranium came home with me on the plane from a visit to my mom; she also sent me rose campion seeds that are now sprouting up all over the garden, sometimes in unexpected places. I move them all over the garden. Every time I see these plants, I think of my mom," Deb says.
Another element of Deb's passion for English gardening is the wisteria vine growing along their front porch railing and covering an arbor shading the garage entrance. A side garden has a boxwood bordered knot garden with roses in the center, flanked by peonies in the corners, lavender as edging plants and burgundy barberry on the corners of these formal beds. The rose varieties are: Scentimental, Gertrude Jekyll and Ambridge. Scentimental is a Floribunda and the other two are David Austin roses. A gazing ball is in the very center of the knot garden, reflecting back the beauty of the peonies and roses.
Deb has a whole colony of rainbow-hued glass hummingbird feeders hanging from the branches of a very old apple tree. "It's where I display my collection; I call it my ode to Chihuly," Deb says. "We love to sit under the dappled shade of this tree. It also seems to be where we gather in the evening with friends."
The Howards also share the bounty of their vegetable and fruit gardening with their friends, neighbors, co-workers and the local food bank. Deb has a huge garden bed reserved to grow tomatoes and more tomatoes. This year, the bed holds 24 plants. They harvest cherry tomatoes by the basketful and Deb preserves the tomatoes in a variety of ways for eating and enjoying all fall, winter and spring. She makes jams and jellies from the plum trees; and preserves, freezes and dries the pears and apples produced on the property. A few of the vegetables grown at Orchard House are squash, pumpkin, carrots, lettuce, chard and a variety of root crops.
Deb doesn't just plant vegetables in the assigned vegetable beds, she likes to mix the vegetable plants in with her ornamental and perennial beds. Colorful and textural Swiss chard looks quite stunning in the cottage stone bed and the pink garden.
She says, "We have to fence off the carrots though because our basset hound, Blueberry, loves them. Luckily, so far the dogs don't eat the tomatoes."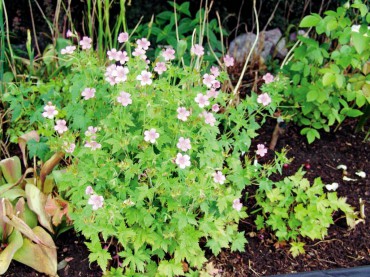 Steps lead up to the front door of Orchard House. The stairs and huge porch for entertaining and relaxing are bordered with large, decorative containers full of even more plants.
"I love all the different areas of our garden," Deb says. "When I someday retire, I can really putter, but not for years because now we have horses. I maximize my time in my garden, but for me the work is pure pleasure and very relaxing."
When the Howards do take time to sit and rest in their garden, close by is a sign saying, "Friends are the flowers in the garden of life." Friends and neighbors are always invited to linger in the Howard garden. Deb and Jim Howard hope others will take inspiration from this peek at their English cottage style garden at Orchard House.