"Eat your vegetables" is not just a dinnertime scolding anymore. It is a new way to look at a vegetable garden and a hot trend in the horticultural world. But is vegetable gardening in suburbia a lost art?
Computers and technology are the time keepers. We pay bills, we converse, we rant and we rave… but can we grow a fresh tomato on the vine? Time and space are the precious commodities, as technology steals away time and a plot in the city is costly. Is there room in the city and busy lives for growing edibles? The Northwest Horticultural Society thinks so. In a recent conversation among members, Gillian Matthews, owner of Ravenna Gardens in Seattle, commented how vegetable and herb seeds are one of their best sellers in spring. The conversation sparked an idea that will now be one of the featured garden displays at the 2008 Northwest Flower and Garden show. Titled "Eat Your Vegetables! Garden to Table," the display showcases three different styles of vegetable gardens demonstrating how to have an edible garden in any space. Think outdoor kitchen and surround it with containers tumbling with edibles. See a contemporary theme with all patio containers for rooftop garden inspiration. Over the wall will be an elegant and artistic French potager. Live cooking demonstrations, potting ideas, starting seeds and more will take place throughout the show in the garden display. NHS President Nita Jo Rountree says, "This garden allows us to accomplish our mission to educate gardeners." Mark the calendar for Feb. 20-24, 2008, visit the Northwest Flower and Garden show in Seattle for inspiration and then plan and plot your own edible garden.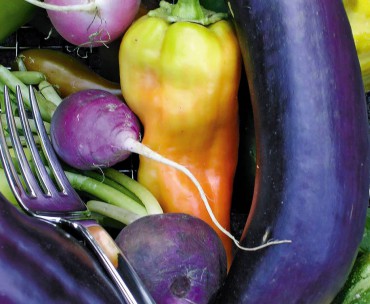 In the urban landscape, planting a garden of edibles can take various forms, from patio containers on a rooftop or window boxes draping over apartment railings, to elegant raised beds surrounded by boxwood hedges. Design and creativity are essential elements when working in small spaces. The garden will always be cut and harvested from, so planning for an attractive year-round look is important.
Start by drawing lines. Define permanent framework with living or hardscape elements that allow plants to come and go without taking away the overall design. Enclose, circle and make pathways to form a space and guide the eye throughout. Move beyond the frumpy, treated wood rectangles. Low edging to define areas can be created with living plants such as true dwarf English boxwood. Structured pieces such as woven willow hurdles, brick or stone will create permanent edges. Garden additions such as obelisks, trelliswork and garden art allow the introduction of color and style.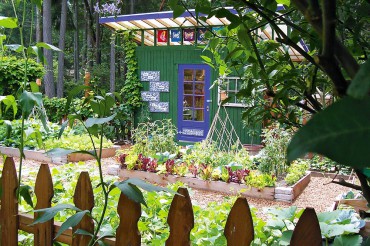 A cultural necessity of vegetable gardening is that it will need the sunniest spot in the garden. Look for microclimates of reflective light and warmth if sun is a challenge. Assess the light when the summer sun is high to see where it plays or is overshadowed by neighboring buildings or trees. Do not overlook warm brick walls between buildings, rooftops or balconies. When planting beds are not available, elegant potted gardens will fill the niche for growing edibles.
Found spaces will also need compact and dwarf type of vegetables and herbs. Corn and sprawling pumpkin vines will not work in small gardens. Conserve space by growing up. An efficient use of planting space is to grow vertically on trellises, obelisks or walls. Climbing peas, beans and nasturtiums add color, height and upward growing productivity. Potted "columnar" apples such as "Scarlet Sentinel" take up little space and are good apple crop producers.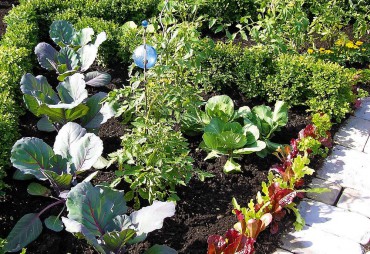 Maximize design in small spaces by planting vegetables and herbs artistically. Get away from straight rows and line up plants in inventive patterns that intermingle with each other reminiscent of small knot gardens. Fringe walkways with lettuce and parsley. Serpentine chives through a flower bed or create geometric diamond shapes of bush basil around caged tomatoes. Another part of the creativity of designing and incorporating vegetables into mixed plantings is to plant pretty food. Lacy lettuce, purple cabbage, royal burgundy pole beans and edible flowers add living color.
What to grow? Make a list of favorites and then find out how to grow them. In limited space, why bother taking up room with varieties you won't eat. Involve the rest of the family too. Vegetable gardening is a quick and easy way to nurture young gardeners. Hands-on is the best teacher and something television or the computer simply can't offer. Give a Christmas gift of seed packets and pots to start plants to be set out in the spring. Raising kids with a sense of growing and nurturing plants also tunes them into the environment.
Organic and natural are a must when growing and caring for edibles in the garden. What goes on the plants eventually goes into the body. It is healthy and good for the environment to grow and care for plants naturally. Taking on the trend to be environmentally friendly is termed being "green." Organic gardeners are "green" simply by what they do and who they are. Being green is not the motivation, craving fresh veggies straight out of the garden is.
Good food, creative growing spaces and healthy gardening, sounds like it is time to grow and "eat your veggies!"