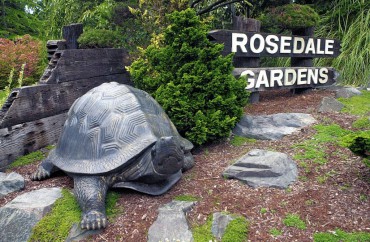 People usually visit nurseries looking for plants and gardening supplies. Rosedale Gardens is certainly a favorite place for shoppers, but many people also come just to relax, have lunch, or go for a walk. Artists bring their easels and paints, schoolchildren take field trips to identify plants, tour busses bring seniors to see the display gardens, and even Girl Scouts use the nursery's bridge for their "crossing ceremony."
Designed as a nursery, tour garden and outdoor art gallery, this Gig Harbor destination spreads on seven acres filled with landscaping plants, garden art, dozens of beautiful display gardens, a "bamboo forest" and a recently restored nature trail. Elements such as Tom Torrens bells and gongs, playful sculptures of busy kids and hardscapes are incorporated into the gardens, and benches invite busy shoppers to take a break — or husbands to comfy up with a book while the wives are shopping.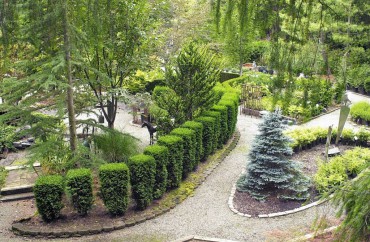 This inviting and peaceful place is the work of Scott and Lyn Junge (pronounced Young), a down-to-earth and friendly couple who have owned the nursery for nearly 20 years. Their property is a total of 25 acres, and includes their own home within a few feet from the gift shop.
While many family business owners set a strict rule of "work is work and home is home," for the Junges, there is no separation between the two. The nursery is such a big part of their lives and has created so many lasting friendships, they say they wouldn't give up that lifestyle for anything.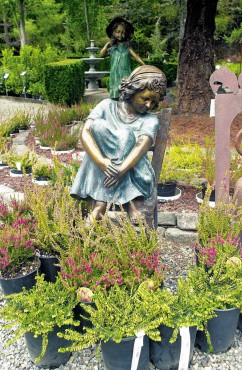 "We've been so accustomed to looking out of our window and seeing people there, we'd really miss it if it wasn't there," Scott says.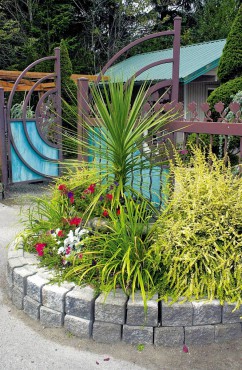 The nursery is enchanting any time of the year. Spring-blooming trees alternate with summer colors, followed by late blooming perennials and the rich colors of fall foliage. During the winter holidays, live tree sales and visits from Santa keep the nursery busy. They used to create spectacular Christmas light displays for many years but downsized their Christmas activities so they and their employees can have more family time — though some longtime customers who haven't visited for awhile may still ask about it.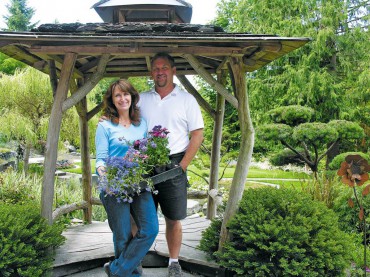 The nursery specializes in groundcovers, shrubs, trees and perennials as well as unique, hard to find plants. Sculptured trees and some native plants are also offered, along with some varieties of roses.
"The plants we carry are tried and true," Lyn says. "A lot of plants we don't carry because their success rate is so low."
A second location, off State Route 16, was added about a dozen years ago, and carries dwarf conifers, perennials and unique landscape plants.
The art gallery concept has been evolving, and Scott hopes to eventually display various artists. As the couple travels, they look for every possible opportunity to find more art. "Wherever we go, we shop at galleries and fairs," Scott says. "As we're able to travel more, we look for unusual pieces to bring back."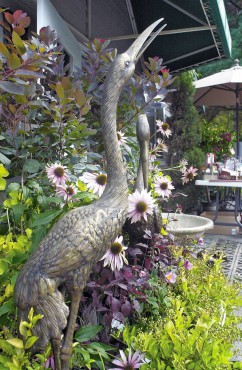 Even on family related trips, they mingle in some business. After taking their daughter to college to Gonzaga, they've discovered wonderful art there. "Now, we can't go to Gonzaga without a truck and trailer," Scott says.
Strolling through the grounds is like stepping into a fairy tale at times. There is a leopard ready to leap, a boy fishing, kids on a swing, and a bear. The bronze and cast iron sculptures, some of which are life-size, are so vivid, the creatures simply look frozen in time.
Scott and Lyn started out with a 5-acre site they could barely afford at the time. Scott kept his job at a hospital in Tacoma for a few years after buying the property while remodeling the home, putting in plant beds at the nursery, and taking care of his landscape business customers. It took several years, working about a month a year, to develop the gardens, and as more acres were acquired, Scott's playground kept expanding. He uses the gardens to show customers how the plants can be used and what they'll look like over the years.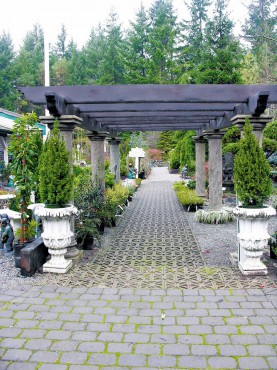 One could say Scott is addicted to landscaping, which he does seven days a week. An entrepreneur since age 10 (starting out with a paper route and moving into lawn care, then landscaping), he has found his passion and has been following it for years. He calls his work a hobby, and finds himself restless if he's not creating something.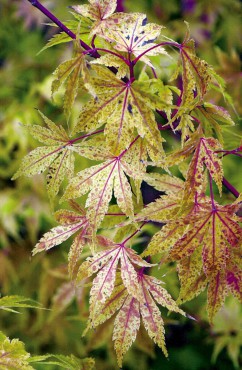 "I think everybody has the potential to be creative," he says. "(Landscape design) was a gift I was given. I drive to a project, and I don't see what's there but what I could do to it… Everybody has gifts; the key to a gift is opening it; it has to come to a passion."
His artistic, timeless designs incorporate natural stone, groundcover plantings, sculptured trees and shrubs, and art pieces. Art is an important part of the design, and transforms the yard into a garden, Scott says.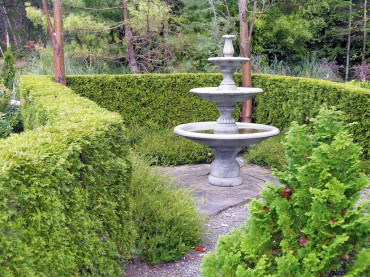 Those who are fortunate to see the family's private garden can observe Scott's work in full-scale. The garden is open to the public for events such as weddings. Formerly a huge slope, the garden incorporates meandering hardscape paths with terraces, ponds, unique plants, and, of course, art — including Scott's own creations, "funky birdhouses" he likes to make on rainy days in his workshop.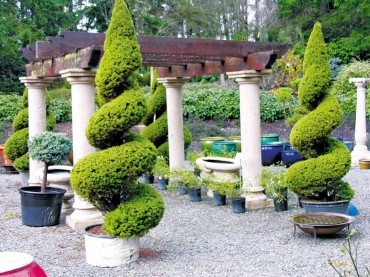 "This is where I come down to play," Scott says. One of his current projects in the private garden is a treehouse that will eventually be available to the public.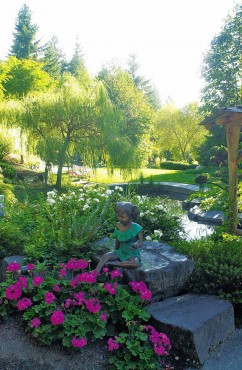 There is also a spot with a tidy vegetable garden, tended by their son, Mark, who shares his father's enjoyment for landscaping. All their four children grew up around the business, and the business afforded Scott and Lyn the opportunity to take time for volunteering in school or coaching the kids' sports teams.
The couple has 25 employees during the peak season, including three people on Scott's landscape crew. Many employees have worked at the nursery for more than a decade, and the Junges say they are fortunate to have such wonderful people working for them. The nursery is pretty much self-sufficient, which allows Scott to focus on his landscaping customers. He is involved with every project hands-on, and mostly works with challenging sites such as waterfront properties and slopes.
The Junges say they both like what they do, and they don't see their business and personal lives any other way. And the nice thing they find about having a nursery business is that customers are happy. It's certainly easy to see why — a visit to Rosedale Gardens and a stroll through the grounds will mend anyone's spirit.
"Every window I look at, every path I walk on, I feel so fortunate," Lyn says. "It's such a great environment."
This article was first published in the Winter of 2006 print edition of the WestSound Magazine. Any discrepancies, omissions, or inclusions that seem incorrect are purely due to the age of this article. WestSound Magazine deemed this article useful and beneficial as a contribution to today's readership, and therefore is included in this site's online article archives. If you feel the content of this article is detrimental due to its age, please feel free to contact us to request removal or modification.