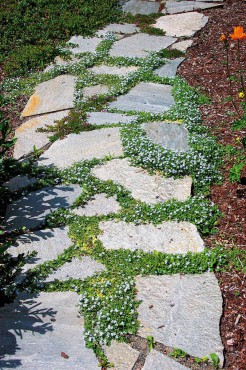 Where do we find those great rocks for our gardens? And, once we've found them, what do we do with them? "Rock on" will introduce you to five of our local "rock solid" landscape suppliers specializing in every kind of rock imaginable, starting in Gig Harbor and finishing up in the North End.
Each business is unique and you'll want to take a weekend or a few weekdays to visit all of the sites to get your fix of rocks for the garden. They'll also help you design your own rock feature or features and can put you in touch with designers and landscapers too. See the sidebar for business locations, phone numbers, emails, Web sites and hours of operation.
Erin's Rockery
Erin's Rockery has been in Gig Harbor since 1973. Ten years ago Richard O'Neill, a longtime customer, purchased the business to fulfill a lifelong dream. O'Neill worked with heavy equipment and lots of rocks on the North Slope in Prudhoe, Alaska, for 20 years, landscaping in his spare time. When he retired from Alaska he returned permanently to his home in Kitsap County and purchased Erin's Rockery from the original owners. He's expanded the site from five acres to 10 acres in the last 10 years. "When I purchased Erin's Rockery, it was a small landscape supply business, now I do complete landscaping from the design to the installation," said O'Neill.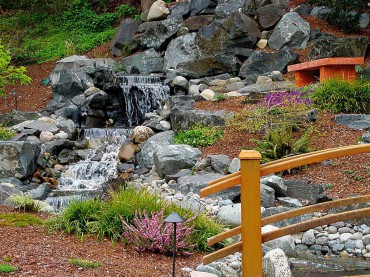 Rocks available go by the yard; big rocks (for rockeries and placement) range from $45 a ton to $250 a ton depending on the rock. O'Neill purchases from quarries around the state. A few of the product colors and varieties available are: basalt (the most affordable) from quarries near Mount Rainier; salt and pepper granite out of Frazier River Canyon in Canada; Columbia Black Granite from Yelm; Wilkison (a sandstone that's brown with rust swirls). O'Neill also carries fieldstone, round and shot rocks (blasted from rock wall faces in the quarries) and round rocks from stream beds and rivers that have been polished and smoothed for millions of years.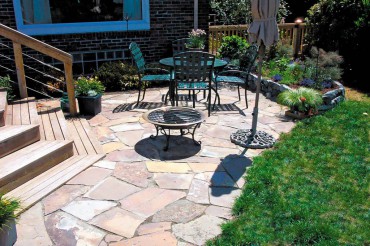 Erin's Rockery does delivery, installation and design work. O'Neill says words can't do justice to the rocks available. You'll want to come visit to really have fun. "We use big excavators, skidders and graders to move, deliver and install rocks. In the last two years we've really gotten into water features, ranging from ponds to bubble rocks. Last year three out of every four landscaping jobs we did had a water feature included," said O'Neill.
O'Neill is a (Certified Installer for Aquascape), a nationwide program giving extreme professionalism to the waterscape industry. "In addition we have lots of information from Aquascape that we can pass on to customers," said O'Neill. Erin's Rockery will have water gardening seminars offered this spring. Watch the Web site at www.Erinrockery.com for a schedule or call 253-858-8184 for details.
West Sound Landscape Supplies
Visitors can't miss West Sound Landscape Supplies at 6700 Bethel Road in Port Orchard. Owner Chuck Cregier has been growing this business for several decades. The display yard is humongous and besides being filled with every kind of crushed rock, slab rock, sandstone, pavers, beauty bark, soil, compost and lawn materials; the remaining area is filled entirely with every decorative temptation imaginable. Gardeners can find materials from tiny to massive at West Sound Landscape Supplies. Fountains are a hallmark from small birdbath fountains to 20 foot-tall, three-tiered fountains. Containers and pots abound sized from tiny to massive.
West Sound Landscape Supplies is the largest supplier of statuary on the peninsula. Additionally they'll special order statuary, fountains and rock for their customers. When customers enter the building they'll find catalogues for Al's Garden Art (every decorative stone or synthetic stone accessory imaginable) and Massarelli's (statuary).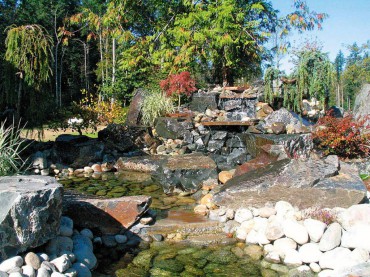 Orders for statuary and fountains for West Sound Landscape Supplies are placed twice a year and special requests can be added into the twice-yearly order. At other times of the year staff can frequently accommodate special orders for customers. However, West Sound Landscape Supplies appears to have at least one or two of everything imaginable in stock in the line of statuary and fountains. Rock is ordered from Washington, Oregon, Idaho, Utah and even Pennsylvania (for the much-coveted blue rock).
On the office counter customers find a display with samples of various colors and textures of small rock for pathways and other garden areas. This display gives gardeners the opportunity to compare the products and make a decision. Also in the office customers can find pamphlets describing the numerous temptations, plus educational materials and instructions. The display room also has a wide variety of tools and lawncare items, plus products to care for pavers and rock features inside and outside the home. West Sound Landscape Supplies also sells and installs sod lawns. And, if you need only a few small rocks rather than a truck full, you can purchase rocks and pebbles by the bag.
Customers can purchase items immediately on site to take home or have items delivered at a later time. West Sound Landscape Supplies also carries Cedar Grove Compost by the bag or in bulk.
JD's Landscape Service and Design (Jody Greseth 360-479-2760 and 360-769-8133) and Rico's Landscape Service & Design (Rodrigo Souza 253-851-1381 and 360-440-6886) are available to create and design landscapes and landscape features working hand in hand with West Sound Landscape Supplies for the materials and installation.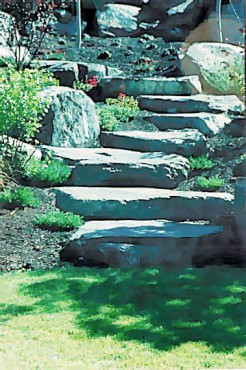 Longtime staffperson Pat McAllister said, "We have quadrupled our size and range of products in the last five years. We use natural products and anything you'll need to enhance your landscape we sell." He is very enthusiastic about his job and all the products and services West Sound Landscape Supplies carries.
"You can't imagine what we have to offer by talking to us on the phone or visiting the Web site, you have to see it to believe it," he said.
Morrison Gravel
January marked the 60th anniversary for Morrison Gravel in Port Orchard. Owner Ken Morrison said, "My dad and grandfather have been selling rocks forever. We bring materials in from a lot of different places. What I'm most proud of is our longevity. We have everything in rock — driveway, landscaping, rockery, decorative, flagstone, everything imaginable, placement rock, water feature, and decorative colorful stone too. We've been around for a long time. If you come to our place you'll love it. We also do compost, topsoil and bark and we custom blend soil mixes for customers."
Prices, colors and sizes of rock vary. Morrison Gravel uses excavators, forklifts (to load and deliver pallets of rock) and eight dump trucks for delivering rock to customers. "We can and do on occasion install the rocks," said Morrison. The rocks vary from pea gravel all the way up to more than 500 pounds. Morrison Gravel also has three-and four-man wall rock.
Morrison Gravel does not have an in-house designer but works with landscape designers, architects and other professionals who are available for referrals. "Landscapers come here with customers to choose the colors and sizes they want in their gardens," said Morrison.
Morrison added, "I enjoy helping people get excited about their landscaping, when their eyes light up, so do mine. This is totally fun for me."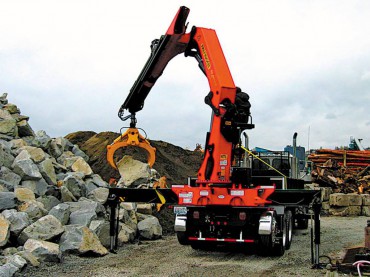 Vern's Rock Products
Vern's Organic Topsoil in Poulsbo has added Vern's Rock Products. This longstanding business in the North End has been in the family since the Martinsons settled in Poulsbo in the late 1800s. It's still a Martinson family business run and now owned by Martinson family daughter and son-in-law, Cathy and Sam Allen.
Sam is a dynamo who slowed down long enough to describe the rocks available. "We have all types of flag stone, ledge stone, patio stone, driveway stone, masonry stone, terrazzo, veneer, steps, treads, slabs, wall caps, hearths, mantles, benches, waterfall rock, landscape placement rock, riverbed rock, tumbled pavers, pathway chips, columns, birdbath bowls and retaining wall rock. And, also all types of crushed rock. All these rocks come in many different species such as basalt, granite, sandstone, mica, iron slate, serpentine, rainbow, quartzite, lava, jade and argillite," said Allen.
There is no limit to the size and weight of rocks, ranging from small pebbles to over 15 tons. Prices range from $13 per ton to $500 per ton. "Of course the prices vary on whether we deliver or you come pick up the rock," said Allen. "We have every color of the rainbow." Vern's Rock Products delivers Monday through Saturday and is open from 7 a.m. to 5 p.m.
Vern's Rock Products has an employee on staff who "loves to design and install every conceivable landscape, water feature and centerpiece," said Allen.
Allen said, "We have an awesome grapple truck to deliver and install rock in hard to get at places. We also have an off-road forklift to deliver pallets of rock to hard to reach places."
Most gardeners know Vern's as Vern's Organic Topsoil, which is the other side of the business and "we are the leader in this area for Certified Organic Materials to use in gardening and landscaping," said Allen.
Northwest Rock Products
Northwest Rock Products, owned and operated by husband and wife team Craig and Sandy Powell, is especially renowned for its water features and wonderfully varied and gigantic rocks. The business, started in 2000, has grown so rapidly that it recently moved to the Port Gamble Mill Site to expand from a former site in Kingston.
Northwest Rock Products' hallmark rock is High Cascade Granite but, in stock, customers will find rocks in every hue, size and color from all over the United States. Size and prices also vary widely. The rocks are priced by the ton with costs depending on the type of rock. Half-man rocks are more affordable than thousand-pound rock. "We also carry signature rocks for people to use in their gardens or yards to display names and house numbers and other art," said Sandy Powell. "You'll find flat rocks and stepping stone rocks." Large rocks are delivered with a boom truck, plus a setter truck is available for putting the rocks anywhere the gardener desires. "We have designers on staff and we do outcroppings as well as water features," said Powell.
Kitsap gardeners can see Northwest Rock Products' "Bill Austin's Waterfall" across from Liberty Bay Auto. The magnificent feature greets visitors as they come into Poulsbo from Finn Hill Road. Additionally Northwest Rock Products designed, created, donated and installed the massive rock feature with waterfall and pool at the Silverdale Water Department on Anderson Hill Road. Both waterfalls feature recirculating water making the creation earth-friendly. The Northwest Rock Products Web site features educational information about rock products and shows photos of many of their creations.
In addition to Northwest Rock Products, the Powells' business Sealevel Bulkhead Builders Inc. has been in operation since 1984, specializing in rock walls and bulkheads using granite and black basalt rock. Sealevel Bulkhead Builders Inc. constructs bulkheads throughout Kitsap County as well as the south end of Olympia, the north end to Port Angeles and Whidbey Island. They have diversified into making rock jetty repairs and reinforced earth walls. Their most recent contract is mediating the slide and stabilizing the bank behind the Poulsbohemian Coffeehouse in Poulsbo.
Rocks and rock products will enhance and enrich your gardens. The businesses featured in this story have a passion for creating and enhancing gardens using rocks and rock products. They are experts in the field and their zest for pleasing their customers shone through when being interviewed. Their Web sites have abundant information about rocks, from describing the various sizes, weights and colors to photos and descriptions of various creations throughout Kitsap County and Gig Harbor. Visit the Web sites, stop by the businesses or give them a call. You too may soon "rock on." Every garden has a little or a lot of room for stonework and rock enhancements.
Designers and Installation of Rock Products and Features
When searching for or selecting a designer and installer ask about licenses, credentials and references. Ask to see photos of their local work. Keep in mind, too, that some rock features require permitting and engineering.