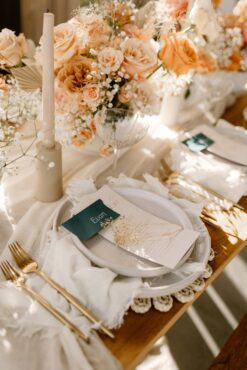 Ash, Tay and Jordan, creators of Bixby + Pine wedding planning, started their business from the seed of their friendship. Sisters Tay and Jordan met Ash early in life. "We met when we were in second and third grades at my grandparents' day care," Tay says. That sprouted a lifelong friendship between them.
"We were always planning really elaborate birthday parties, daycare carnivals and talent shows," she says. Years later, this spark grew into an opportunity. A friend asked them to help her with her wedding. Of course, they said yes. Afterward, they realized that they "loved all of this."
"This was so fun: the experience, the details, the design, the planning. All of it was so fun," Taylor says. They started Bixby + Pine in 2014 to continue the work they love.
Bixby + Pine might seem like an unusual name for a wedding planning business. However, the trio thought long and hard about it. "A name is something you live with forever," Jordan says. "So we knew we wanted to like it. We locked ourselves in a room and we went back and forth with names." It proved a challenge to find the ideal title, though. "Nothing was clicking," Jordan says.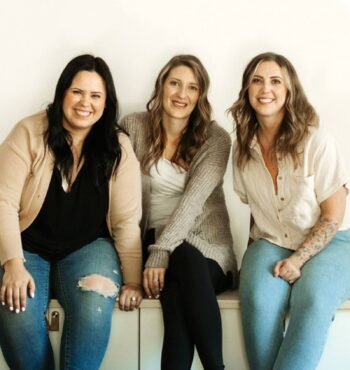 One day, their mutual friend (who started the business with them) said she had an idea. She announced that her great uncle, whom she was visiting, lived on the corner of the streets Pine and Bixby. Jordan recalls that their friend asked, "Is it a thing?" The answer was yes. They loved the name. With that, the group decided to name their business Bixby + Pine.
Nowadays, after 10 seasons of wedding experience, Bixby + Pine provides full-service planning and design. Their team handles everything from beginning to end, from the planning to the design to the production on the day of. With that, everything is left in the capable hands of Bixby + Pine.
When Ash, Tay and Jordan organize full-scale weddings, they use different skill sets to execute the perfect event. Tay takes care of designing and marketing, Jordan does the planning and Ash is the chief financial officer and floral arranger. "We each bring something different to the table," Jordan says.
However, they also love working as a team. Ash says that her favorite part of their work is that they get to do it together. "We like to spend a lot of time with each other," she says.
Tay is a huge fan of their mission and adores that Bixby + Pine "marries the two things that we value most in life — relationships and experiences."
"We get to nurture our relationship as friends," Tay says. "We get to see our couple's relationships, their relationship with their family, relationships with vendors."
As Jordan says, a wedding is "an important day in someone's life — it brings so much happiness." Bixby + Pine is the perfect way to bring happiness into a magical wedding day through a group of great women and friends.