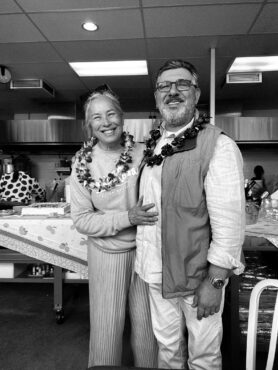 Via Rosa 11 is "posto magico" on Bainbridge Island. A magical spot where you are transported to Italy for an hour or two. A place where, if you ask for meatballs with your gnocchi, you will get a friendly, "Gnocchi is not served with meatballs; it is best topped with pesto, marinara or Bolognese." The Via Rosa 11 market and restaurant is almost as charming as owner and cook Pino Sordello himself. In proper Italian accent, he says, "I am not a chef. Chefs don't cook."
The entire space exudes his heritage, with the restaurant featuring delicious dishes and pizzas from numerous Italian regions and the market selling memorable frozen pasta, raviolis and sauces, as well as imported Italian treats and delicacies.
Please imagine Sordello's Italian dialect in his answers, in many cases with tongue firmly planted in cheek, like spinach ricotta in his raviolis.
Stanley Tucci is very popular right now, sharing his Italian heritage and its magnificent food on television. Do you watch?
For a long time, we had a customer who told me that I must watch Stanley Tucci, and I didn't even know who he was. Then my wife says we need to see it. So, when we were closed on Easter, we cooked lamb and watched Stanley Tucci roaming Italy all day. It was beautiful and was for the most part accurate. I think all in all, it was good for Italy.
Tell us about Via Rosa 11 and how you got started.
I was in the wine business for many years (to 2001) and I got burned out. My wife had a good job at Starbucks, and we had a child, Julia, who is now 25 years old. My wife said, "Do whatever you want for work, but I don't want you to travel anymore." There was a time when I was traveling every other week, on a plane going somewhere. So, I quit the business, but when I wasn't working and looking for things to do, I became a lion in a cage, particularly when my daughter became old enough to look after herself a bit more.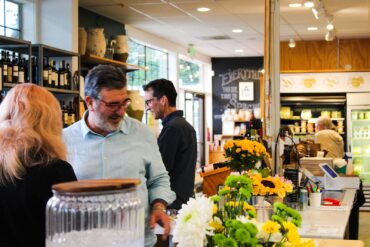 So, one day I'm talking to a friend who owns a little Italian restaurant in Renton. We're having espresso, and across from us is a farmers market. I thought I should check it out. I look around and I tell my friend, "Hey, nobody is making fresh pasta here." I asked another friend to find us a pasta machine, and he found us a used one from a restaurant that was making pirogis — a professional red machine, a Ferrari! It had 56 dies. I started at the farmers markets in Federal Way and Burien. At one point, I came to this side and applied for the Bainbridge Farmers Market and was not selected. So, I went to Poulsbo and did four or five seasons. After two seasons there, Bainbridge discovered me, and they asked me to come over here. I did it for two seasons and was very, very busy. In the meantime, I was talking to the landlord of this building. It took six months to get it to code and we brought in the Ferrari pasta machine. And here we are, 11 1/2 years later.
So, "Via Rosa 11" references what?
Some ask, "Is this the 11th Via Rosa? I say, "If this were the 11th, I wouldn't be talking to you; I would be on the Italian Riviera."
Via Rosa 11 is the address of the little house where I was born in a village in Northern Italy, Liguria. Stanley Tucci visited there, and he had the rabbit, but it was not done right. You know, unbelievable. I was yelling at the TV — ask my wife!
Does Via Rosa 11 primarily feature Ligurian or Northern Italian cuisine?
No, I draw from everybody, every region. For example, right now we have Spaghetti Amatriciana. (Insert proper Italian pronunciation lessons throughout; here it is: "A-ma-tra-chee-ana.") Another thing is Bolognese; every family has its own recipe. A friend, he adds chicken liver to make his silky, for example; it's beautiful.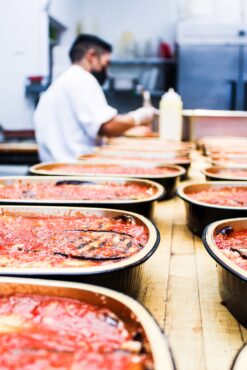 The best meals in the world are often in small cafes in the Italian countryside with a house chianti in a water glass.
I think for the most part, in Italy, we are still anchored to our roots. The cuisine is very personal, simple and we rely on — for the most part — local ingredients. Let the local harvest shine. Then there's another concept in Italy: Each region has different menus and different items for the recipes, and that's the beauty of Italy. We cannot produce universal cuisine, because we must argue from here to eternity which regional food is better. We just offer everything and then it's up to the consumer to decide which is best. No offense to anybody, but when I see critics that are rating restaurants, I say, excuse me but this guy at this restaurant is supporting this family; let the consumer decide.
What Italian cheeses would you want locals to try?
Taleggio and Parmigiano Reggiano Stravecchio, because to me they're the best cheeses in the world. I can say that because I'm Italian and if you agree or not, that's OK. I think there is so much to be discovered in any country, but particularly in the Mediterranean and North Africa. Although America is discovering the artisan way of making things, as I think they are tiring of industrial foods. For example, I went to California, to Point Reyes, and the cheese there, oh, my God! My cholesterol went up 500 points.
How did family play an important role in food for you?
I feel extremely lucky to put family food from Italy on my menu. What I learned, I learned mostly from my family. My mother, my grandmother, my two sisters, my auntie who was making the best gnocchi in the world. That's the family competition that goes in Italy. You see, being an Italian, I'm not a chef. Chefs normally don't cook — cooks cook. Quote me on that: Cooks cook! Chefs give direction. The thing is, I'm Italian and I have this tremendous heritage of food that is available to me. I feel privileged that way, but at the same time, I see a lot of (chef) talent here that are doing things that may not be my style, but a lot of them do amazing things. This country (USA) is a cornucopia of amazing food. It's just getting the population to discover better food and to drink better wine.
I've read that there are over 350 types of pasta.
The pasta, you can do 150 different styles. It's not dogma here, but I think there are pastas that go better with different sauces. Yes, there can be variation, but I go by the traditional food that has been in the household of Italy. It's like the puttanesca with the anchovies — the cheese just clashes. Some people might think it comes across as arrogant, but I just want to teach people how we eat in Italy.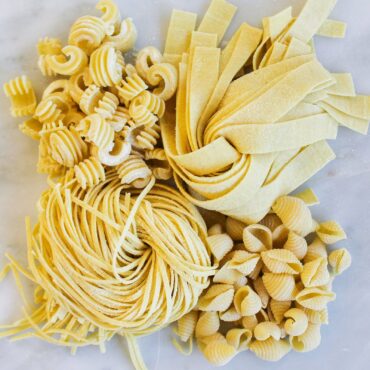 The Michelin-star restaurant is not me; I'm not qualified. But I like for the people to savor the best of Italian food.
I want to tell you a little story about one of our very first customers. A husband-and-wife couple come in every two weeks. They love our Spaghetti Vongole. They were dining one evening and I go to say hello and he has a little container of Parmigiano that he is sprinkling on his vongole. I ask, "Who gave you that?" and he says, "I just wanted a little bit." So, I go to the server and I tell her, "You do not serve Parmesan Reggiano with vongole; don't do it!" Their next visit, somehow it happens, the same thing. So, the next visit I'm here and I go to greet him, and I see him with a container of Parmigiano. He sees that I notice and that I'm about to ask him who gave him that when he says sheepishly, "Don't say anything, please; I brought my own."
Does he still do that?
Yes, but he's the only one I let do that!
What are some of your fondest memories of food as a child?
My favorite food as a child was homemade gnocchi with rabbit sauce. It's very simple. In fact, I'm making it tomorrow with just a few ingredients — olives, herbs, a little onion and garlic. That's it. My mother used white wine, but my sister, she uses red wine. She says, "I know Mother used white, but I like the red wine; it gives it more depth of flavor." They are different, but both delicious. You see, this shows how opinionated we are.
When you're off work, who cooks?
Both of us. My wife, she's an amazing cook. She's half Hawaiian, so she tends to prepare Asian food. When she's preparing food, I stay out of it. I get myself a glass of wine and go sit on the deck.
Tell us about your pizza dough.
It's white, it's round, and it makes great pizza — what else do you need to know? What we use is my business (said with a wry smile).
What toppings do not belong on pizza?
In Italy, we say less is better. We do pizza like we do pasta. If you have ripe and fresh tomatoes, good olive oil, fresh garlic, fresh basil, you make a sauce like that over pasta with good Parmigiano on top, it's a good dish — why would you need to add chicken or shrimp or meat? That's the point.
Your current menu offers five pizzas with specific toppings; can one customize?
We will adjust toppings for allergies. If you say, "Can I leave this or add that?" I say, "No, we don't do that. Go to the other pizzeria in town."
One of your three children comes to you in their 20s, saying they want to open a restaurant. What do you tell them?
I say no, no! It's too demanding physically and mentally for anyone. They've got to come in here and work behind the counter for one day, and if they survive, OK.
Is there any food or dish that you would like to put on the menu, but you know it just wouldn't sell?
We try different things. We have Uni with Spaghetti; it's not for everybody. It's not flying out the window, but there are people who enjoy it.
You have a new menu coming out?
We have the fall/winter menu coming out soon. Among other things, we will be adding Pappardelle with Wild Boar Ragu; it's very popular. We source our wild boar in Oregon and Nevada. It's a five-day process for us to prepare it for the ragu.
If you are here on your day off, with your wife, what would you order?
My dishes are like my children: I love all of them. Maybe some more than others, but I love all of them. Some are a pain to make, but I love all of them.
What would your mother say today about your food and the restaurant?
My mother wouldn't talk to me today if she saw me making pesto with a food processor. She made pesto by hand with a mortar and pestle. But ours is handmade, many pounds at a time.
If someone were buying gnocchi from your marketplace to take home, what sauce should they put on top?
The pesto is very good; the Bolognese or the marinara. And yes, we do not add sugar to our marinara. I've got people saying we add sugar! I say, give me the number of that person; I'd like to have a word with them. Sweet tomatoes that are not cooked too long. Tomatoes are a fruit; too much time adds acidity. You know the old wife's tale, "My grandmother, she cooks her tomato sauce for four hours?" That's fine, then go get the Alka Seltzer! The Bolognese is very good; it has angus beef, porchetta, some mortadella and some other things I'm not going to tell you.
How often do you travel to Italy?
We try to go once a year, at least. We were there in April, and I was thinking of going again in a couple of months, but I must sell a lot of spaghetti for airline tickets.