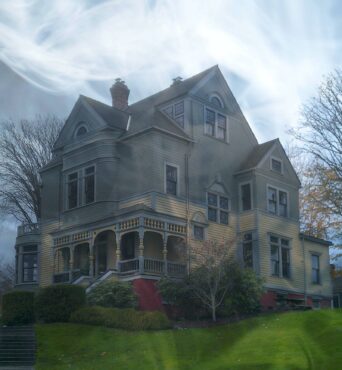 For more than 100 years, Port Gamble was the heart and the soul of the country's lumber production.
Today, many believe much of the town's original population …hasn't left.
One of the state's oldest settlements and the former home of one of the country's longest-running sawmills, Port Gamble, is located right in our backyard. Today, the town is a National Historic Landmark that transports visitors back in time — at least it feels like it, due to many of the original buildings still standing. New England and Midwest village-inspired buildings line the streets, many dating back to the mid-1800s.
Scenic surroundings and historic charm make this waterfront location one of the most mesmerizing, hidden gems in West Sound. The quaint town, with a population of less than 100, boasts a must-see gift shop and mouthwatering dining at Butcher & Baker. As you stroll through town, placards displayed at many of the buildings share stories of the past — while white picket fences lining each property pay homage to the hometown of Port Gamble's original population, many of whom are known today as the town's "long-term residents."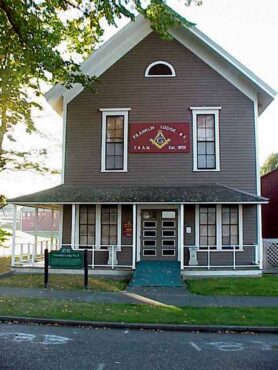 Throughout the years, many local residents and visitors alike have shared stories of unexplainable, paranormal experiences. Today, many buildings around Port Gamble offer a variety of shopping and dining. But for many years, each building played an integral part in making the mill town feel like a home for its residents, many of whom devoted their lives to the former sawmill.
Out of Port Gamble's 50-plus buildings, around 45 have reports of paranormal activity, says Pete Orbea, the current town manager. According to one of the former managers, there are written records of paranormal events occurring as early as the '50s.
About six different paranormal investigation teams visit the town every year. One of the most common experiences is felt upstairs in the what's called "The Painted Lady." Visitors will either feel that they shouldn't be there or sometimes hear a voice in their ear saying, "Get out."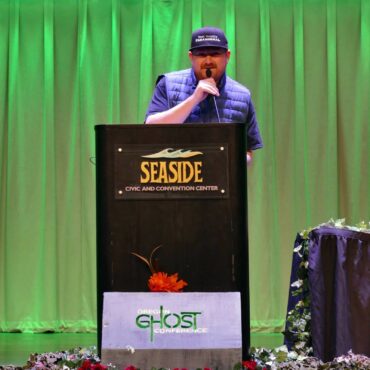 The Painted Lady originally served as an office and home for the town's former resident physician and later as a hospital in 1879-1929. Historic documents reveal that the resident physician was from New York. Today, it's an eclectic antique shop filled with ornate décor, clothing and renewed treasures, and it's not uncommon for patrons to experience what seem to be inexplicable situations.
History of Port Gamble's Longtime Residents
Founded in 1853 by William Talbot and Andrew Pope, Port Gamble was a lumber community that hosted fewer than 1,000 original settlers. Many workers spent their days felling trees, sawing logs and shipping lumber to San Francisco, Australia, Peru, England, Hawaii and other places around the world. The town was built close to the water for easy transport and featured New England-inspired architecture to make residents feel as if they were back home.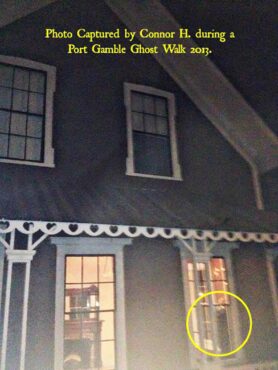 In 1995, the whistle rang on the mill's final day of operation, making it — up until that day — the oldest continuously running mill in North America. According to town records, because its founding fathers made a long-term commitment, the town has continued to be restored throughout the years. As a result, there's been little change to the area's historic aesthetic.
Activity in the Walker-Ames House
One of the most architecturally awe-inspiring buildings, located across the street from The Painted Lady, is the Walker-Ames house, which also happens to have the most reported accounts of paranormal activity in town. The two-story-tall, Victorian-style home, which features an attic and basement, was built in 1888 and designed to welcome visitors who arrived in town by ship. It was home to William Walker, master mechanic for the mill; his wife, Emma Walker; daughter, Maude; and Edwin Ames, who served as resident manager after 1883.
Mary Bethune is a Kitsap local, as well as a case manager and one of the co-founders of the Olympic Peninsula Paranormal Society. She says she's had psychic abilities ever since she was a child, but she felt inspired to get more active in paranormal research when her husband died 16 years ago. Bethune and some friends started their own research team a year later.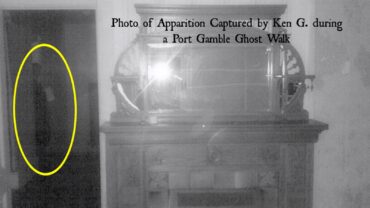 The Walker-Ames house has been Bethune's favorite investigation spot, especially when her late dog, Eulalie, a black female English mastiff, used to join her team and help engage the spirits. Over the past 15 years, the team have captured different evidence at every location they've investigated so far. That includes The Painted Lady, the theater, St. Paul's Church, the cemetery and a few private residences.
Paranormal happenings inside the Walker-Ames house are often auditory, according to Orbea — either a disembodied voice heard in real-time or voice captures later heard in recordings, also known as electronic voice phenomena or EVPs for short.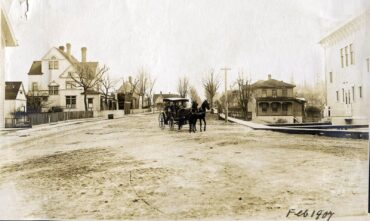 Bethune recounted a time she asked, "What's your name?" inside the house. To which a female voice responded, "A lady" and then, "Annabel" a moment later. They caught the voice on a recording. Another time, the team captured audio of children giggling as an investigator walked by.
Once in a while, one may see a shadow figure or apparition.
One evening in July 2018, Orbea was hosting a private tour for 10 people inside the house. As tour-goers stood on the first floor in the main foyer facing the kitchen, he leaned against the piano with his back to the kitchen. All of a sudden, everyone heard a dragging sound coming from the darkness. Orbea says he turned around toward the noise with his flashlight and saw a woman with long, brown hair wearing a powder-blue dress.
"A woman was standing right behind me and she was looking straight ahead as if looking out the front windows of the house. What I did notice is she cast a shadow on the wall with my light. My flashlight beam hit her right in the eyeballs and she didn't flinch. The entire group saw her. It wasn't just one person," Orbea said. "We all collectively gasped and she just simply disappeared. With the snap of a finger, she was gone."
Seasonal Events
Ghost Walks kick off on Sept. 29 this year and run through April. Participants learn about Port Gamble's history and visit the primary hot spots of reported paranormal activity. In addition to the museum, post office and cemetery, participants get to explore the Walker-Ames house.
If anyone's interested in learning more about the paranormal and experiencing Port Gamble's historic charm, the town is hosting its 14th annual Port Gamble Ghost Conference on Nov. 10-12. Currently the largest ghost conference in Washington state and among the longest-running along the West Coast, it's the perfect place for experts, curious novices or skeptics to learn more about all things paranormal. Experts present and teach classes on topics such as mediumship, paranormal investigation techniques and more. For those feeling adventurous, purchase a ticket to an investigation at a variety of notoriously haunted buildings in town, including St. Paul's Church, The Painted Lady (aka the "New York house") and Franklin Lodge.
For those who want to admire Port Gamble's beautiful scenery but skip the spooky part, the town features 60 miles of trails and hosts a variety of seasonal, family-friendly events, many of which are free. And thanks to Port Gamble's charming aesthetic and breathtaking scenery, it's the perfect place to host a company event or wedding.