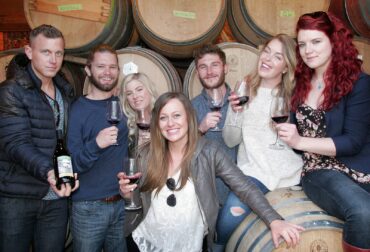 There is a pivotal moment in each of our lives that can define our career or the outcome of our future. That moment was in 1978 for Alphonse de Klerk, winemaker, founder and owner of Rolling Bay Winery on Bainbridge Island. He was on an extended bicycle trip that started in Los Angeles and ended up in Europe. He found himself in the Loire Valley in Montrichard, where he met a winemaker and vineyard owner who asked him if he wanted to help pick grapes. The thought intrigued de Klerk, and he stayed for 10 weeks helping in the vineyard and winery with the annual harvest.
The romance of the Loire drew him into wine. The winery staff worked hard, but enjoyed leisurely, two-hour wine lunches — and the culture wasn't as much about pushing yourself as it was about enjoying the process.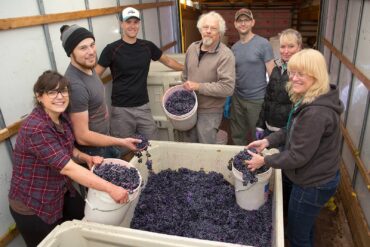 After his bicycle trip and harvest experience, de Klerk moved back home to Los Angeles and with his newfound wine knowledge, tried his hand at making his own wine from concord grapes grown in his father's Los Angeles backyard (he still has three bottles of wine from that first vintage in 1979!). He studied photography at LA's prestigious Art Center College of Design, and eventually opened his own studio in Seattle.
From 1986 to 2006, de Klerk was a home winemaker, starting with apples. In 1989, he did a photoshoot at Hogue Cellars, where the winemaker invited him to grab the leftover chardonnay grapes from his vines so de Klerk could try his hand at making wine from vinifera grapes. That was the start of his first official Washington wine harvest.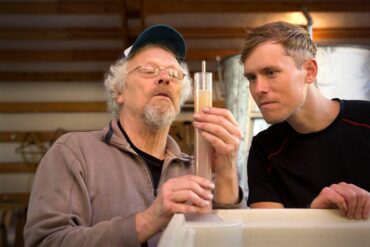 In 1991, the winemaking operation moved to Bainbridge Island with the help of David Verwolf and Piero and Angela Sandri. They established a home winery co-op. "Everything was low-tech and hand-operated, with lots of heavy lifting," de Klerk recalls. "Over the years, more grapes were purchased, more volunteers joined in and more equipment was added. Every gathering was 80% hard work, 10% spontaneous picnic and 10% 'quality-control testing.'"
In the process of looking for high- quality grapes, de Klerk was introduced to fellow Dutchman Al Newhouse, who owned Upland Vineyards on Snipes Mountain. Located in the Yakima Valley, Snipes Mountain is one of the smallest American Viticulture Areas in Washington, just over 4,400 acres.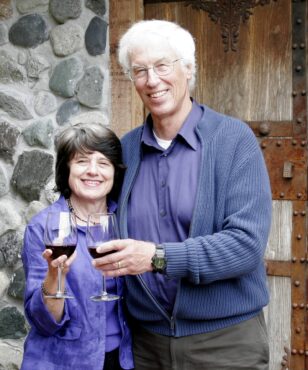 The first grapes on Snipes Mountain were planted in 1914 and some of the oldest cabernet sauvignon vines still remain (planted in 1963). Top varieties in this area are cabernet sauvignon, merlot and chardonnay. Rolling Bay Winery has been sourcing grapes from the Upland Vineyard since 1991 and continues to source cabernet sauvignon, grenache, mourvèdre, graciano and tempranillo from there.
In 2016, de Klerk was offered graciano grapes and decided to purchase them. There are only four wineries producing graciano as a standalone varietal in Washington. It's a grape from Northern Spain that is used in Rioja blends, adding acidity and color to the wine. Of all the graciano tonnage planted in the world, only 3% is in the United States.
Rolling Bay Winery used graciano in its tempranillo starting in 2016 and made it as a single varietal in 2018. It's lighter in body than some of the bigger red grapes and would fall somewhere after cabernet sauvignon on the body scale.
Rolling Bay Winery also produces syrah and chardonnay from Lewis Vineyards and cabernet franc and merlot from Elephant Mountain Vineyard. Midsummer, the winery released a rosé of grenache with only 160 cases. The rosé is light-salmon-colored, with aromas of strawberry and a touch of cotton candy. It's a mouthwatering wine showing balanced acidity with flavors of fresh apricot and watermelon and leading to a long finish.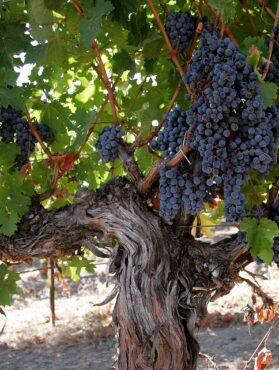 This rosé is a special wine named after de Klerk's granddaughter, Clementine. She is 2 years old and lives in the Southern Rhone region of France with de Klerk's daughter, Camille, and his son-in-law, Francois — who are both winemakers as well. The couple met while working a harvest together at Justin Winery and have both traveled all over the world working for various wineries.
Visit Rolling Bay Winery, open 4 to 7 p.m. Friday and noon to 5 p.m. weekends, in the Rolling Bay neighborhood of Bainbridge Island. Both de Klerk and his wife, Danna, are usually there, giving tasting and tours as well as offering barrel samples.
If you like what you taste (and you will), you can purchase the wine from the barrel and pick it up when it's released in a year or two. This is one of only a few wineries selling futures. It's a great chance to purchase wine at 25% off the regular price for a case. If you buy it now, it will be ready to pick up in the fall of 2024.
Experience the hospitality and taste of old vine wine at 11272 Sunrise Drive NE, Bainbridge Island, or at rollingbaywinery.com.